Overview
There is plenty of CBD brands in the market today. The more there are CBD products, the more users will be willing to start the Cannabidiol journey. At the same time, it becomes more challenging to settle on the best brand.
One of the most famous CBD companies today is cbdMD, which now brings us to this ultimate cbdMD review. Are the praises behind the brand a marketing gimmick or worth it? You can find out in the following cbdMD product reviews.
Let's see the necessary details as we debunk everything about cbdMD, especially their best-selling product – their CBD tincture.
About cbdMD
CbdMD is a U.S. Hemp Authority-certified CBD brand based in Charlotte, North Carolina. The NSF International also certified them for Good Manufacturing Practices, which indicates the quality of its products.
The CBD company in discussion focuses on availing the highest-quality CBD products ever. They visited three continents and 14 different countries to ensure that they got soil rich in nutrients for growing their hemp.
In Kentucky, they realized that hemp doesn't require pesticides. It helped them understand that organic plants for high-quality CBD would be the real deal. They ensured their hemp is the best with help from the Kentucky Department of Agriculture's Industrial Hemp Program.
By using organic hemp plants, they can now produce stellar-quality products while selling them at fair prices. They say they like it more when the community they are involved in gets transparency in the lab test results and production techniques.
CBD is found in both marijuana and hemp. However, marijuana-derived CBD products are federally illegal and considered controlled substances. It is good that CbdMD products come from organic hemp plants, making them CBD legal.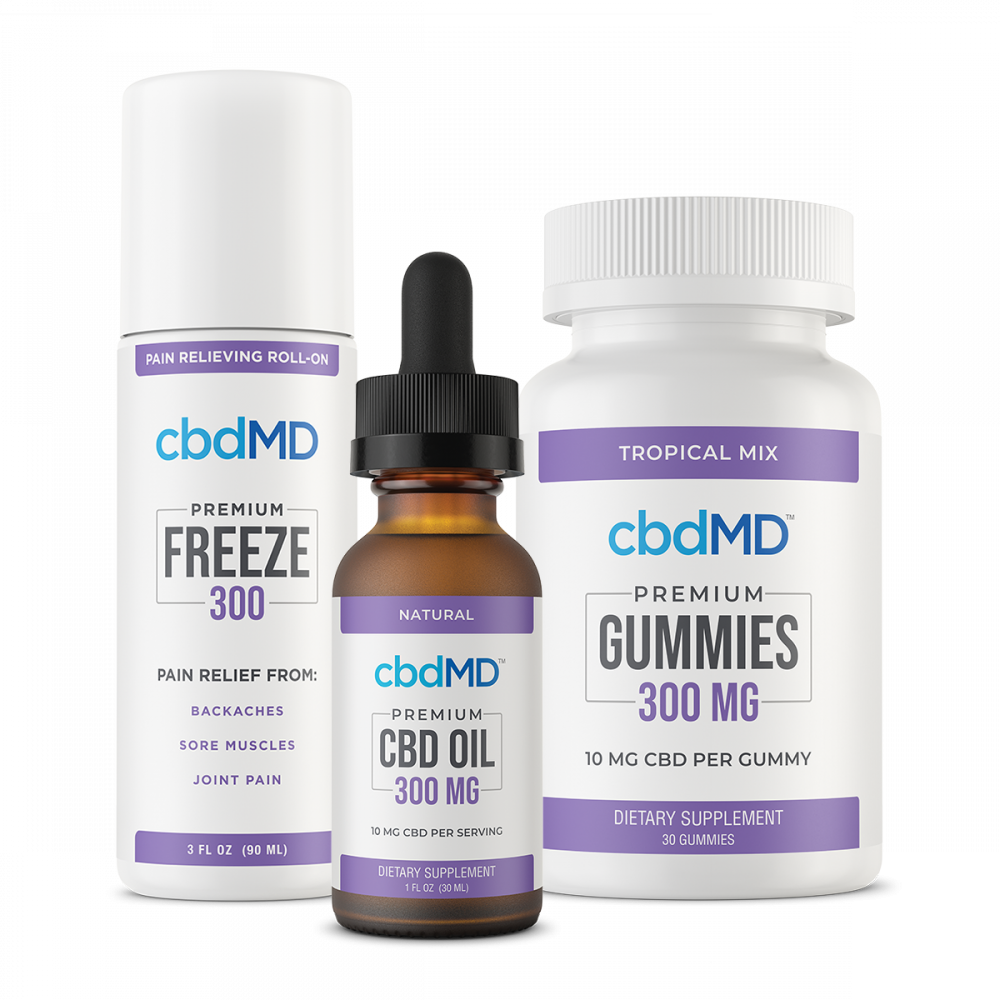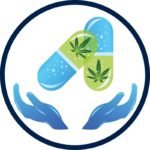 Ingredients
Hemp oil extract, MCT oil, terpenes, flavonoids, and natural flavor all work together to create a truly unique and effective CBD oil.
The hemp oil extract is rich in CBD and other cannabinoids, while MCT oil provides a long-lasting source of energy.
Terpenes add an extra layer of efficacy, while flavonoids help to protect against free radicals.
Natural flavor rounds out the oil's taste and aroma.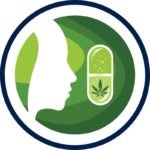 Recommended Use
For best results, take 1/2 dropper (0.5ml) 1-3 times per day. Place drops under the tongue, hold for 60 seconds, and then swallow.
You can also mix it with food or beverage if you prefer.
Simply add the desired amount of oil to your recipe as you would any other cooking oil.
Start with a small amount and increase as needed until you find your perfect dose.
CBD oil can be taken at any time of day, although some people prefer to take it in the morning or evening.
If you are new to CBD, it's best to start with a lower dose and increase gradually as needed.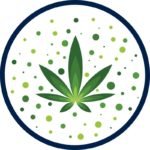 Extraction Process
The first step in the extraction process is to dissolve the co2 in the solvent.
This can be done by bubbling the gas through the solvent or by passing it through a liquid-filled container.
The next step is to remove the co2 from the solution.
This can be done by evaporating the solvent, using a vacuum pump, or by using an adsorption process.
Finally, the co2 is collected and stored.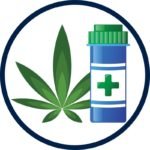 Medical Benefits
Premium hemp extract supplements that are not FDA-approved as a medicine.
However, these supplements have been shown to provide numerous health benefits.
Some of the most well-known benefits of taking Medical Benefits include reduced anxiety, improved sleep, pain relief, and anti-inflammatory properties.
Additionally, have also been linked to reducing the risk of developing cancer and other chronic diseases.
An In-Depth Review of the Complete Line-Up of cbdMD Products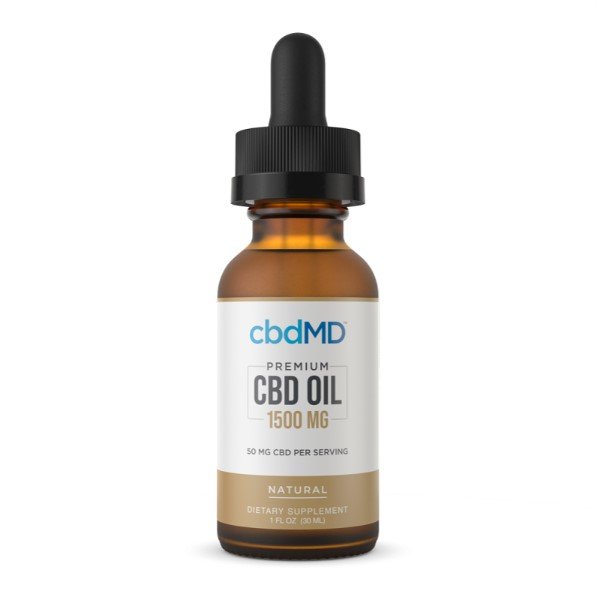 As cbdMD's original CBD oil, the CBD Oil Tincture is a plain CBD oil. This tincture is made with Superior Broad Spectrum formula with CBD, CBN, and CBG and infused with fractionated coconut oil.
Therefore, the cbdMD oil offers plenty of benefits, including calming the nerves, getting you to sleep better, and reducing stress. Additionally, coconut oil as a base helps the body absorb the CBD better.
Like most products on their company website, cbdMD's CBD Oil Tincture has an array of options to suit your needs. It's available in two sizes, six concentrations, and four flavors including the berry flavor.
Price: $29.99
Flavors:
Pros:
Trace amounts of THC
Great flavors
Easy to use
Quick onset
Cons:
Possible burning sensation under the tongue
---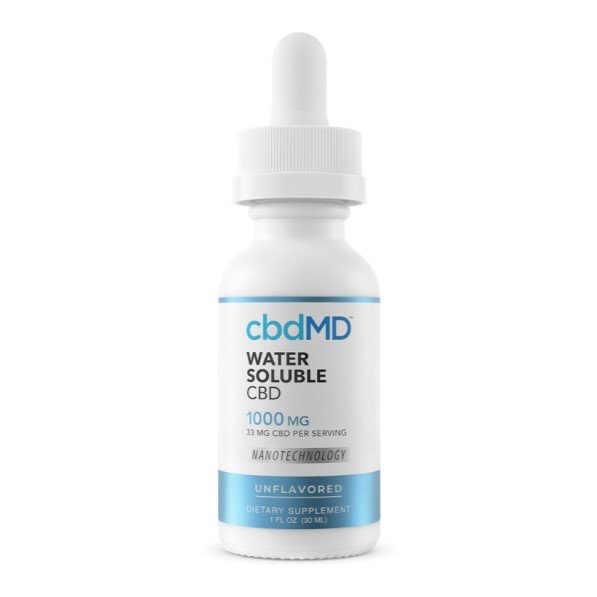 One of the incredible new cbdMD CBD products today is the water-soluble CBD tinctures. In the case of cbdMD, they use unique nanotechnology to produce a tincture that dissolves in water-based drinks.
This makes CBD so easy to add to your daily regimen. Users can take the CBD oil straight (without needing to put it under the tongue) or mix it with any beverage they like. According to cbdMD, this CBD tincture still uses superior quality hemp extract.
Price: $69.99
Flavors:
Pros:
Versatile
Taste great
Works fast
Dissolves in water
Cons:
Possible burning sensation under the tongue
---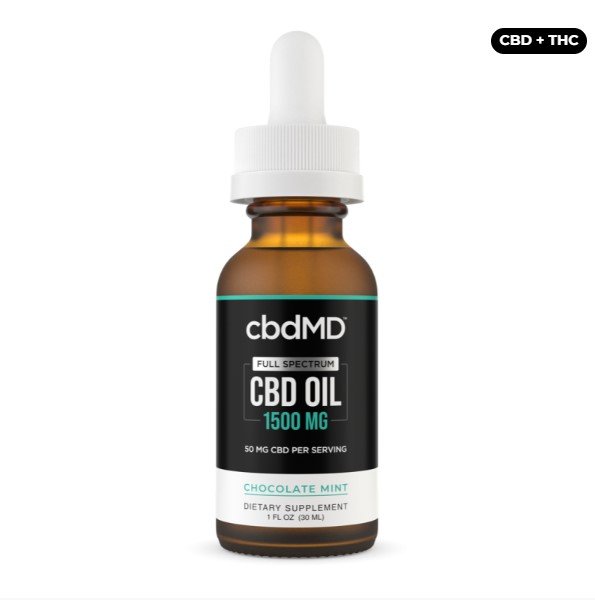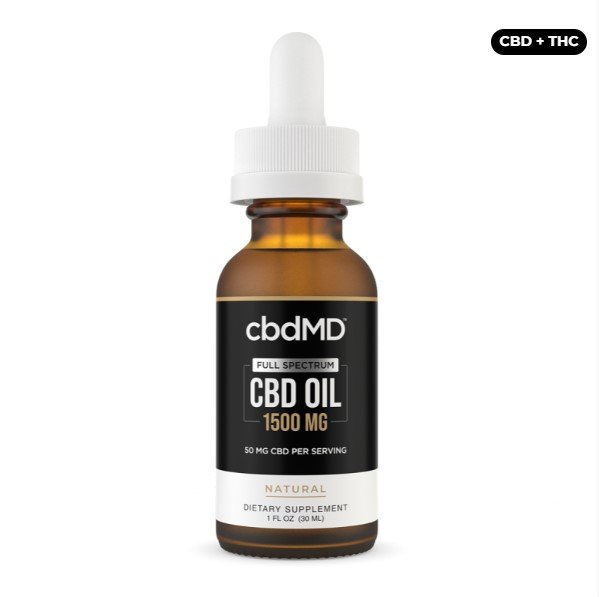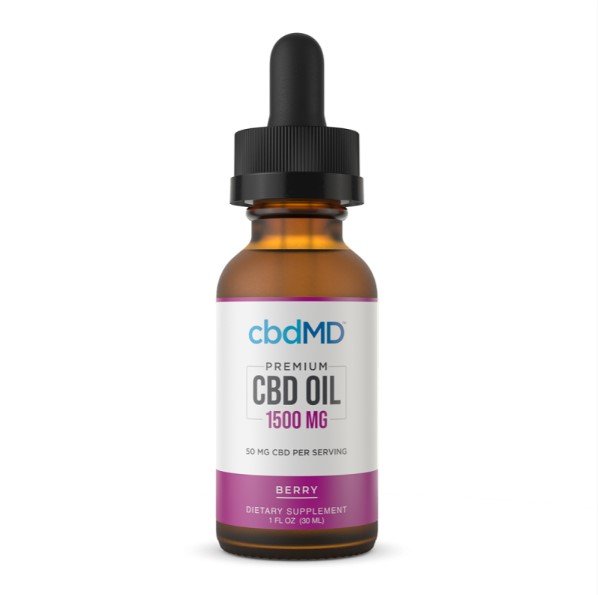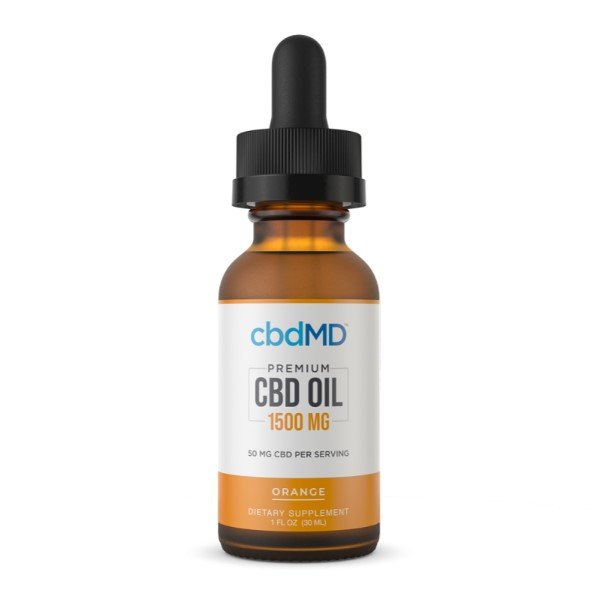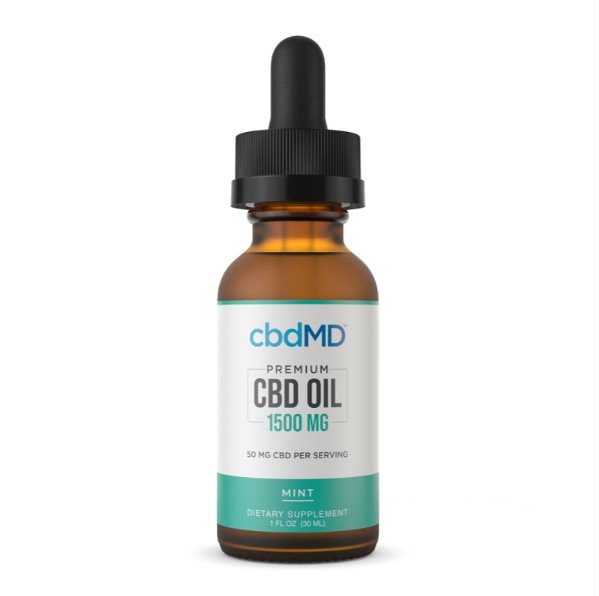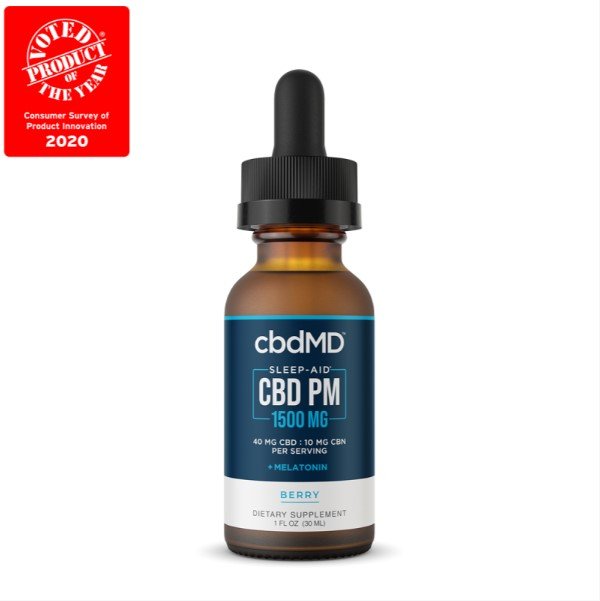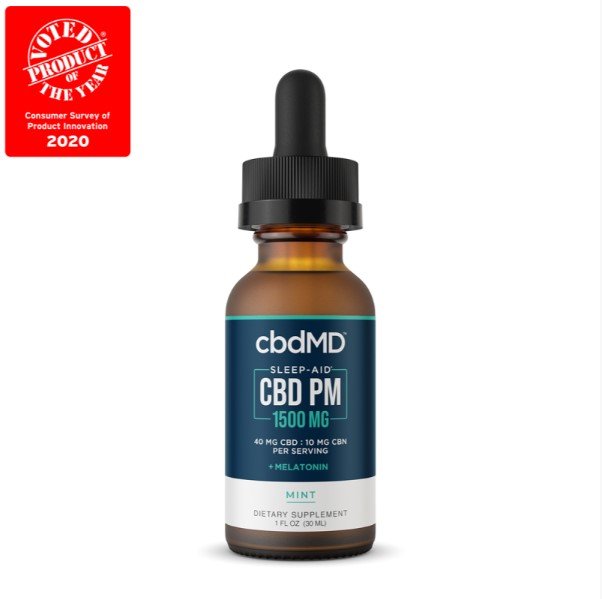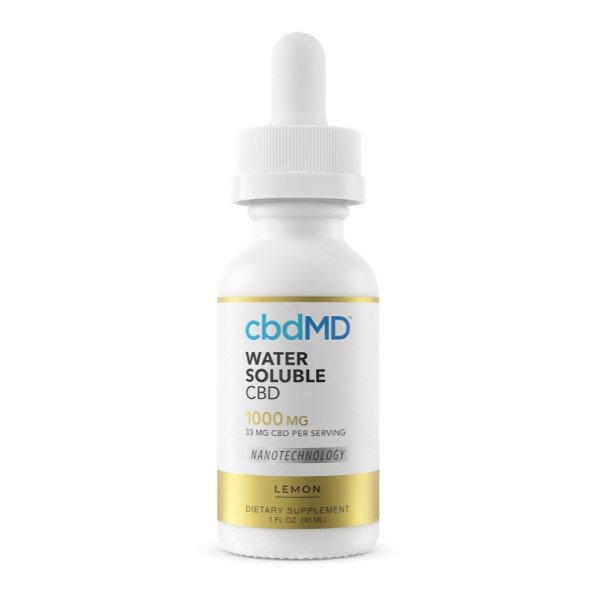 ---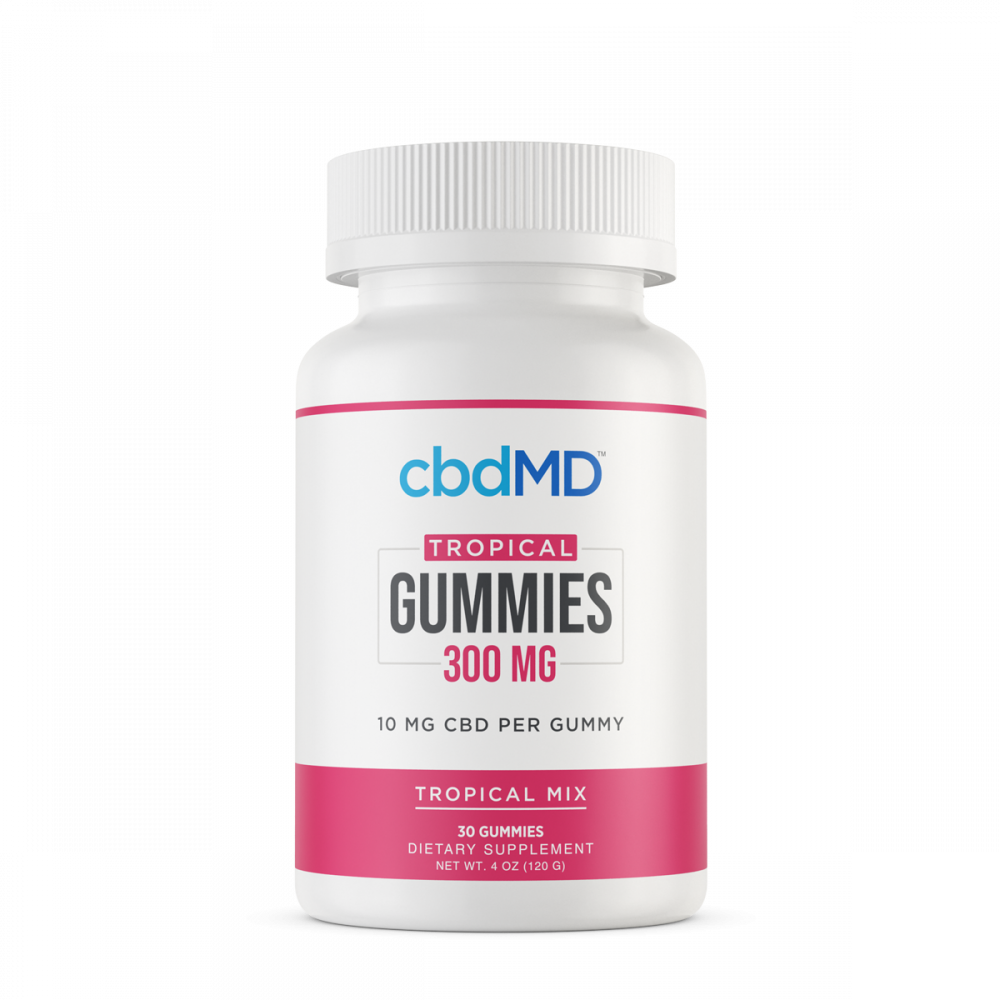 Tropical CBD Gummies by cbdMD are delicious, fruit-flavored edibles infused with Superior Broad Spectrum hemp extract. This CBD product is excellent for snacking, a sweet snack after a meal, or sharing something with your friends.
They are among the most popular products of cbdMD. Available in Tropical Fruit, Orange, Strawberry, and Raspberry. You can also choose from different strengths – 300, 750, and 1500 mg. These gummies are gluten-free and vegan.
Price: $29.99 to $89.99
Pros:
Great flavors
Trace amounts of THC
Easy to take
---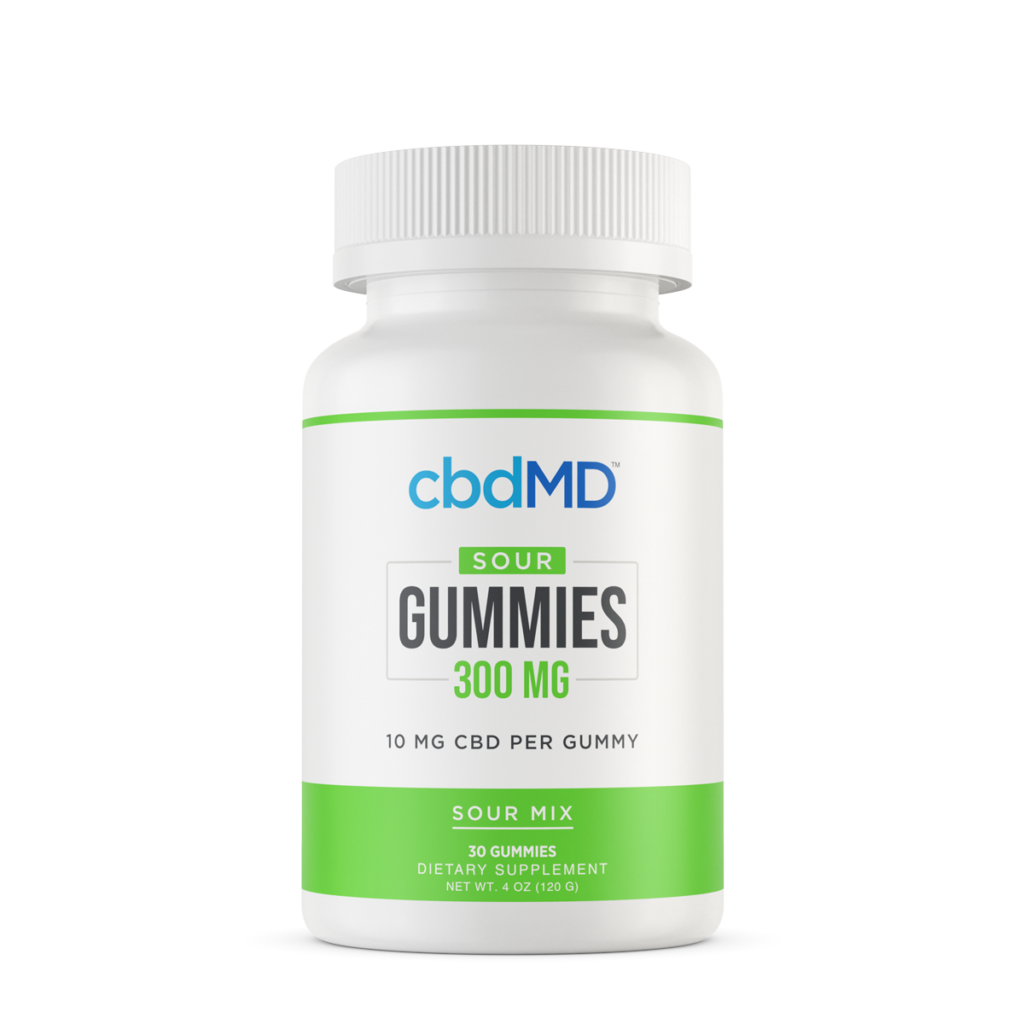 For those who like a bit of sour taste, cbdMD's Sour CBD Gummies are perfect. It's also made with Superior Broad Spectrum hemp extract, bringing the benefits of reduced stress, calmness, enhanced exercise recovery, and better general health.
They're available in 300, 750, and 1500 mg per bottle, which can be 10, 25, or 50 mg each gummy. These gummies are also made with juices, organic sweeteners, and sunflower oil. Moreover, they're gluten-free and vegan.
Price: $29.99 to $89.99
Pros:
Great benefits
Mixed sour fruit flavors
Precise dosing
Easy to swallow
---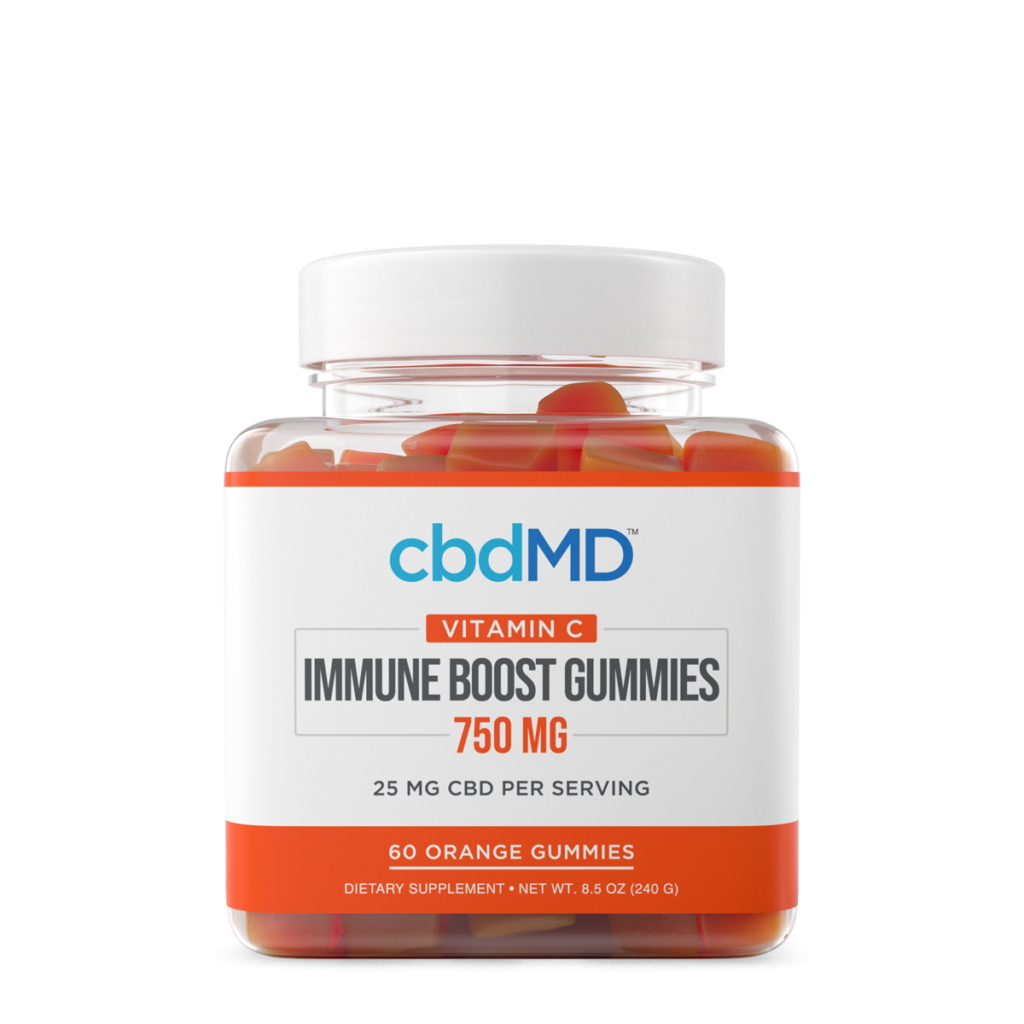 The cbdMD CBD Immunity Gummies are great for those who often feel tired and weak. They're designed to support the body with various nutrients, such as vitamin C, D, E, Selenium, and Zinc. At the same time, they're great tasting.
The gummies are also formulated with Superior Broad Spectrum CBD infused with various terpenes and cannabinoids for maximum benefits. Available in 750 mg per bottle with counts of gummies inside.
Price: $69.99
Pros:
Great source of vitamins
Easy to consume
great flavor
boosts immunity
---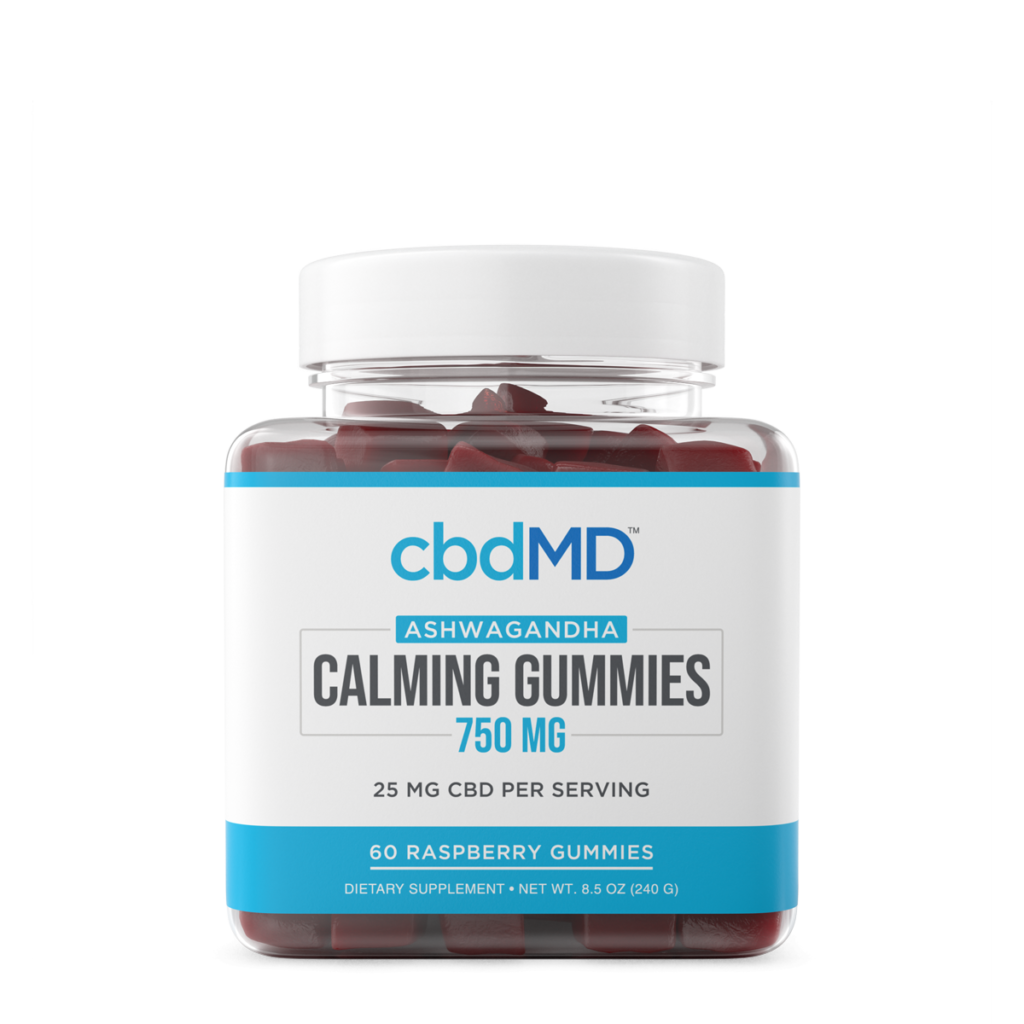 CBD Calming Gummies is as precisely what the name suggests – it helps calm the nerves. It combines CBD, ashwagandha gummies, and other calming ingredients like L-theanine, valerian, and chamomile.
As always, they are made with natural flavors and organic sweeteners, non-GMO hemp, gluten-free, and vegan-friendly. The gummies have a mouth-watering raspberry flavor and are available in a 60-count bottle with a total of 750 mg of CBD.
Price: $69.99
Pros:
Trace amounts of THC
Effectively calming
Organic
Taste great
---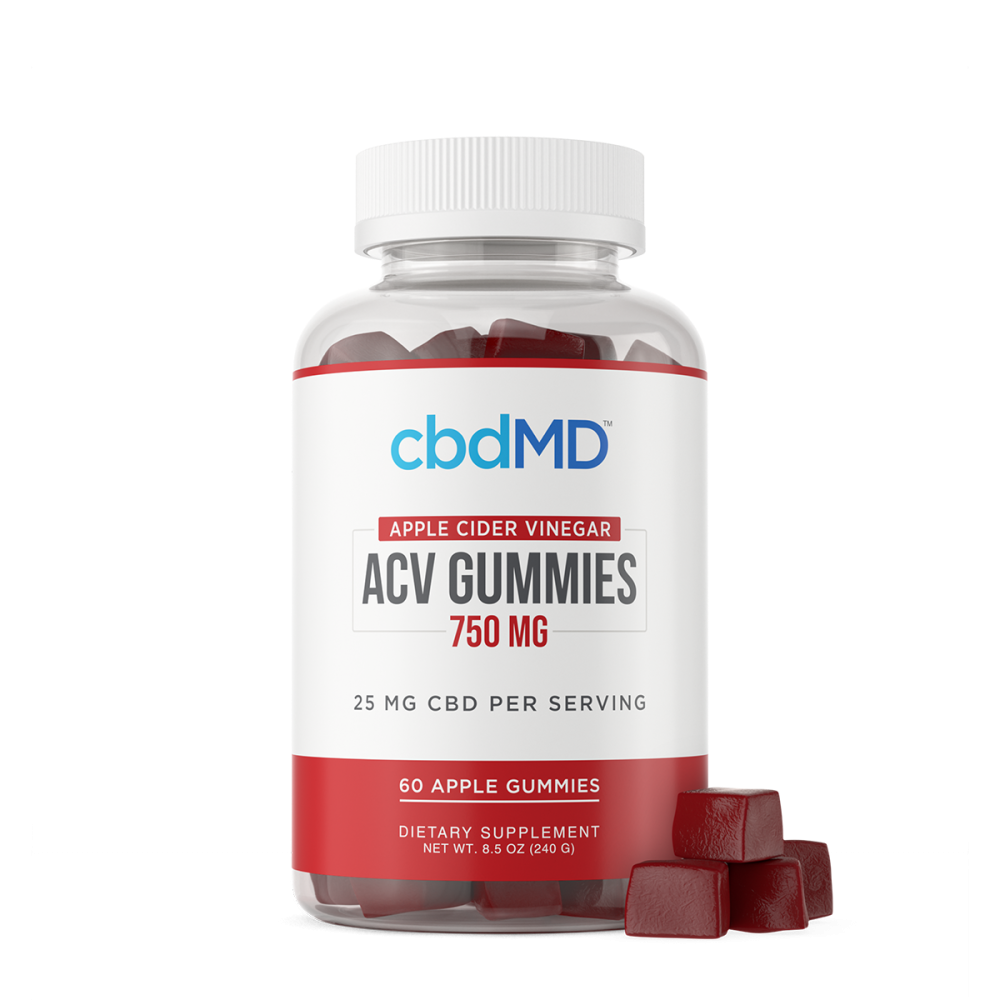 Apple cider vinegar is known for its excellent health benefits. Now it's better by infusing it with CBD oil formulated with Superior Broad Spectrum hemp. These gummies are fortified with beetroot, pomegranate extracts, and essential B vitamins.
An intake of these cbdMD CBD Apple Cider Vinegar Gummies gets you plentiful helpful nutrients with each piece. You can add them to your diet by taking one or two gummies every morning and evening or as desired.
Price: $69.99
Pros:
Easy to take
Plenty of nutrients
Trace amounts of THC
---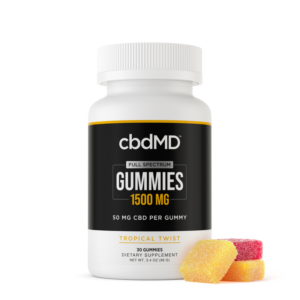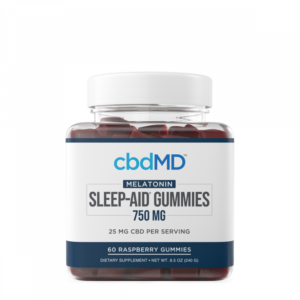 ---
3. Topicals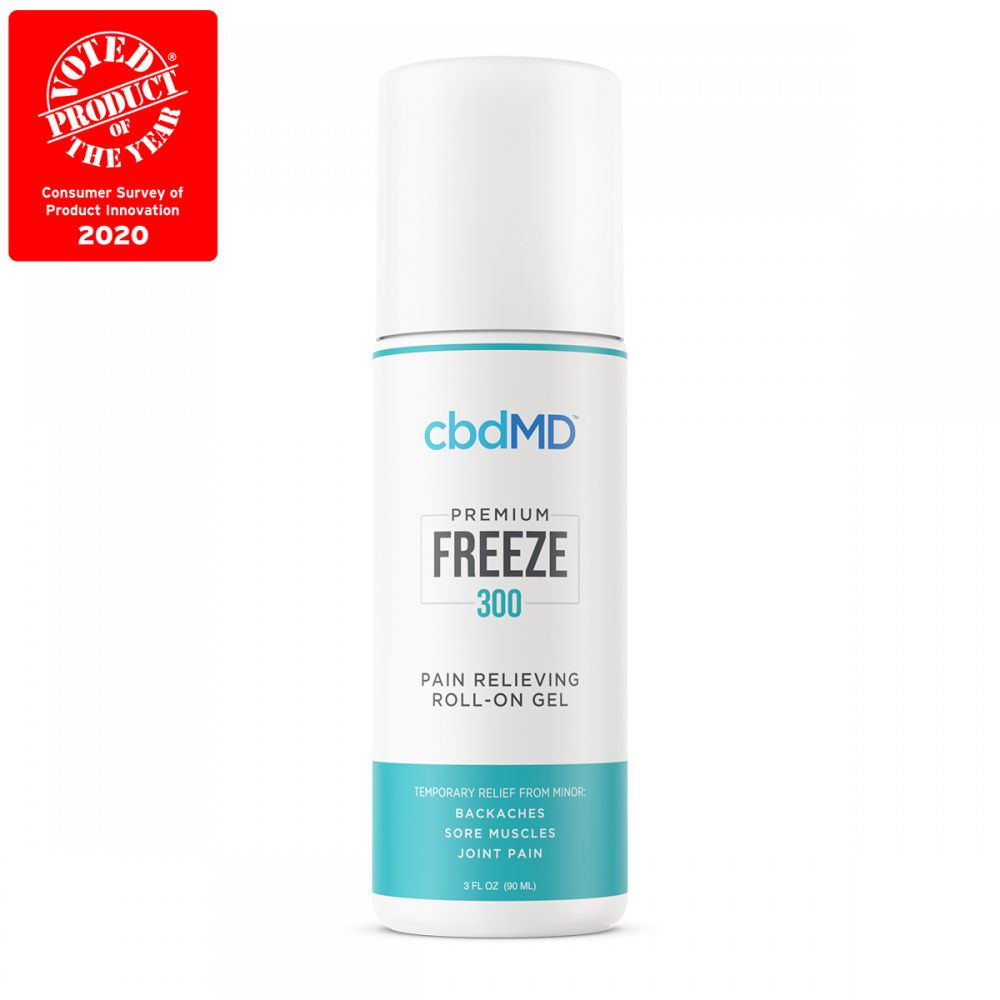 The cbdMD CBD Freeze Roller is a roller CBD with instant cooling relief thanks to the Superior Broad Spectrum hemp and menthol in it. The beauty of this roller is that it works right away, relieving the body of all kinds of discomfort on the skin's surface.
Besides CBD oil and menthol, it has tea tree oil, aloe vera, and arnica. All of which are ingredients that soothe the skin. CBD Freeze Roller is available in roll-on and squeeze tube applicators in four different CBD concentrations.
Price: $89.99
Pros:
Easy to use
Targeted application
Incredibly soothing
Cons:
May cause an allergic reaction in some people
---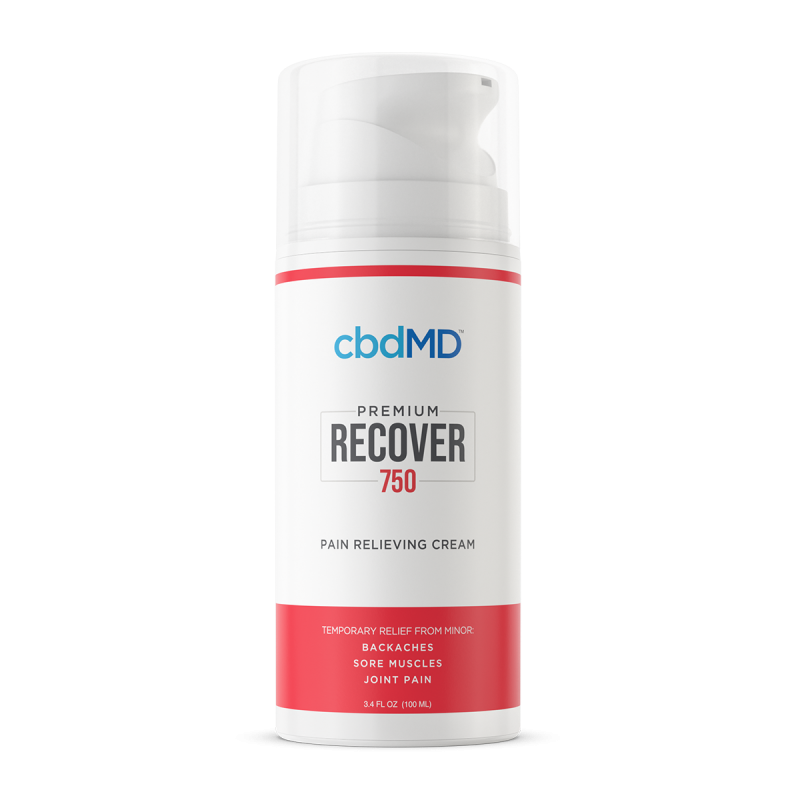 CBD Recover is a topical designed for soothing away muscle and joint pain with the help of the pain-killing benefits of CBD. It's all thanks to the cream's Superior Broad Spectrum hemp extract and the histamine dihydrochloride's warming feel.
Use CBD Recover to relieve minor pains and aches temporarily. It's also skincare as it moisturizes the skin, thanks to the MSM, aloe vera, arnica, and essential oils in the cream. It's available in four different strengths and is a pump type.
Price: $59.99
Pros:
Easy to use
Targeted relief
Moisturizing and soothing
Relieves pain
---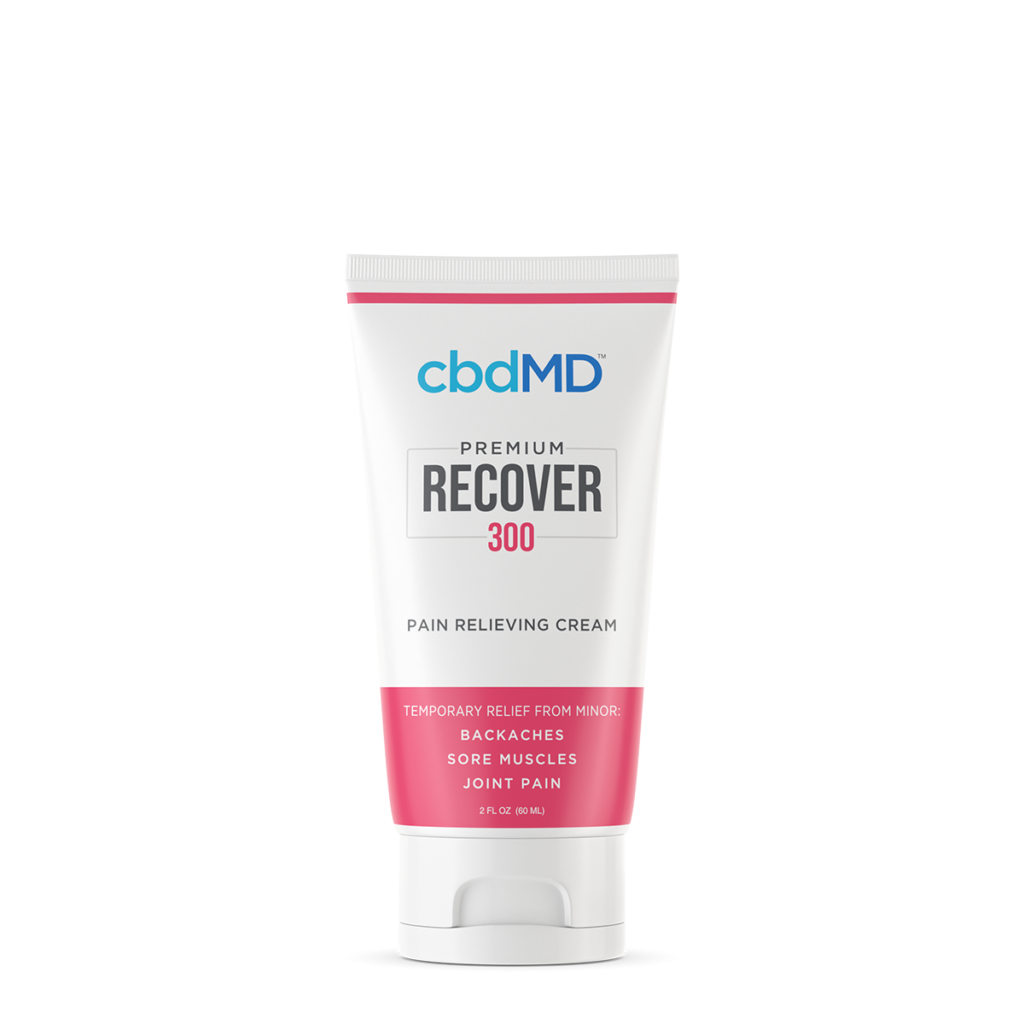 CBD Recover Squeeze is a CBD pain relief cream infused with CBD's pain-killing benefits. Besides CBD, it is made of herbal ingredients that also soothe the skin and histamine dihydrochloride, which gives it a cooling sensation.
It's made of Superior Broad Spectrum hemp extract, formulated with CBN, CBG, and terpenes to maximize its benefits. Like CBD Recover with pump, this comes in four strengths but is in tub version.
Price: $29.99
Pros:
Easy to use
Temporary pain relief
Cooling sensation
Skin moisturizing
---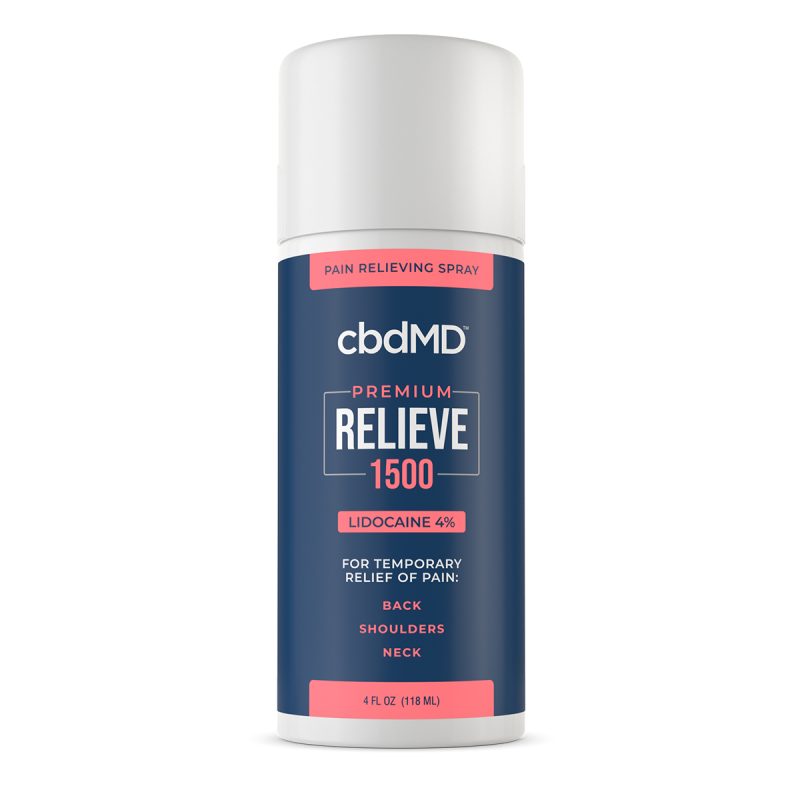 CBD Topical Lidocaine is a 40 oz. CBD spray is designed for quick pain relief and recovery. It can offer pain relief and recovery, thanks to its primary ingredients – CBD and lidocaine.
Many users love that it is light, non-greasy, and soothing to the skin, courtesy of the aloe vera juice. Besides CBD, its formula is supported by other cannabinoids – CBN and CBG. It's available in 500, 1500, and 3000 mg concentrations.
Price: $44.99 to $129.99
Pros:
Soothing
Effectively relieves pain
Light and non-greasy
---
4. Delta 9 THC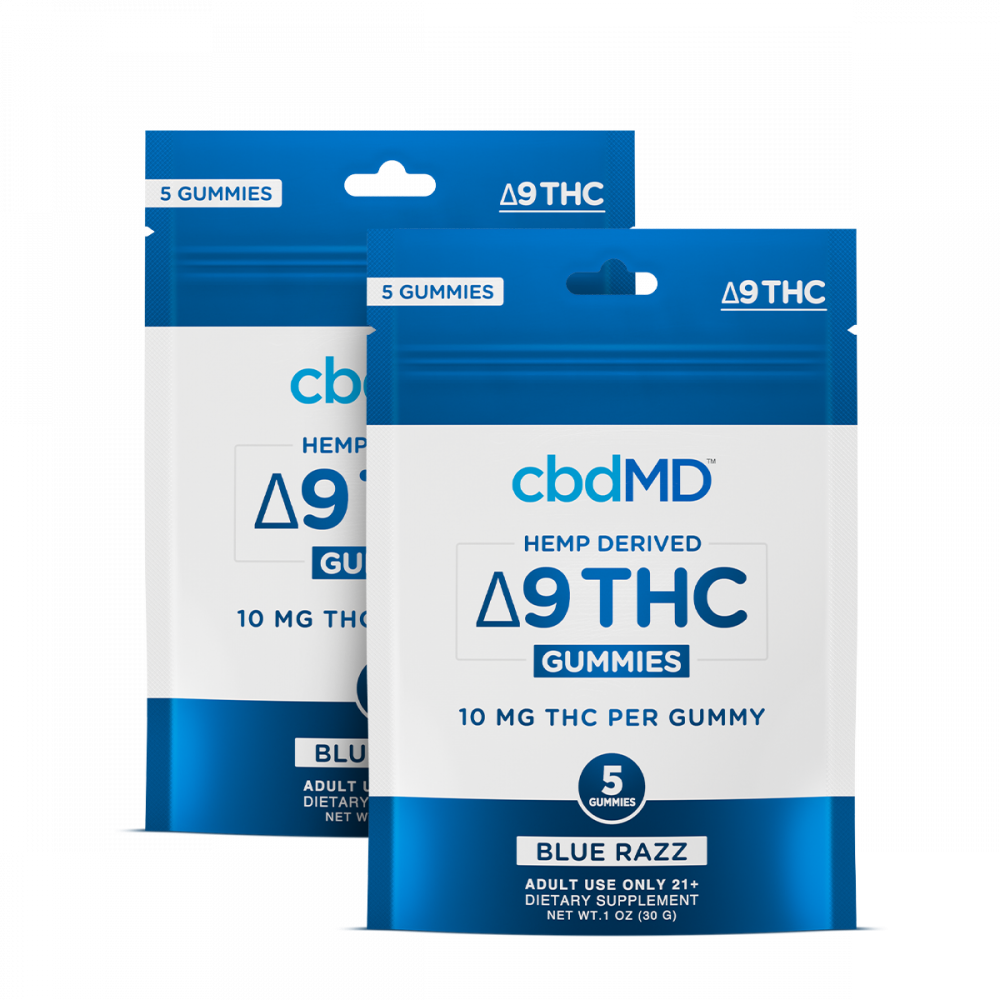 The Delta 9 Gummies – 10 Count Blue Razz is cbdMD's number one full-spectrum Delta 9 THC gummies. Inside this pouch are 10 pieces of gummies, each with 50 mg of CBD and 10 mg of Delta 9 THC.
Price: $19.99
Pros:
Can take it with you anywhere
Tastes great
Vegan and gluten-free
Precise dosing
---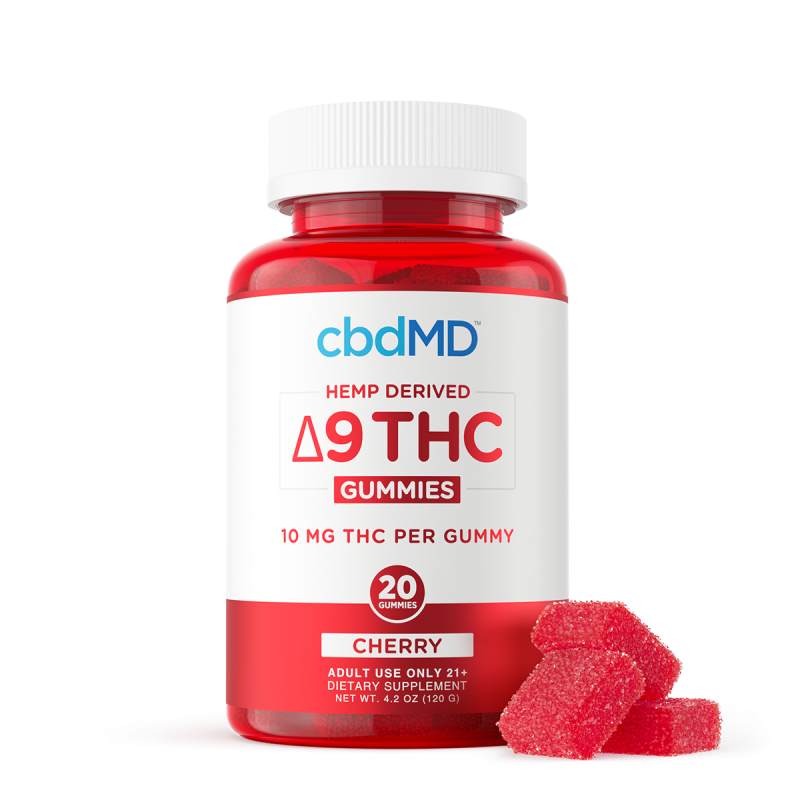 The Delta 9 Gummies – Cherry is the same as the Blue Razz gummies. These gummies offer a well-balanced experience with their 50 mg CBD and 10 mg Delta 9 THC content. The only difference is its cherry taste and that it is 20 count.
Price: $29.99
Pros:
Delicious taste
Vegan and gluten-free
Precise dosing
---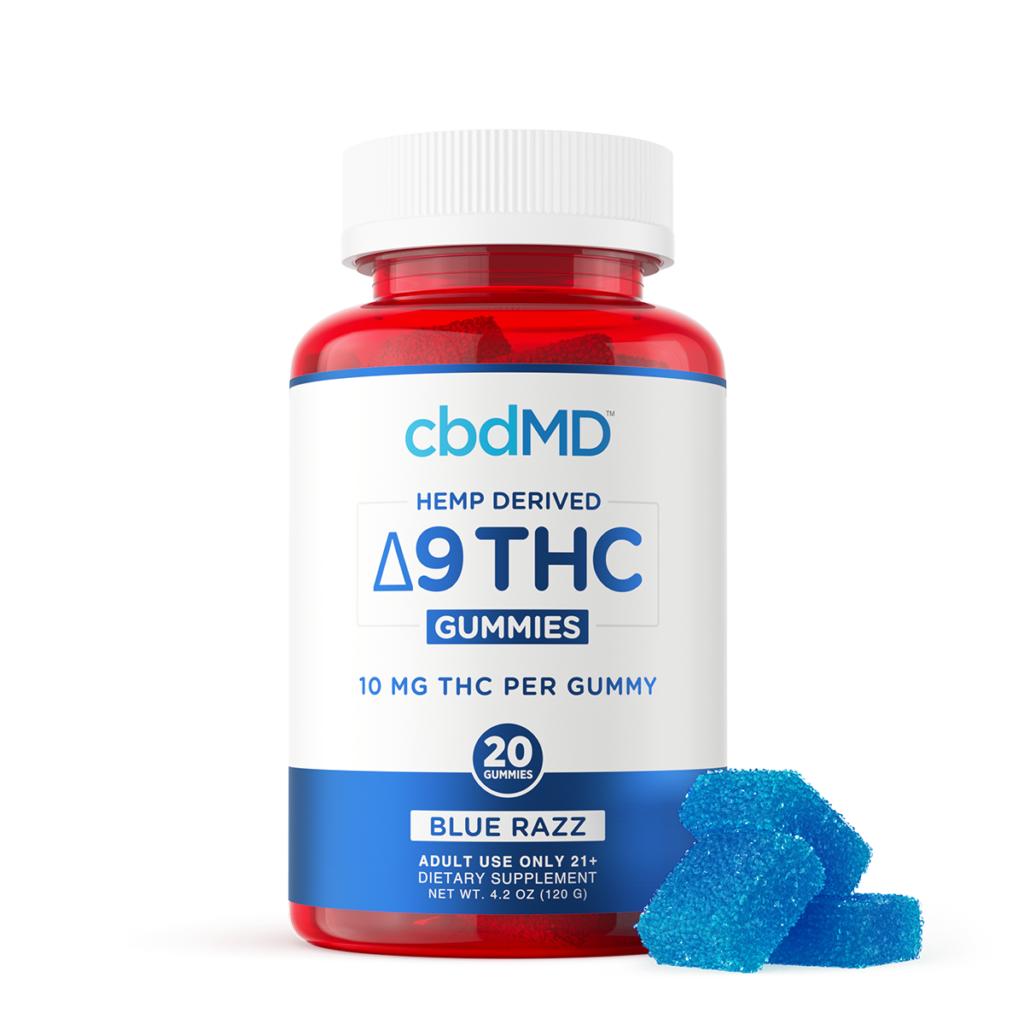 Delta 9 Gummies – Blue Razz is formulated with 50 mg CBD and 10 mg Delta 9 THC per serving, the same as the earlier Blue Razz Gummies. They provide the best feeling of balance and calmness in 20 pieces of gummies.
Price: $29.99
Pros:
More gummies
Gluten-free and vegan
Precise dosing
---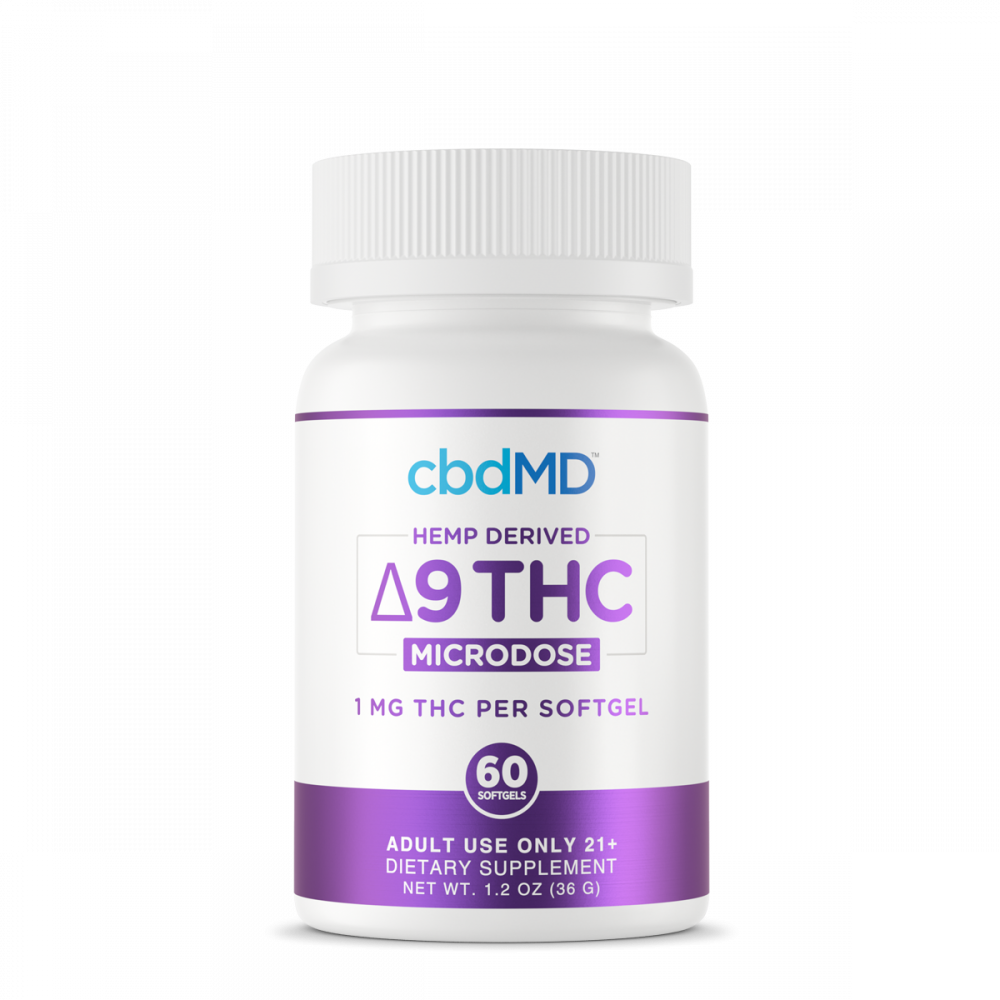 Delta 9 Capsules boasts a high potency CBD formula. For such a small pill, it can provide a high-level calmness and balance that many users want. CbdMD's capsules are easy to swallow, especially these softgels containing 1 mg of THC, and are fortified with vitamin E.
Price: $29.99
Pros:
Highly potent
With vitamin E
Easy to swallow
More pills
Cons:
Non-targeted
Low bioavailability
---
5. Full Spectrum CBD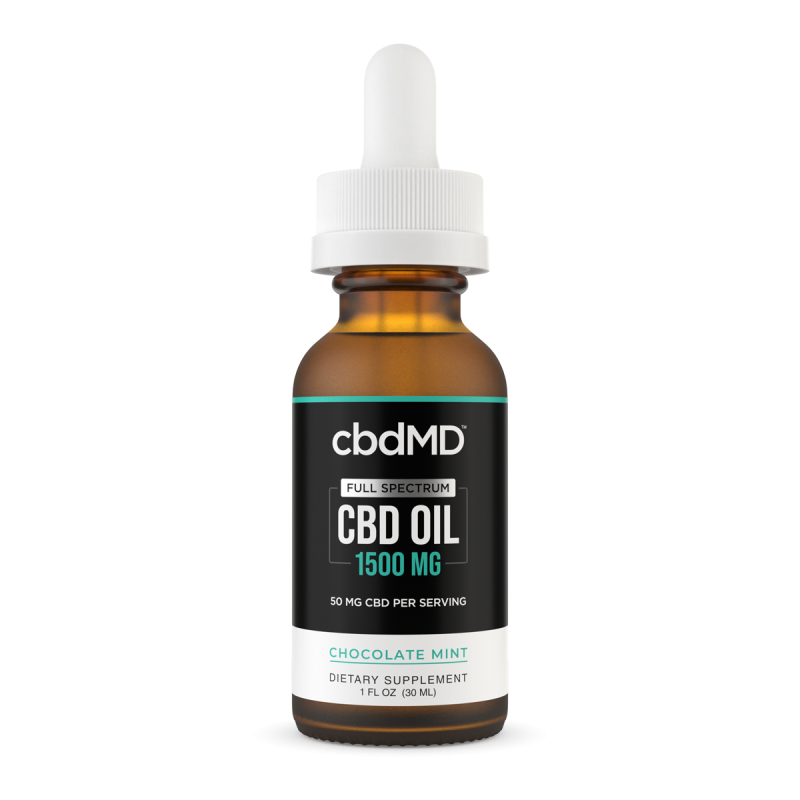 cbdMD's full-spectrum CBD oil tincture is infused with MCT oil and natural flavoring. With it, you can take CBD flexibly by putting the oil into your foods and drinks or under your tongue.
You can pick from two flavors – unflavored natural or chocolate mint, with the mint coming from organic peppermint oil. Additionally, this tincture is available in three concentrations – 750, 1500, and 300 mg of CBD per 30 ml bottle.
Price: $59.99 to $129.99
Pros:
More ways to take
Easy to take
High bioavailability
Flavored version available
Cons:
The unflavored version may taste bitter
---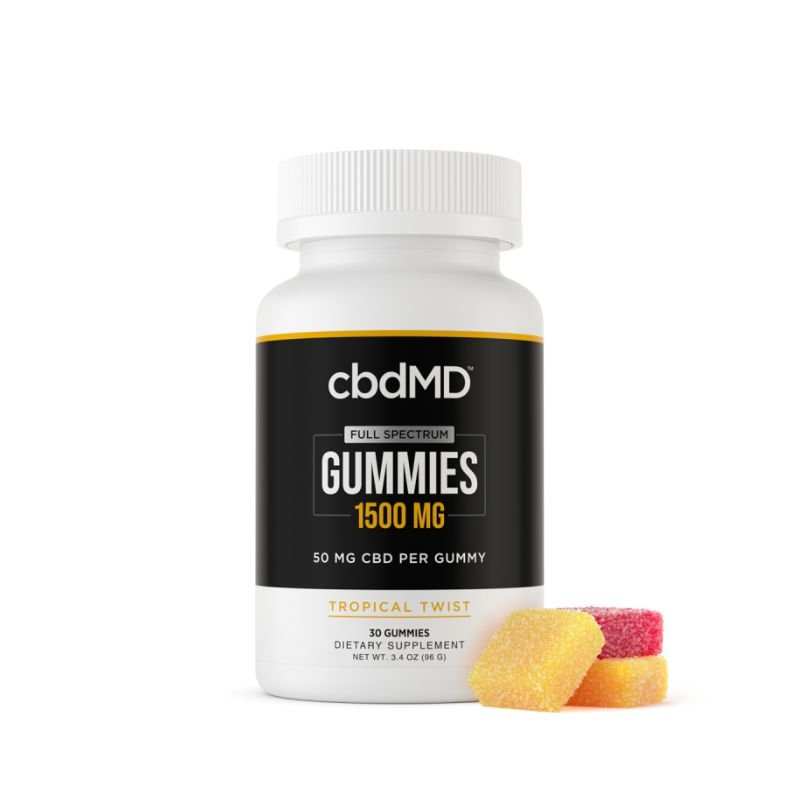 Fruit Twist CBD Gummies are one of the tastiest edibles offered by cbdMD. It has a whole mix of flavors such as lemon, fruit punch, and passion fruit, making it easier to take them, thanks to their delicious taste.
These gummies were made of hemp extract complete with CBD, CBG, CBN, CBC, amino acids, and a bit of THC. They're gluten-free and vegan and available in three concentrations – 750, 1500, and 3000 mg per 60-count bottle.s
Price: $59.99 to $129.99
Pros:
Great flavors
Gluten-free and vegan
More gummies
---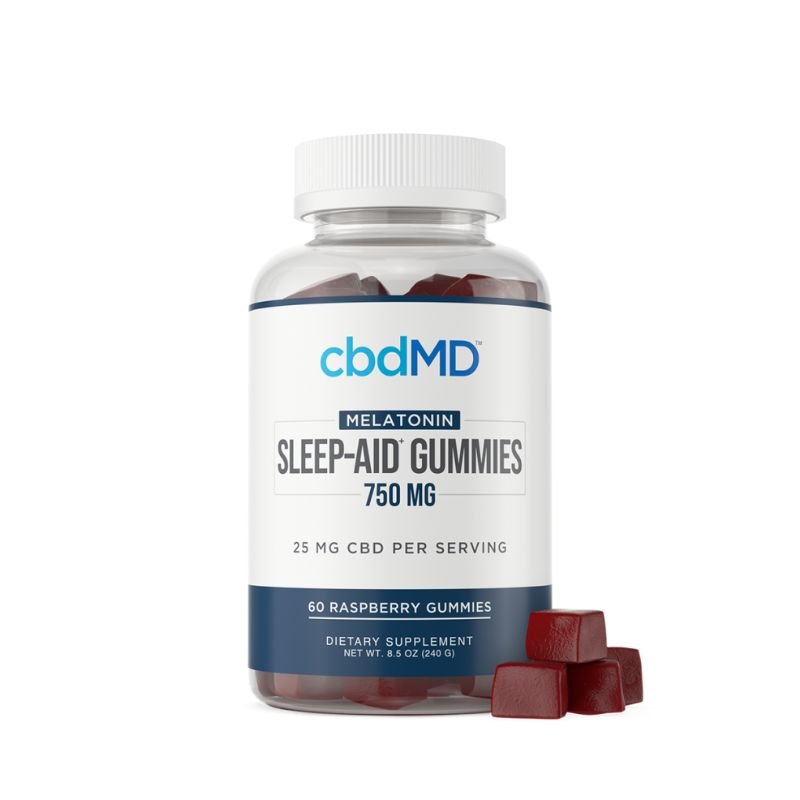 Falling asleep is sweeter with CBD Sleep Aid Gummies, cbdMD's gummies made to help you relax and sleep better. They're also made with the brand's Superior Broad Spectrum formula and delicious flavors for an easier way towards dreamland.
Price: $69.99
Pros:
Full-spectrum
With vitamin E
Absorbs quickly
---
6. Sleep Aids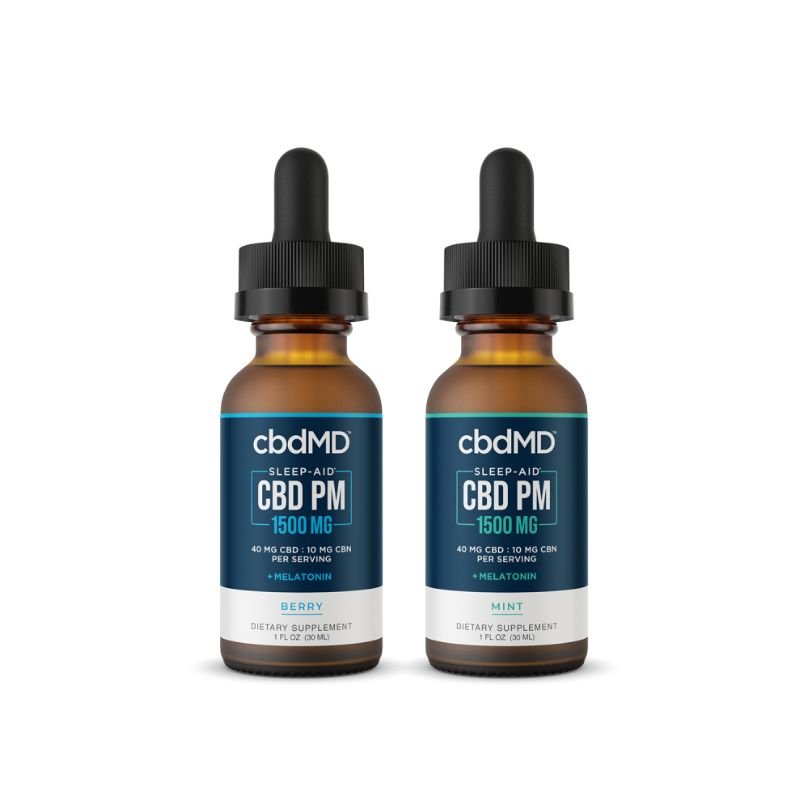 cbdMD's Superior Broad Spectrum hemp extract is available in CBD PM For Sleep, its number CBD oil sleep aid. Available in 500 and 1500 mg of CBD per bottle, they effectively help you relax and feel overall calm.
Price: $44.99 to $89.99
Pros:
Great for relaxing and better sleep
Gluten-free and vegan
Two flavors available
Precise dosing
---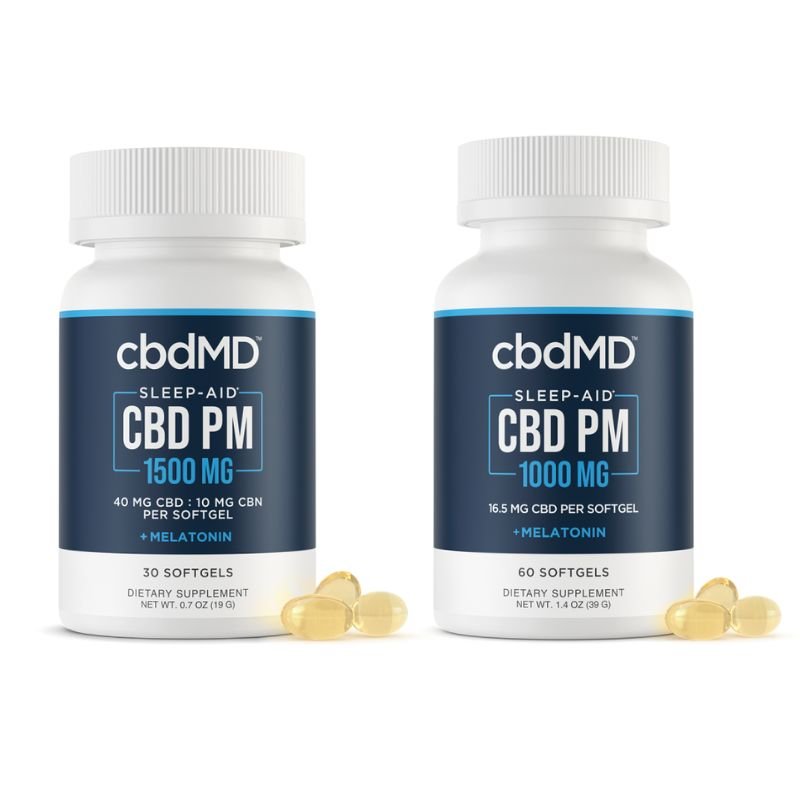 CBD PM Softgel Capsules help you sleep better with its CBD, CBN, CBG, and terpenes ingredients that aid relaxation.
It is a popular solution to sleepless nights, thanks to melatonin and calming herbs in addition to the broad spectrum hemp. These cbdMD's capsules are softgels, making them so much easier to swallow.
Price: $44.99 to $89.99
Pros:
Flavorless
Much easier to swallow
Effectively relaxing
Precise dosing
---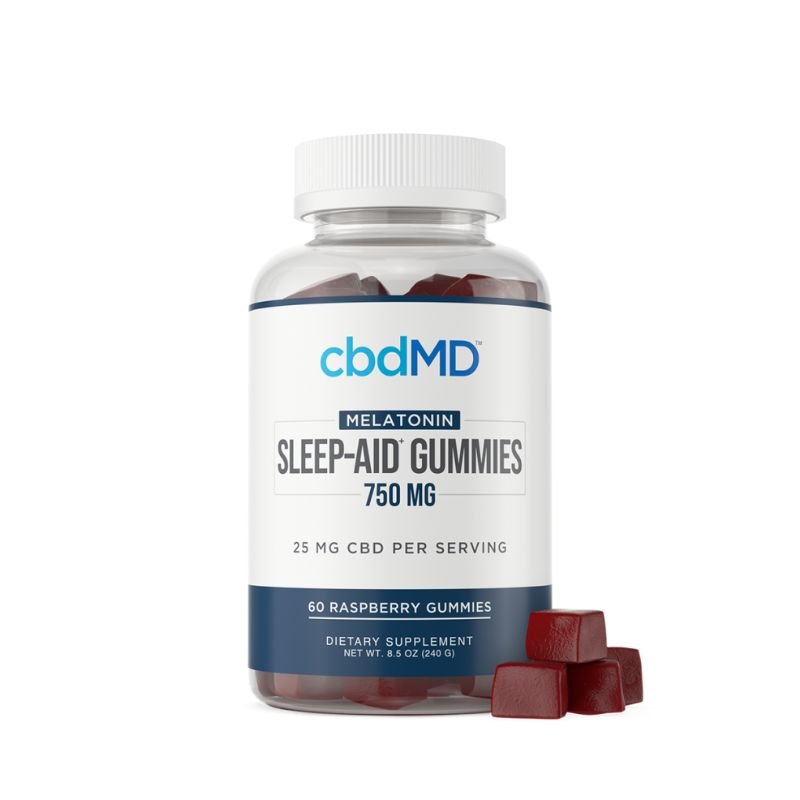 Falling asleep is sweeter with CBD Sleep Aid Gummies, cbdMD's gummies made to help you relax and sleep better. They're also made with the brand's Superior Broad Spectrum formula and delicious flavors for an easier way towards dreamland.
Price: $69.99
Pros:
Delicious flavors
Much easier to take
Supports healthy sleep cycles
Gluten-free and vegan
---
7. Capsules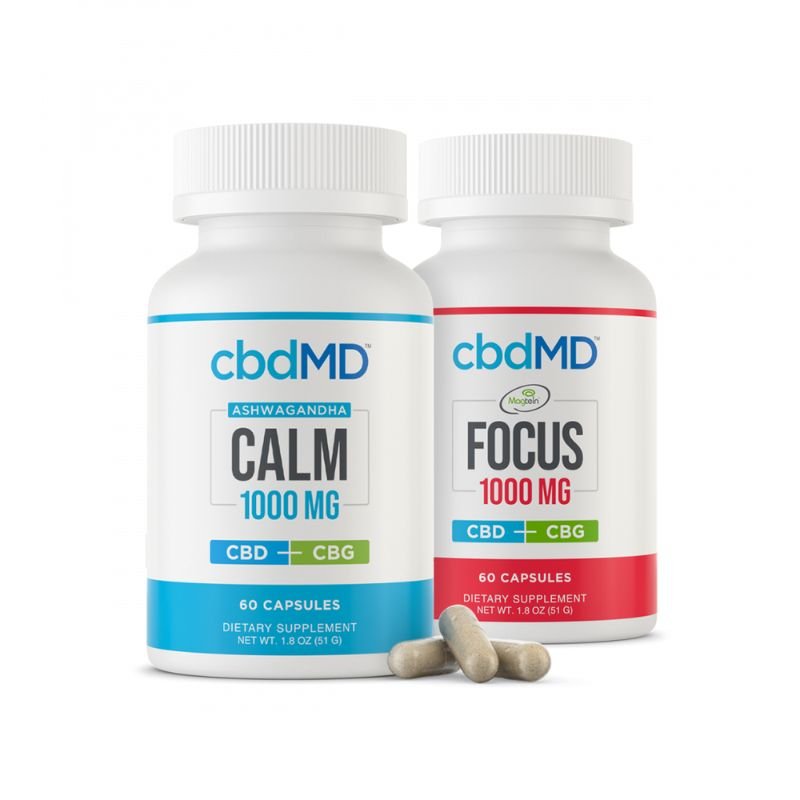 CBD Focus and Calming Capsules are cbdMD's answer to helping one to focus all day and feel relaxed at night. One capsule of CBD Focus in the morning and one capsule of CBD Calming at night can give you a healthy mood balance and memory.
Price: $99.99
Pros:
Two-pack product
Balances moods and improves memory
Easy to take CBD product
---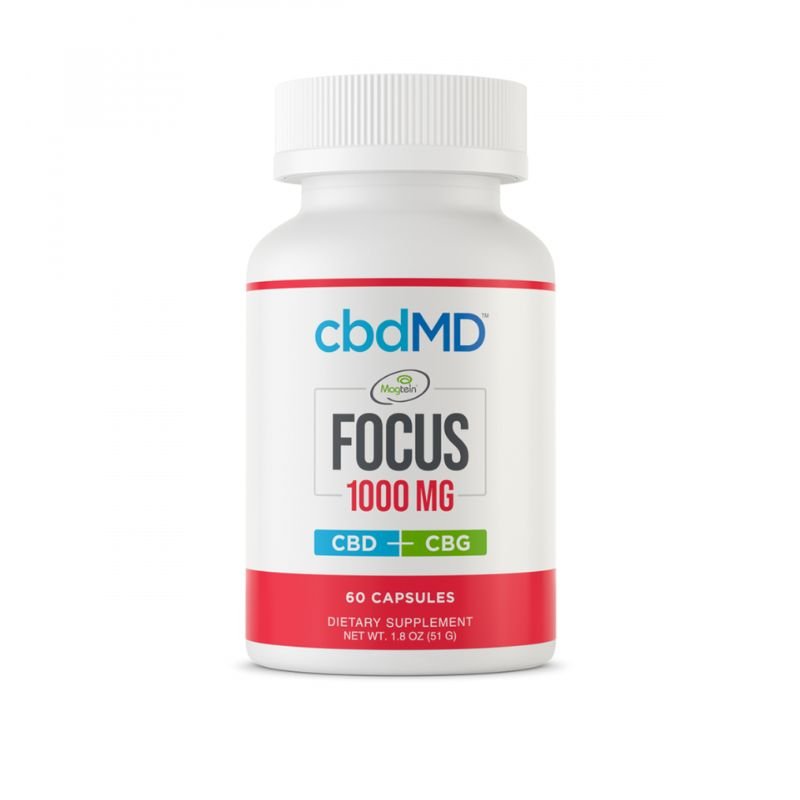 CBD Focus Capsules are cbdMD's popular product for those with difficulty concentrating. These capsules are formulated with potent hemp extracts and unique ingredients to help improve focus, alertness, mental clarity, and memory.
Price: $64.99
Pros:
Improve brain health
Gluten-free and vegan
Easy to take
---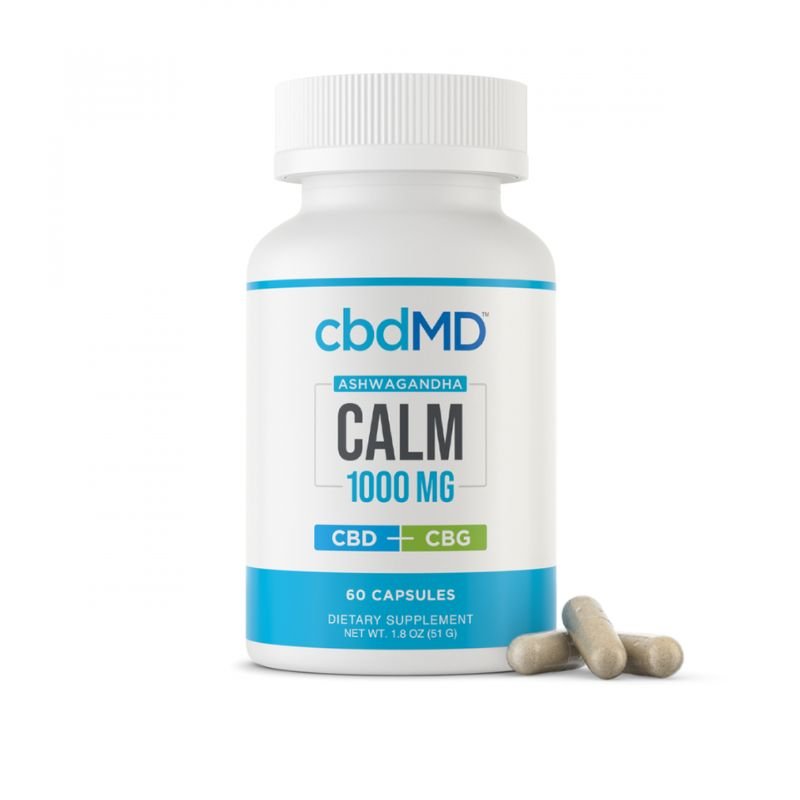 Calming down is made easy with cbdMD CBD Calm Capsules. These cbdMD capsules include CBD and CBG while also formulated with the brand's proprietary calm blend. Taking CBD in the morning and at night can make you feel confident, calm, and stress-free.
Price: $69.99
Pros:
Balances mood
Helps manage stress
Gluten-free and vegan
Cons:
Non-targeted
Often slow acting
---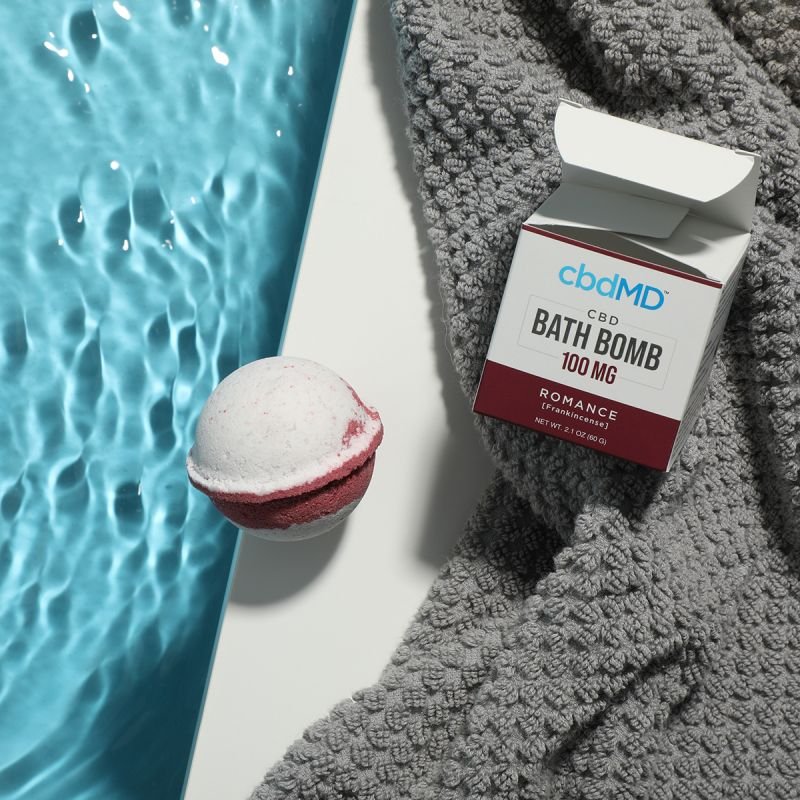 The CBD Bath Bomb Romance is one of the six scents and colors that cbdMD offers. It contains skin-soothing ingredients, essential oils, and 100 mg of pure CBD. Its tempting scent makes it the most popular for de-stressing and body care routines.
Price: $9.99
Pros:
THC-free
No sulfate
Vegan
Non-toxic
Cons:
Unknown long-term effects
---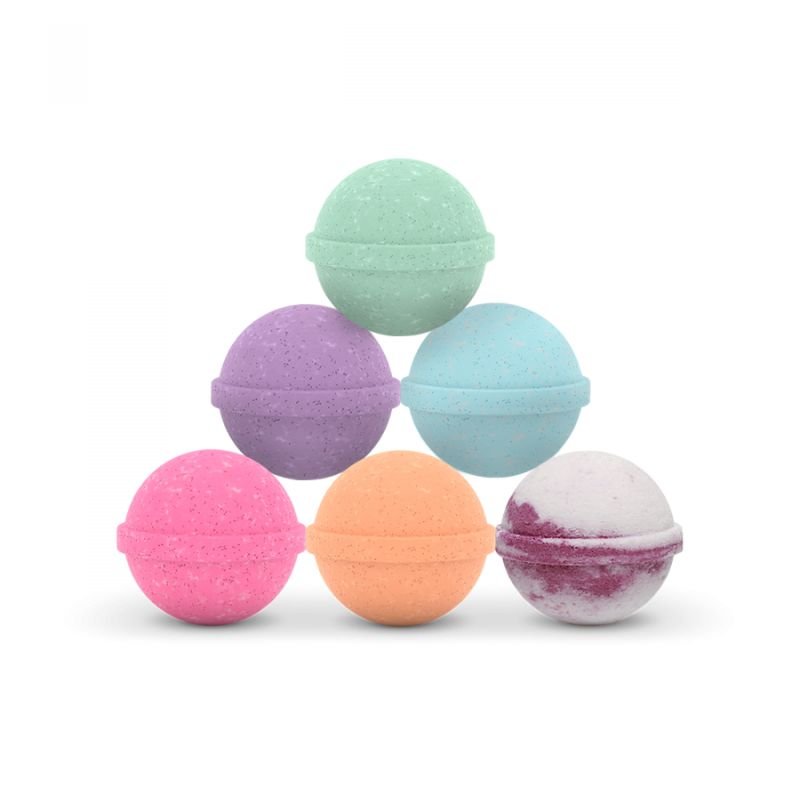 CbdMD's collection of bath bombs made of superior CBD and essential oils effectively relaxes and revitalizes the body. Besides the oils, they include Epsom salts for much healthier skin. Each bath bomb has 100 mg of CBD for maximum benefits.
Price: $35.99
Pros:
Non-staining colors
Absorption-safe
High concentration of CBD
Six scent and color options
Cons:
Unknown possible long-term effects
---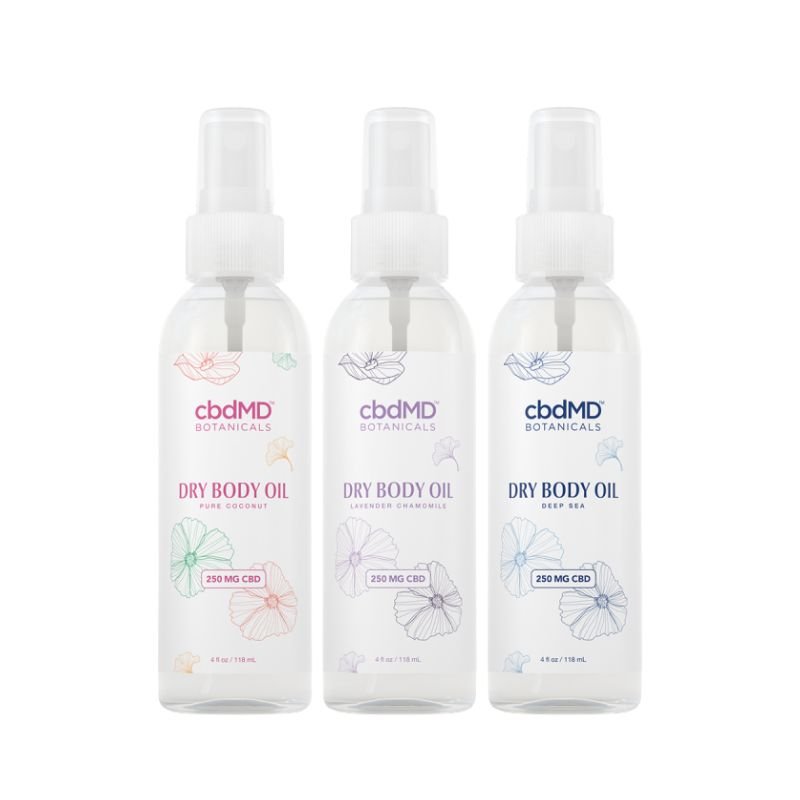 CbdMD dry body oil provides the best to moisturize dry skin in a feather-light way, but with deep hydration and no greasy feel. Inside a bottle of this body oil is a blend of the most nourishing ingredients including olive oil and 250 mg of broad-spectrum CBD extract.
Price:
Pure Coconut
Lavender Chamomile
Deep Sea
Price: $24.99
Pros:
Easy to use
Amazing scents
Absorbs quickly
Doesn't leave residue
---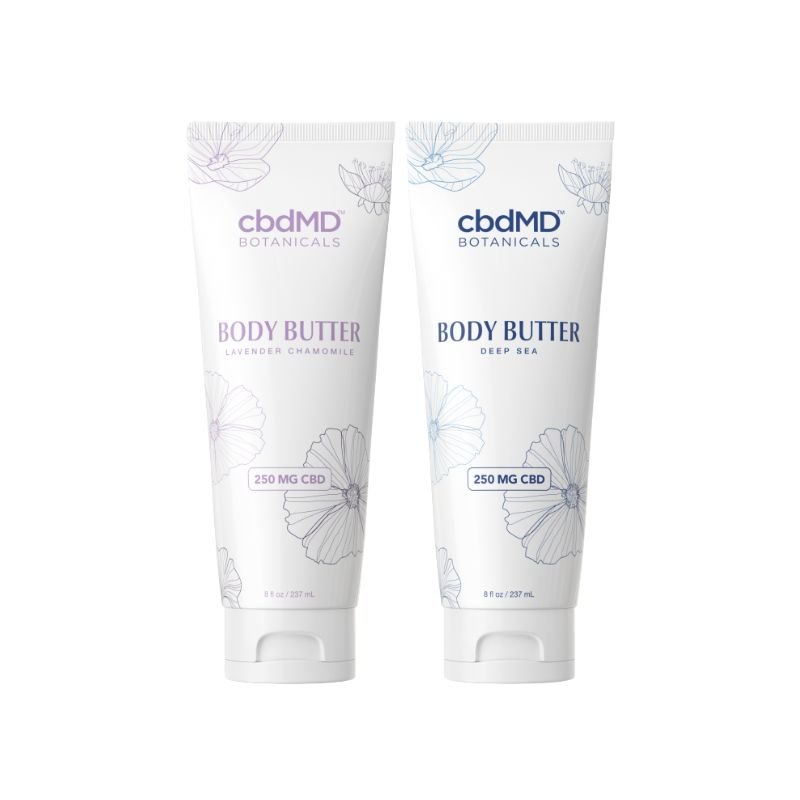 CBD Body Butter moisturizes dry skin using its vitamin-rich formula, including CBD and other cannabinoids. It also has other nourishing ingredients, such as shea butter and coconut oil. Body Butter helps you have soft, healthier, more beautiful skin.
Scents:
Lavender Chamomile
Deep Sea
Price: $23.99
Pros:
Nourishing and moisturizing
Rich in vitamins
Great scents
Cons:
Unknown long-term effects
---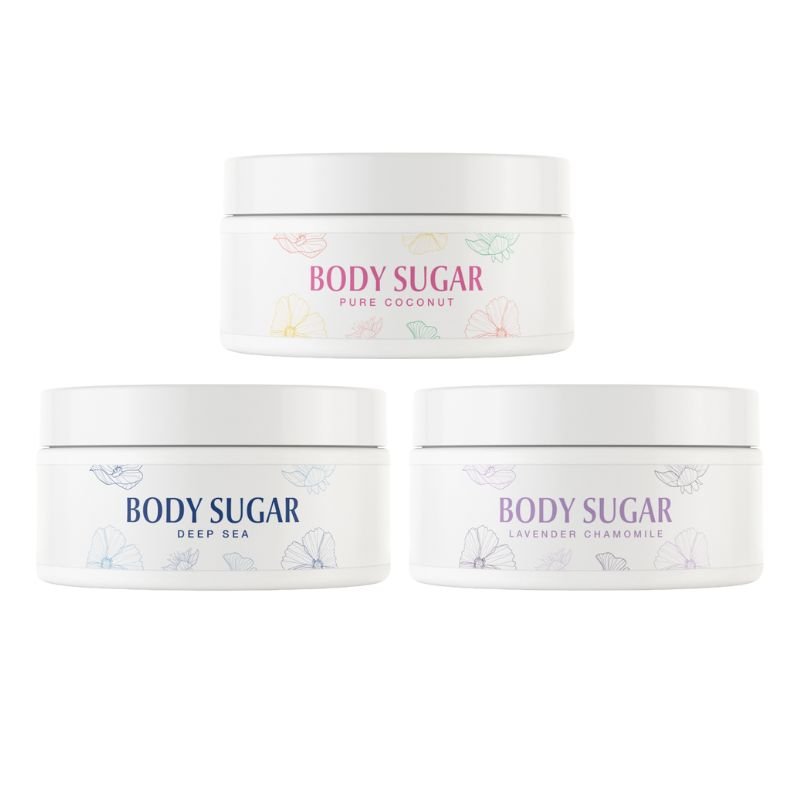 CbdMD's Body Sugar moisturizes the skin and eliminates impurities. It's made with premium ingredients, including Superior Broad Spectrum, that offers just enough exfoliation for soft, beautiful skin. Body Sugar provides 250 mg of CBD.
Scents:
Deep Sea
Pure Coconut
Lavender Chamomile
Price: $22.99
Pros:
Great scent options
Improves skin health
Moisturizing and exfoliating
Cons:
Unknown long-term effects
---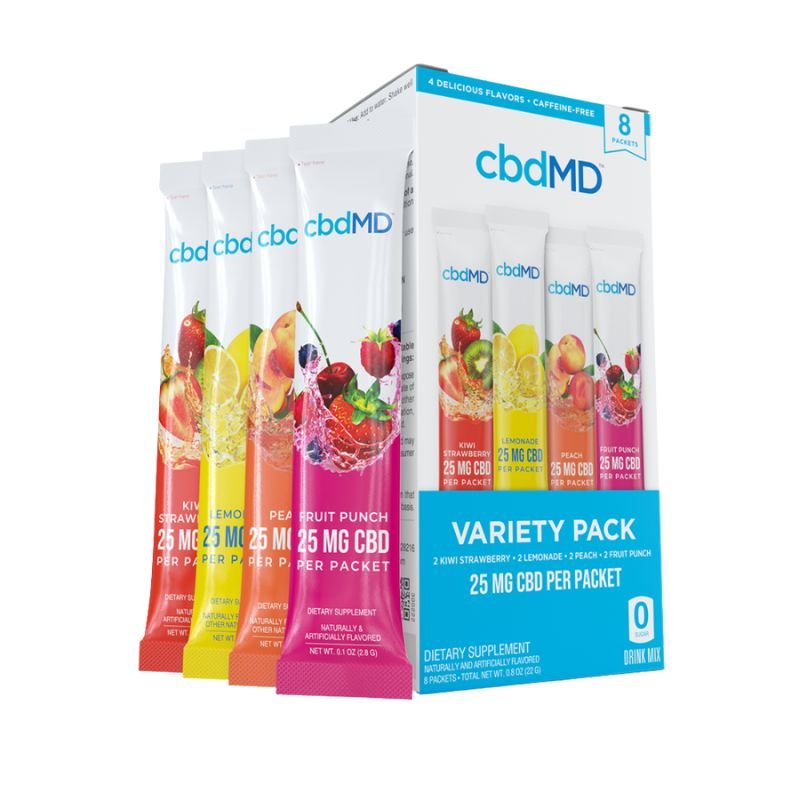 You can quench your thirst and get your CBD needs through one fantastic product – the CBD Powdered Drink Mix. This drink is infused with 25 mg of CBD in every serving.
Flavors:
Kiwi Strawberry

Lemonade

Peach
Fruit Punch
Price: $12.49
Pros:
Broad-spectrum formula
No caffeine, sugar, or gluten
Vegan-friendly
Water-soluble
With vitamin C
---
Quality of the products
The quality of cbdMD CBD products starts with their keenness in the production process. The fact is that cbdMd handles all the production processes.
Now that their hemp gets cultivated under Kentucky's Pilot Program, most people can agree that their quality hemp produces quality CBD products after extraction.
They say they use the CO2 CBD extraction process to get their CBD. The C02 is a popular extraction method as it can preserve terpenes, cannabinoids, and other essential ingredients.
This makes it possible for you – the buyer – to get isolate or broad-spectrum CBD products with the best yet natural ingredients.
Before the products become available for sale, they pass through third-party lab tests to ascertain their quality. CbdMD then publishes a Certificate of Authority on their site for confirmation.
Secondly, they discreetly package the products in neat materials. The customer can, therefore, get their shipment in its best form.
Additionally, the company offers a 30-day money-back guarantee to customers who, for any reason, feel like their delivered products don't meet their quality expectations.
Present Cannabinoids
Most cbdMD products, if not all, lack traces of THC. That said, you can expect to find Cannabidiol (CBD) and Cannabidivarin (CBDV) as the two primary cannabinoids in their product.
In every milliliter of CBD oils, you can usually expect to find 99.5mg of CBD and 0.23mg of its CBDV counterpart.
User Experience
As previously mentioned, we will delve deeper into their best–selling cbdMD tinctures.
Introducing cbdMD tincture into your body leaves the taste buds with mint, berry, natural hemp, or orange flavors. If, for instance, you struggle with worry, insomnia, or stress, taking a drop of their tincture leaves you feeling better.
You will also experience satisfaction convenience-wise. For example, you can select a tincture depending on your budget and the severity of your pain point.
CbdMd's tinctures are made of CBD isolate, meaning they lack THC. Therefore, those who don't like getting high have a product in store for them.
Their bottles carry 30ml or 60ml, each with a dropper to ease consumption. In using the dropper or a finger, you may notice that cbdMD's tinctures are undiluted seeing how they flow smoothly.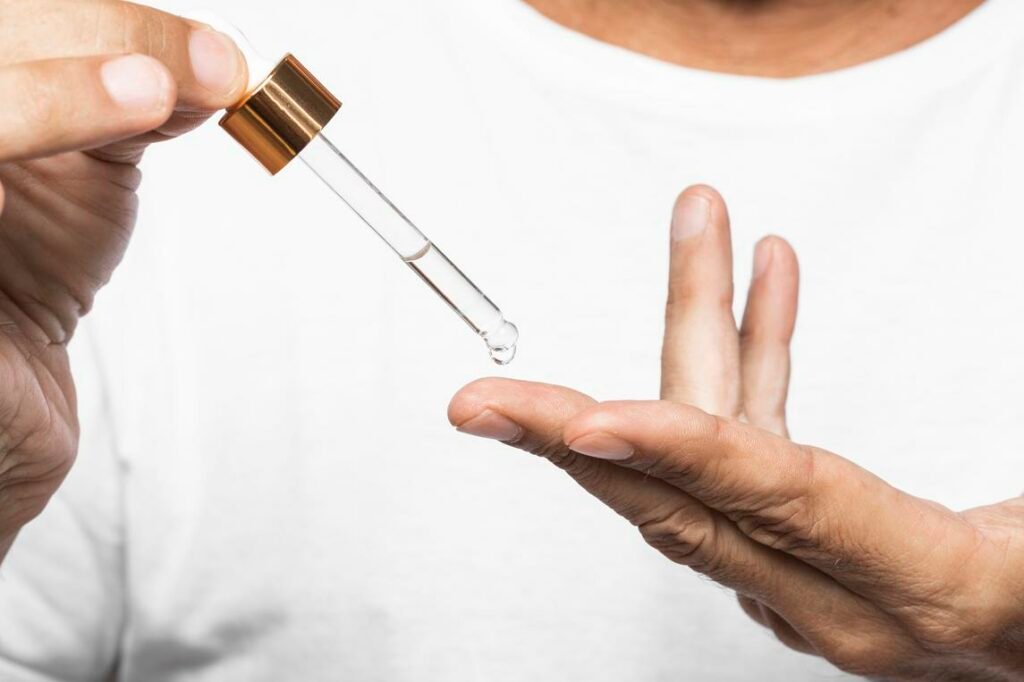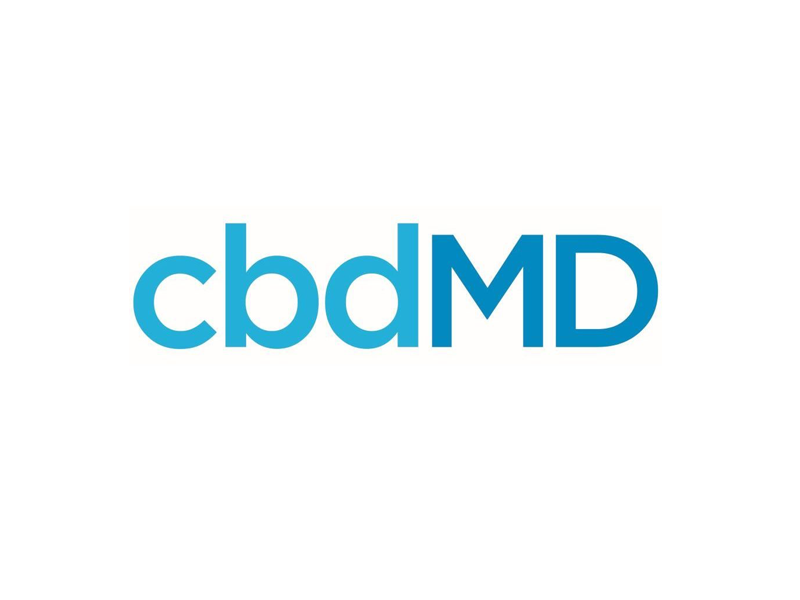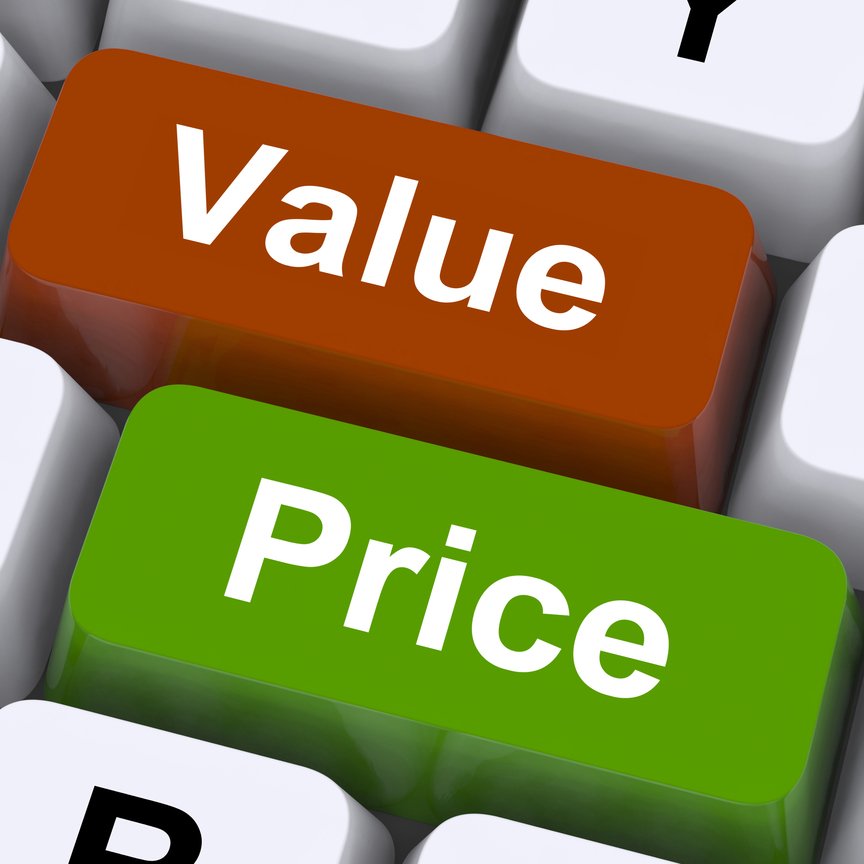 How do the price and value compare?
Among the factors determining the value of a CBD product are the hemp plant parts used, the extraction method, the results obtained after lab tests, and the general quality of the final product.
Going by those four critical points, we can only nod that cbdMD products are undoubtedly valuable products.
The prices of the products on their site may seem low. However, it all depends on the strength of the product.
Moreover, the company claims it can meet low production costs by cultivating its hemp and managing its farms. In the long run, this typically translates to low prices for the end products.
Shipping and Delivery
CbdMD offers free shipping across the U.S. and is available for orders above $59.99. If the order is below $59.99, you will have to pay an additional $3.99. The subtotal must be over $59.99 to avail of free shipping, excluding discounts and taxes.
They ship all orders on the same day as long as they are placed before 11 AM Pacific Time (2 PM ET), from Mondays to Fridays. The shipping time does not include Saturdays, Sundays, or Federal holidays.
cbdMD also ships to all U.S. territories and military bases. They can send the order to the closest FedEx Pic-Up location if preferred. Shipping takes 2 to 3 business days, excluding weekends and holidays.
5% Coupon Code on all products: –
Customer support
Those who have questions about cbdMD can contact them via 1-800-973-3984 or support@cbdmd.com. However, cbdMD has a bot of poor customer service due to taking them often a day to reply.
Conclusion
CbdMD should be your stopover when looking for certified and high-quality CBD products. As they say, their goal has always been to produce the highest-quality CBD while using then state-of-the-art-production and manufacturing.
Hopefully, this review has given you some ideas and helped you decide whether to get your CBD needs from cbdMD or not.
CBDMD Full Review
CbdMD is a recognizable name in the CBD industry, but it is hard to say it is a popular brand. There are many positive reviews about the brand and also a handful of negative testimonials. On Sitejabber.com, it is listed with 2.43 stars from the 28 reviews there.
It obviously indicates many people are dissatisfied with it. It also has only 1.8 stars rating out of five reviews on BBB.org. The Better Business Bureau also mentions that cbdMD is not BBB-accredited. However, the brand is marked as an A+ brand on its website.
There were four complaints in cbdMD's BBB profile. Two were about advertising and sales, but one of them seems to have confused the brand with someone else. The other was a problem with a product or service which does not seem to be resolved satisfactorily.
There is one 5-star review among these complaints. One customer found they enjoyed cbdMD's products immensely. They also seem to be looking forward to the brand doing more great things in the future.
Unfortunately, cbdMD also has poor ratings on TrustPilot.com. The website gave them 2.2 stars out of 5 based on nine reviews. Meanwhile, Allbestcbdoil.com gave the company an incredible 9.8 score based on 1,428 reviews, saying cbdMD is a reliable and trustworthy CBD brand.
CBDMD Oil Review: Why Are They Considered Today's #1 Brand?
CbdMD oil has plenty of pros that make it one of the best companies among other brands in the market today. Admittedly, there are also some disadvantages that every customer definitely must consider before purchasing from them.
The most significant advantage that makes cbdMD a top CBD brand is that a third-party laboratory independently tests its products. Third-party testing is, without a doubt, one of the things they do right.
For any brand dealing with CBD oils and other hemp-derived CBD products, providing that they are a legitimate and trustworthy company is always one of the things they must fulfill. One way to do so is by submitting their products for third-party lab testing.
In doing so, they also proved to consumers the quality and purity of their products, another essential factor determining their reliability. CBD is beneficial, complex, and can be dangerous, making it a necessity to provide lab test results that can confirm what is inside a CBD product.
Another thing that makes cbdMD a top brand is their CBD oil base is fractionated coconut oil. Many people might not know, but our bodies are not great at absorbing CBD. Thus, they need bases to make it easier to take the substance in.
Coconut oil is one of the best base materials for that. More importantly, cbdMD uses "fractionated" coconut oil, also known as MCT. It is the best base for CBD oil, ensuring the body can absorb CBD quickly and smoothly.
One more thing is that most cbdMd products are broad-spectrum. When they say pure CBD oil, no other cannabinoids can be found in the CBD extract. A broad-spectrum CBD is like that. It only has CBD – no terpenes and certainly no THC.
CbdMD also has full-spectrum products. As opposed to a broad-spectrum, a full-spectrum CBD has all the beneficial compounds of a hemp or cannabis plant. It has all cannabinoids, including terpenes and THC, resulting in the so-called "entourage effect."
cbdMD Review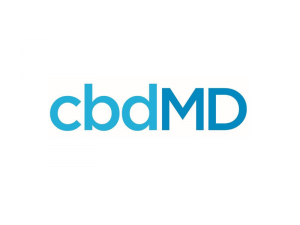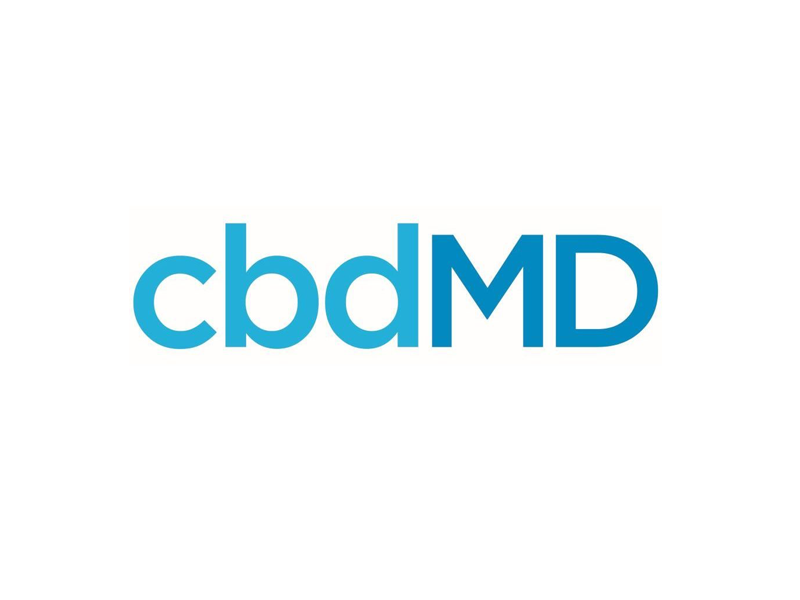 Product Name: cbdMD
Product Description: Among the most famous brands, Today is cbdMD, which typically prompts us to do this ultimate review. Are the praises behind the brand a marketing gimmick or worth it?
Brand: cbdMD
Summary
Among the most famous brands, Today is cbdMD, which typically prompts us to do this ultimate review. Are the praises behind the brand a marketing gimmick or worth it?