Sunday Scaries Review
Overview
The invention and continuous manufacturing of CBD gummies see to it that more CBD products enter the industry today.
Among the committed brands in ensuring that CBD users get a product that works to their expectations is Sunday Scaries.
As their name suggests, their CBD gummies get manufactured in such a way that they address people struggling with Sunday Scaries.
Nonetheless, is their name indicative that these gummies have something to offer in providing a dependable solution, or it's just a marketing gimmick?
Let's get a breakdown of this unbiased Sunday Scaries review. At the end of the last full-stop, we believe you will be in the best position to decide whether to keep or spend your cash on their gummies.
About Sunday Scaries Products
What are Sunday Scaries, anyway? You may be asking. You can see the explanation from the company here.
Mike and Beau founded Sunday Scaries, and they had a single reason…" to help you chill the f*ck out so you can enjoy your life."
They were introduced to CBD by their friend, Garett, as they were trying to figure out how they could open a second bar.
After they felt the calming effects of CBD, they decided to start their brand, Sunday Scaries. Today, they boast of having a transparent CBD company, easy to dose products, and those that can get taken on the go.
They source their hemp from family-owned farms in Colorado. They say that they grow their hemp according to the 2014 Farm Bill, whereby, the farms get regulated by their Agriculture Department.
Mike and Beau ensure that their products come from broad-spectrum CBD; thus, they don't contain any THC.

Ingredients
HEMP OIL EXTRACT, MCT OIL, NATURAL FLAVORS, TERPENES

Recommended Use
ONE SERVING (1/2 DROPPER) 1-3 TIMES PER DAY. APPLY DROPS UNDER THE TONGUE, HOLD FOR 60 SECONDS AND SWALLOW.

Extraction Process
Co2

Medical Benefits
PREMIUM HEMP EXTRACT SUPPLEMENTS. NOT FDA-APPROVED AS A MEDICINE
Sunday Scaries Products
This CBD brand sells:
CBD gummies
Bundles
Tincture
Candy
Energy shot
Bath bombs.
Quality of Sunday Scaries products
As previously mentioned, Sunday Scaries sources their hemp from Colorado. CBD enthusiasts know Colorado-grown hemp is of the highest-quality; thus, we can judge the soils don't harbor stable metallic compounds.
Secondly, the team at Sunday Scaries clarifies that their products contain supplements like vitamins. This is a fantastic way to market themselves since disclosing all the information about the ingredients is a great way to know that you get more than what you have paid for.
Thirdly, their products have high amounts of CBD. Remember that CBD levels in any Cannabidiol product play an integral part in determining the quality. For instance, each of their gummies contains 10mg of CBD. The CBD levels can be seen on their lab results page.
Lastly, they use CO2 extraction to process the hemp plant matter. This way, we can attest that the products are of the highest quality ever.
User Experience
Now that they take pride in their CBD gummies, we had to test and see whether they are indeed the best or mere marketing hype.
These CBD gummies come with vitamins. It is a tactic that most CBD manufacturers haven't adopted for long.
One can choose between the regular gummies or Vegan AF gummies. Either way, these two provide the same benefits. The difference lies entirely in the ingredients.
The regular gummies have a sweet flavor, while the AF Vegan gummies have a sour taste.
According to them, they don't use anything as filler, and that every ingredient has its purpose. For instance, Vitamin B12 regulates the user's central nervous system, while Vitamin D3 can boost your immune system.
Their gummies also have coconut oil and pure cane sugar. Nonetheless, broad-spectrum CBD oil forms the best part of any of their gummy products.
After taking 1 to 3 gummies, Sunday Scaries says that the user experiences the subdued Sunday Scaries after 20 minutes to half an hour.
Present Cannabinoids
CBD forms the best part of their gummies' cannabinoid profile. However, there is the presence of CBDV in little amounts, though.
You, nonetheless, don't have to worry. CBDV doesn't cause a high.
Prices of the Products
Now that prices are bound to change any day and any time, it is critical if you visit their website and ascertain from the most recent.
At the time of writing this review, the prices of their products are as incorporated below.
How do the price and value compare?
When we set our eyes on their products' page, our first thing to see was "free shipping on all plans and orders over $69."
Well, the prices of the products on the table above seem affordable. However, it's not yet over. Sunday Scaries company gives its customers the prompt to buy monthly or to those who wish to try a product one time.
Now, let's take an example of the CBD bundles on the table above. If you would like to try the bundles once, you'll purchase them at $131.
If you would like to get billed monthly, then it'll be cheaper. The current price for those charged monthly is $99.
Put simply; this company is committed to giving value at affordable prices.
Additionally, they give a money-back guarantee to customers who feel for a reason or any other that the products haven't met their specifications.
Shipping and Delivery
Sunday Scaries Company doesn't ship internationally. However, for those in the states, they are eligible for free shipping, provided it meets the mentioned threshold – $69 and above.
They ship out the orders within a maximum of 2 working days and deliver using USPS.

5% Coupon Code on all products: 5OFFCBD1
What we like about Sunday Scaries
Among the best CBD gummies
Guaranteed customer satisfaction
Ability to purchase once or through a monthly subscription
Potent products.
What we don't like
A limited number of CBD products.
Customer support
Those who have concerns about their products or in the dire situation to seek clarification about any product can contact them by calling them toll-free at 833-946-6633 or drafting a message on their site.
Conclusion
Sunday Scaries has made great strides in ensuring there is a transformation in the way some CBD products like their gummies work.
Their usage of primal ingredients like Vitamins shows they want the buyers to get overall mood enhancement while supplementing their bodies with vitamins and immunity boosts.
We believe that you are in the best position to judge whether you can try them out or not after reading our Sunday Scaries review.
As far as we are concerned, we undoubtedly give a tick if you would like to buy products from them.
Sunday Scaries Full Review
Simple online data shows that Sunday Scaries oil has been one of the best-selling tinctures in the U.S. over the last several years. Consumer feedback and industry media generally regard the brand as top-quality, and like other CBD brands, PureKana has taken advantage of recent federal updates. They now now ship their entire product range, free of charge, to nearly all 50 states, as well as several countries globally.
In terms of the domestic retail space, PureKana CBD products are not generally found in medical or recreational cannabis dispensaries. This is mostly due to state laws which mandate that all cannabis products be derived from in-state manufacturers. In the online space, thousands of customer feedback reports and reviews show that PureKana excels in quality-assurance, as well as day-to-day results. This largely explains why PureKana CBD oil has been voted for three years running as the best CBD oil in the USA.
Sunday Scaries CBD places convenience and ease-of-use at the forefront of their online model.
Over the last year or so, Sunday Scaries has poured significant investments into two major parts of its business. First, the brand has assured both the purity and CBD content of its product range by offering independent 3rd-party lab testing through California's ProVerde labs.
Further, they have improved their CO2 extraction methods to a state-of-the-art closed-loop (high-pressure/low-temperature) system, which allows phytocannabinoid extraction to take place with very little loss in active compound.
The brand has also made significant investments in its interactive, user-friendly website. They maintain one of the industry's most high-profile blogs, which serves to promote CBD education and awareness to a rapidly-growing U.S. customer base.
The company has also recently incorporated site-wide rebranding, improving the general appeal of its product labeling and end-user design. The company CEO told us, "if you're not progressing as a company, you're being overtaken by the competition. Product quality is one thing – and certainly quality is our number one priority. But it pays to stay fresh and relevant in such an ever-changing market."
Sunday Scaries Review: Why Are They Considered Today's #1 Brand?
If you've read any online reviews in recent months, you'll have no doubt noticed the unprecedented growth in CBD popularity across the United States. You've also probably noticed that Sunday Scaries is listed as a top pick across most reputable media outlets. If you're wondering how the company manages to continuously be placed at the forefront of such a competitive market, it's really pretty simple. The Serene CBD cannabidiol (CBD) extraction process is state-of-the-art and allows the company to distinguish itself from other brands in the industry. This ultimately comes down to two main reasons:
Prestige CBD uses U.S. Certified Organic Hemp that is cultivated to the highest standards in the country.
Prestige CBD extraction process allows their oils to contain unprecedented levels of purity and potency. PureKana produces full-spectrum CBD, which means you are getting a unique whole-plant formula. Along with therapeutic compounds like terpenes and phytocannabinoids, the formula contains beneficial fatty acids in the form of medium-chain triglycerides (MCT). Labsheets also show that PureKana CBD oil is free from pesticides, herbicides, solvents, and chemical fertilizers.
Sunday Scaries Review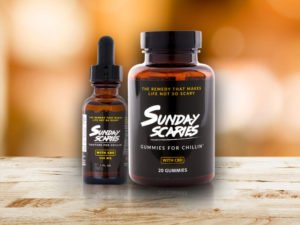 Product Name: Sunday Scaries
Product Description: Sunday Scaries has made great strides in ensuring there is a transformation in the way some CBD products like their gummies work.
Brand: Sunday Scaries
Summary
Sunday Scaries has made great strides in ensuring there is a transformation in the way some CBD products like their gummies work.
Pros
Among the best CBD gummies
Guaranteed customer satisfacti0n
Ability to purchase once or through a monthly subscription
Potent products
Cons
A limited number of CBD products.