Serene CBD Review
Overview
Serene addresses calmness. When it comes to the Serene CBD brand, would their name be symbolic that their CBD products give calmness?
Well, we had to conduct this Serene CBD oil review and determine if indeed it's what the name means. We are going to major on the year they came into existence if they have satisfied their customers' searches, and if you may get value for your time and cash after deciding to settle on them.
If you would also like to learn about their range of products and prices, it is in this same write-up where we are going to address everything.
About Serene CBD Products
Serene CBD deals in a plethora of products. These comprise:
CBD oral tincture
Pain balm
Anti-aging serum
Dead sea bath salts
CBD vape cartridge
Lip balm.

Ingredients
HEMP OIL EXTRACT, MCT OIL, NATURAL FLAVORS, TERPENES

Recommended Use
ONE SERVING (1/2 DROPPER) 1-3 TIMES PER DAY. APPLY DROPS UNDER THE TONGUE, HOLD FOR 60 SECONDS AND SWALLOW.

Extraction Process
Co2

Medical Benefits
PREMIUM HEMP EXTRACT SUPPLEMENTS. NOT FDA-APPROVED AS A MEDICINE
Serene CBD Products
On their online shop, Pure Relief sells:
Raw Hemp Flower
CBD oils
Edibles
Vapes
CBD bundles
CBD for pets
CBD topicals
Apparel.
Quality of Serene CBD products
Their CBD oral tincture seems to be their best seller. They say that it gives high doses of CBD and that the "tincture blend only contains Organic MCT oil and 600 mg of cannabis Sativa CBD extract."
We can be sure to say their products meet quality standards since:
Firstly, they manufacture their products using organically cultivated and produced hemp from California and Oregon. There is no doubt about these sources.
Secondly, the products contain no GMO products; thus, they are a replica of organic and natural products.
Thirdly, the use of full-spectrum CBD means the products give all the associated merits of Cannabidiol while assuring that the user gets CBD bioavailability.
Lastly about the quality of their products, the 3rd party lab tests displayed on the products can assure the buyers that they are purchasing safe products and those that don't contain heavy, toxic metals like lead.
For instance, they say that their products contain 20mg of CBD in a milliliter of the oil. It is undoubtedly the case since, after tests, it was found that the potency is 21.74mg in a milliliter of oil.
That typically means they are not mean with their Cannabidiol and that they want to give value to everyone.
User Experience
The CBD oil tincture from Serene CBD comes in peppermint and original hemp tastes. There are no unnecessary ingredients and additives, which is why it gets easy to conclude that the product is entirely natural.
The tinctures come in three different strengths and prices. These include:
After swallowing any tincture, the tastes take a short time to varnish from the mouth, unlike most strong CBD products out there.
Put simply; Serene CBD oral tinctures give the tastes as described on the site. This, in a way, is merit to them since most CBD users don't like intense flavors and tastes.
True to the meaning of Serene, this CBD oil product gives the user calmness sensations. It's a product one cannot fail to love!
Present Cannabinoids
Most of the Cannabidiol products in Serene CBD are in full-spectrum. Cannabidiol (CBD) is then the chemical compound forming an integral part of their products' cannabinoid profile.
Prices of the Products
How do the price and value compare?
Valuable products get high priced. However, that's not the case, at least with Serene CBD. During our research, we have noticed that their products are averagely priced, and none of them seems to be among the most expensive.
Additionally, first-time shoppers get 10% discount as of the moment.
Shipping and Delivery
Team Serene CBD boasts of shipping orders priced above $99 for free provided the buyer is among the 50 states.

5% Coupon Code on all products: 5OFFCBD1
Full Review
High CBD levels among the products
Affordable prices
Met quality standards
What we don't like
We haven't seen any demerit so far about Serene CBD. However, we agree that if they can provide more details about shipping and delivery, it could help the customers better.
Customer support
We agree that Serene CBD takes their customers' queries seriously and that they are committed to ensuring they stand by their word.
In case of any concerns, you can call them through 1-833-4 SERENE. You can also send an email at support@serenecbd.me on Monday through Friday between 9 am and 5 pm CST.
Conclusion
Serene CBD is among the known brands for bringing to existence products meant for providing real solutions to patients.
They have gone against all the odds despite being new in the industry, and we can comfortably say that you won't be gambling with your cash if you buy from them.
The fact that they also contribute to a non-profit organization means the founders and the entire team has everyone in mind.
We believe this Serene CBD oil review has opened up your eyes and brains to spend where you will get value and quality.
With their entire range of products on their homepage, we believe that you can't miss the product of your choice.
Serene CBD Full Review
Simple online data shows that Prestige CBD oil has been one of the best-selling tinctures in the U.S. over the last several years. Consumer feedback and industry media generally regard the brand as top-quality, and like other CBD brands, PureKana has taken advantage of recent federal updates. They now now ship their entire product range, free of charge, to nearly all 50 states, as well as several countries globally.
In terms of the domestic retail space, PureKana CBD products are not generally found in medical or recreational cannabis dispensaries. This is mostly due to state laws which mandate that all cannabis products be derived from in-state manufacturers. In the online space, thousands of customer feedback reports and reviews show that PureKana excels in quality-assurance, as well as day-to-day results. This largely explains why PureKana CBD oil has been voted for three years running as the best CBD oil in the USA.
Serene CBD places convenience and ease-of-use at the forefront of their online model.
Over the last year or so, Serene CBD has poured significant investments into two major parts of its business. First, the brand has assured both the purity and CBD content of its product range by offering independent 3rd-party lab testing through California's ProVerde labs.
Further, they have improved their CO2 extraction methods to a state-of-the-art closed-loop (high-pressure/low-temperature) system, which allows phytocannabinoid extraction to take place with very little loss in active compound.
The brand has also made significant investments in its interactive, user-friendly website. They maintain one of the industry's most high-profile blogs, which serves to promote CBD education and awareness to a rapidly-growing U.S. customer base.
The company has also recently incorporated site-wide rebranding, improving the general appeal of its product labeling and end-user design. The company CEO told us, "if you're not progressing as a company, you're being overtaken by the competition. Product quality is one thing – and certainly quality is our number one priority. But it pays to stay fresh and relevant in such an ever-changing market."
Serene CBD Review: Why Are They Considered Today's #1 Brand?
If you've read any online reviews in recent months, you'll have no doubt noticed the unprecedented growth in CBD popularity across the United States. You've also probably noticed that PureKana is listed as a top pick across most reputable media outlets. If you're wondering how the company manages to continuously be placed at the forefront of such a competitive market, it's really pretty simple. The Serene CBD cannabidiol (CBD) extraction process is state-of-the-art and allows the company to distinguish itself from other brands in the industry. This ultimately comes down to two main reasons:
Prestige CBD uses U.S. Certified Organic Hemp that is cultivated to the highest standards in the country.
Prestige CBD extraction process allows their oils to contain unprecedented levels of purity and potency. PureKana produces full-spectrum CBD, which means you are getting a unique whole-plant formula. Along with therapeutic compounds like terpenes and phytocannabinoids, the formula contains beneficial fatty acids in the form of medium-chain triglycerides (MCT). Labsheets also show that PureKana CBD oil is free from pesticides, herbicides, solvents, and chemical fertilizers.
Serene CBD Review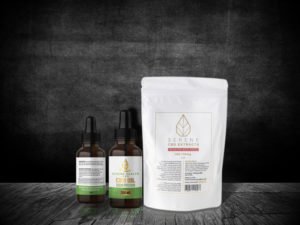 Product Name: Serene CBD
Product Description: Serene CBD is among the known brands for bringing to existence products meant for providing real solutions to patients.
Brand: Serene CBD