What is the best CBD Oil for sleep?
CBD, also known as cannabidiol, is a popular hemp compound that's been popping up everywhere since it was legalized at the end of 2018. Often confused with THC, CBD is a similar compound with a much more different response. Most of all, it doesn't produce the "high" associated with the cannabis plant.
Instead, the hemp compound offers a calming effect that helps reduce anxieties, slow racing thoughts, and many consumers use CBD oil for sleep. Researchers are still trying to understand precisely how the compound mingles with the endocannabinoid system. But they're aware that less stress means a better night's rest.
Dr. Joseph Maroon, a clinical professor, and neurosurgeon at the University of Pittsburgh Medical Center, explained to Consumer Reports that hemp oil for insomnia isn't the goal, but does note the cannabinoid is an,
LEAVE IT ON THE SHELF

Although cannabis products are becoming more accessible in some places, it's best to avoid buying them from certain storefronts. It may seem convenient, but avoid picking up products from the gas station or your local salon.
"… alternative natural method to help calm anxious thoughts that often delay or interrupt natural sleep."
The hunt for an all-natural sleep aid
I've been searching for a way to sleep better at night without waking up groggy and feeling out of it for the first few hours of the day. Melatonin didn't work. Benadryl knocked me out but left me with medicine head in the morning that not even a double shot of espresso could fix.
The lost list of side effects for prescription sleep aids didn't seem any more promising. Plus, I didn't want to start taking another medication I'd be stuck on for years. When a pot of coffee in the morning can't get you going, you need to do something. Finally, I decided to try CBD for sleep.
Eureka! The effects of CBD is exactly what I needed. I take a dose 30 minutes before bed, and I barely remember much after turning off the light. I'm not tossing and turning. My mind's not thinking about everything I need to do in the morning. I close my eyes and go to sleep.
When I wake up in the morning, I'm awake. That's because the hemp extract promotes wakefulness. Let's be honest, very few people bounce out of bed happy to start a new day unless it's a weekend or they're on vacation. The most crucial part is that I'm not still dragging after drinking half of the pot of coffee.
Consumer-Approved CBD Products for Sleep
Some consumers love one product and stick to it through thick and thin. I like to try new brands to see if a new ingredient or change in the formula of hemp oil for insomnia will work for me. Here are some of the CBD products for sleep that I love: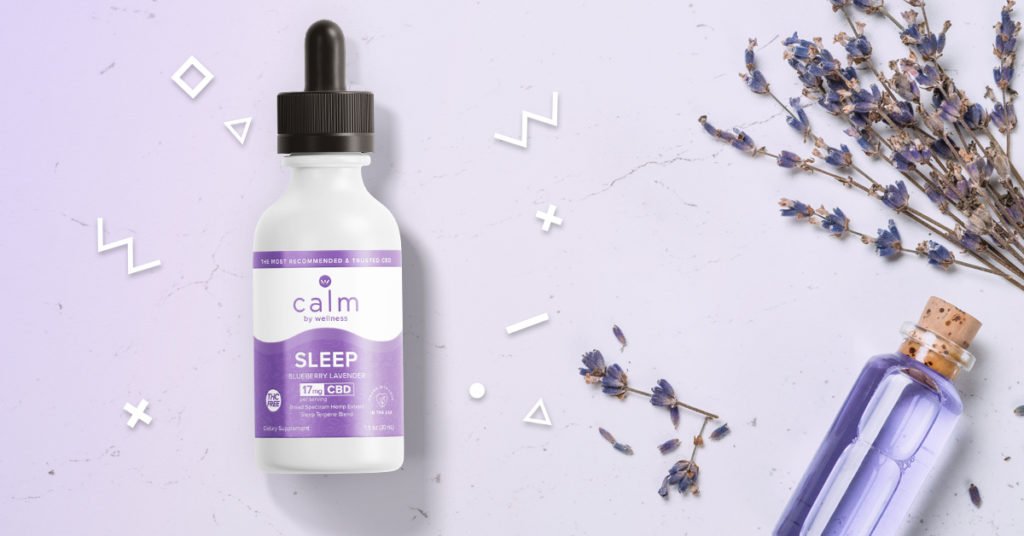 Calm by Wellness is a potent CBD blend that offers an all-natural delicious blueberry flavor and a deep, intoxicating lavender aroma. Each serving provides 17mg of CBD. The broad-spectrum formula is THC-free. It presents a unique blend of cannabinoids and terpenes.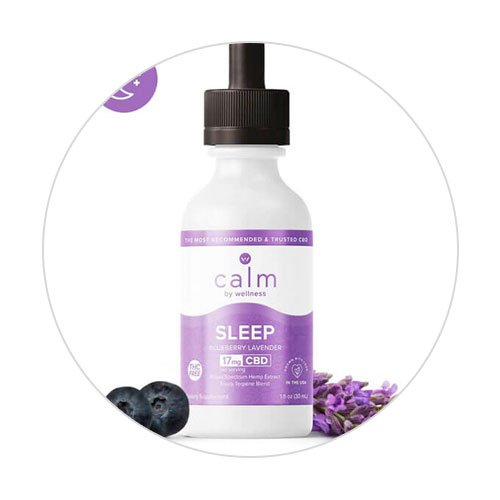 Use code "LABORDAY" for 25% off
Calm by Wellness is ideal for consumers that are sensitive to or experience side effects from melatonin. Consumers looking for CBD for sleep will love Calm by Wellness's effective formula. 
The tincture includes a mixture of hemp oil, lavender, chamomile, hops, lemongrass, ho wood, jasmine, and pine. The potent combination works to calm the mind, reduce stress, and uplift moods without producing a high.
Joy Organics Premium CBD Softgels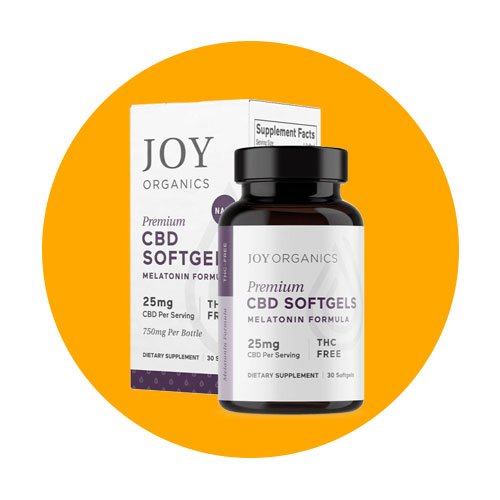 CBD comes in many forms. From dried flowers to capsules, each method appeals to different consumers. Some people feel more comfortable with a softgel, which is CBD oil infused into a bovine-derived gelatin capsule. 
Joy Organics CBD Softgels are made with a broad-spectrum, THC-free formula and blended with water-soluble melatonin. Each pill contains 25mg of all-organic CBD. It also includes a rich mix of beta-caryophyllene and Roman chamomile.
Joy Organics CBD is manufactured in the USA and uses nanoemulsion technology to deliver fast and effective precision dosing. Each bottle contains 30 softgels. 
CbdMD: CBD PM for Sleep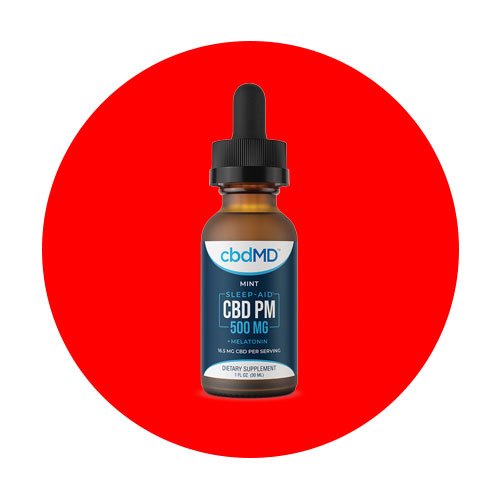 Use code "HEALTH15" for 15% off
CBD oil with melatonin is growing in popularity. cbdMD offers a refreshing mint-flavored broad-spectrum CBD tincture that includes melatonin. The 500ml bottle contains 16mg of CBD per ml and no THC. It also has an enhanced cannabinoid profile containing CBG and CBC.
cbdMD CBD PM gluten-free and is derived from USA grown hemp. The oil includes a rich blend of melatonin, chamomile, hops flower extract, lemon balm leaf extract, passionflower extract, valerian root extract, and all-natural MCT oil. cbdMD CBD oil goes through extensive third-party testing by ISO-certified labs in the US.
Charlotte's Web CBD for Sleep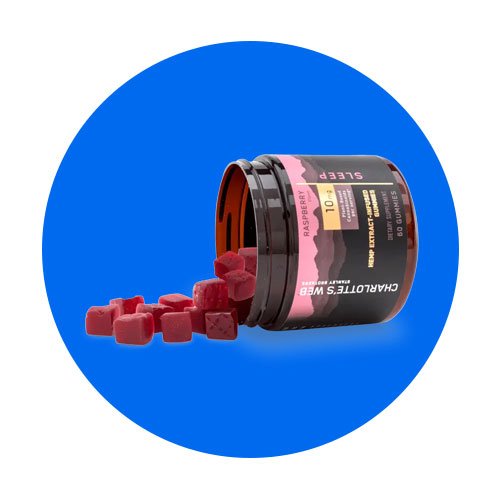 Use code "HEALTH15" for 15% off
Charlotte's Web CBD is the gold standard for hemp-extract infused products in the US. The top hemp oil brand now offers scrumptious, all-natural raspberry-flavored gummies. Stanley Brothers' combine high-quality CBD and melatonin, two naturally occurring sleep aids, into one delicious, hemp edible. 
Each gummy contains 10mg of full-spectrum hemp extract and 3mg of melatonin. The nighttime candies are flavored with natural juices from fruits and vegetables. Charlotte's Web CBD for Sleep is a potent formula that includes phytocannabinoids, terpenes, flavonoids, and other essential phytonutrients to help consumers get the rest they need and help regulate their sleep cycle. 
The Stanley Brothers only use USA grown hemp. Each bottle contains 60 gummies.
Medterra: Liposomal CBD + Good Nights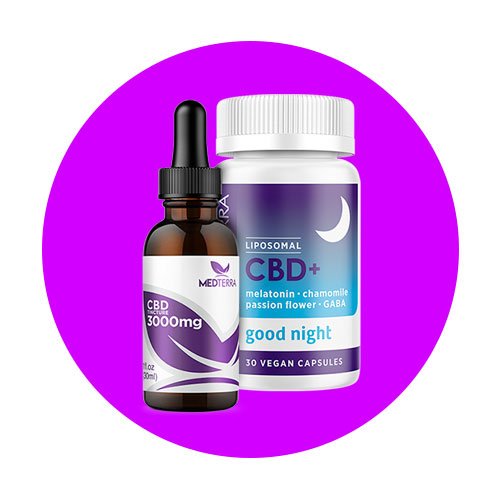 Medterra is a popular CBD brand that's developed an advanced sleep broad-spectrum formula. It includes a potent blend of CBD, liposomal, melatonin, vitamin B6, and vitamin 12. The liposomal in the capsules provide faster delivery than traditional CBD softgels. 
The lipids stop the nutrients in hemp oil from breaking down before reaching the bloodstream, improving the bioavailability. By improving how fast they reach the bloodstream and the absorption rate, consumers get a better overall response from the hemp and improve their sleep quality. Try Medterra Liposomal CBD for a good night's rest.
Medterra: Liposomal CBD + Good Nights is a THC-free formula that's derived from all-organic hemp grown and extracted in the USA in Kentucky. It's cultivated with non-GMO seeds and without the use of harmful pesticides and other chemicals. Each bottle contains 30 servings
Elixinol Good Night Capsules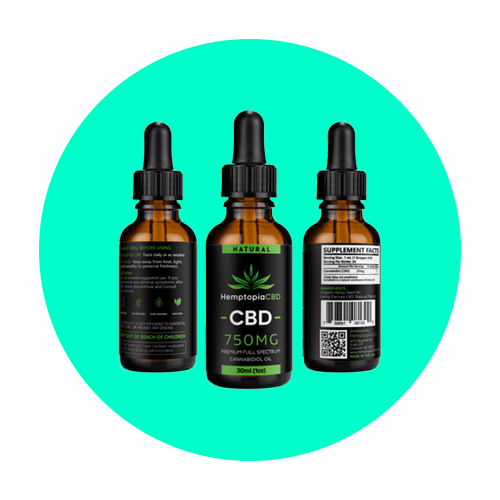 Another excellent product that combines the sleep aid powers of CBD and melatonin is Elixinol Good Night Capsules. These contain 15mg of CBD per pill and are available in 10 and 30 packs, rather than bottles, like most hemp product packaging. Unlike the other CBD capsules that are THC-free, Elixinol offers a full-spectrum formula.
All products are derived from legally grown hemp in the USA and certified by the U.S. Hemp Authority. The brand uses plant-extracted melatonin from grapes and strawberries. Elixinol uses encapsulated liquid hemp oil to improve the absorption rate for the capsules. The hemp oil is vegan-friendly.
CBD+ Gummies for Sleep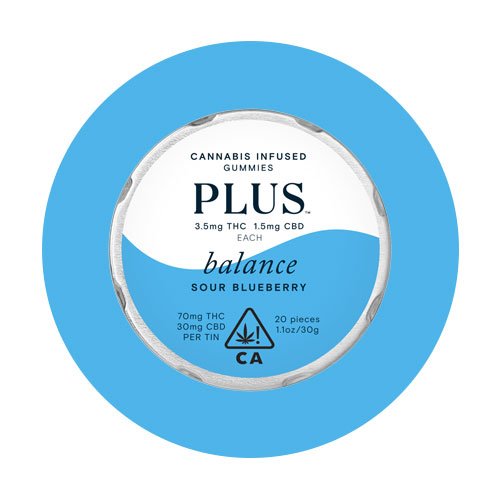 The flavors available for CBD products are quickly expanding and improving. CBD+ Gummies for Sleep are delivered in a cute silver tin that contains 350 mg of CBD and 14 gummies. Each edible includes 25mg of high-quality CBD and 1mg of melatonin. The gummies have an all-natural blackberry tea flavor that makes it difficult to eat only one.
CBD+ Gummies for sleep are gluten-free and derived from hemp grown in the USA. The low-calorie candies contain kosher ingredients, including kosher gelatin, sorbitol, CBD isolate, blackberry flavoring, lemon essential oil, chamomile extract powders, and melatonin. Each batch goes through multiple tests for quality assurance. 
CBD Fx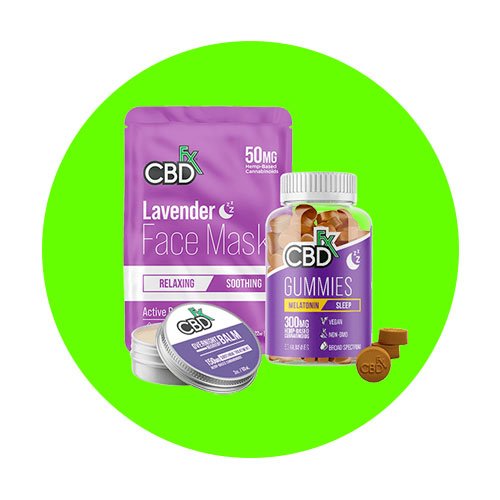 Use code "HEALTH15" for 15% off
Gummies are a yummy way to help you fall asleep at night. It also helps consumers stay asleep. CBD FX offers a vegan, non-GMO gummy that mixes CBD and melatonin. The broad-spectrum formula contains no THC and a mixture of melatonin, hemp extract, passionflower extract, chamomile extract, lemon balm extract, magnesium, an enhanced terpene profile, and natural colors and flavoring. 
CBD Fx gummies only use hemp-derived from non-GMO seeds legally grown in the USA without the pesticides or other harmful chemicals. Each gummy contains about 6mg of CBD, 2.5mg of melatonin, 5mg of other cannabinoids, and 5mg of enhanced terpene content. The bottle includes 60 gummies or 30 servings.
Important CBD Terms to Learn
There are many words that companies use with CBD that might sound foreign to you. These are the terms you need to know to choose the right hemp oil for sleep.
Full-Spectrum CBD – There are three main hemp extract formulas. CBD is one of  545 compounds found in the hemp plant. The blend includes 0.2% THC, which is the legal limit in the US. Its also referred to as a whole plant extract. 
Broad-Spectrum CBD – Broad-spectrum oils are growing in popularity. These contain 544 compounds and removes the THC, which is found in higher concentrations in the cannabis plant.
CBD Isolate – An isolate is 99.9% pure CBD. The extraction process removes all plant matter, terpenes, and other cannabinoids, leaving behind only CBD. 
Cannabinoids – CBD is a phytocannabinoid or plant-based cannabinoid. These are naturally occurring compounds that are only found in the hemp and cannabis plants. There are 150 known cannabinoids. 
Terpenes – Terpenes are responsible for the various fragrances that hemp flowers produce. There are at least 200 terpenes identified in hemp plants. These compounds are also found throughout nature. Scientists have isolated 20,000 in various plants around the world.
Certificate of Analysis (COA) – Hemp products often go through third-party testing to verify potency, safety, and quality. Independent labs issue a certificate of analysis or COA. These reports show the total cannabinoid content, and terpene levels and identify any contaminants. Most brands have this information available on their website for consumers to review. 
How to Read CBD Product Labels
CBD labeling isn't universal, but there are several specifications on each bottle. Understanding what's on each label can help you pick the best CBD for sleep.
Oils – CBD oil is infused in a carrier oil to make it easier to deliver the hemp extract into the bloodstream. The most common are coconut, MCT, hempseed, and olive oil.
Additional cannabinoids – The label will show if the formula is enhanced with any other significant cannabinoids, such as CBG and CBN. When you use CBD, the blend most often includes multiple cannabinoids.
Other ingredients – Many brands add other natural components to their CBD tinctures. Typical additives improve the flavor or aroma, such as essential oils, herbs, and spices. Some ingredients can enhance the tincture's ability to sleep, like lavender, which offers extra calming properties.
Total cannabinoid content/potency – The label should include the potency. This is in milligrams and can vary from 200mg to over 3,000mg. Dosage – Many CBD oils offer a serving suggestion to help consumers get started with a daily CBD dose. When using CBD products, always follow the directions on the bottle.
What does the science say about CBD oil for sleep?
Many things disrupt sleep. Adults need an average of seven to nine hours nightly, but most struggle to get that much. The most common reason people can't fall asleep is that their mind is still going.
These stress reactions keep many consumers awake at night. From worrying about what may come tomorrow, next week, and even the following year to replaying the day's events, our deep thoughts hold us hostage and prevent a restful night.
Recent studies show that people with insomnia are five times more likely to have anxiety and depression. According to the National Sleep Foundation, between 50 and 70 million men and women aren't getting enough rest at night.Dr.
Wayne Giles, MD, explains,
"As a nation, we are not getting enough sleep."
Enter hemp oil for insomnia. A 2019 case series found that CBD helps reduce anxiety, slow down racing thoughts, and improve sleep with regular use. The key to the research isn't that the hemp extract helps people sleep. Instead, it changes the situation and helps the body fall asleep naturally.
Side effects of CBD
One reason that consumers love CBD is the mild side effects. All substances have the potential to cause an adverse reaction. Hemp users may experience nausea, irritability, and drowsiness. Of course, because you're taking it for sleep, the excessive sleepiness in high doses is a positive response.
How to use Hemp oil for sleep
CBD oil is sublingual, which means it absorbs through the membranes under the tongue and into the bloodstream. Also known as a tincture, each bottle comes with a medicine dropper that measures out 1ml servings of hemp oil for sleep. Don't swallow, drink, or eat for 15 seconds to 30 seconds after using.
Serving amounts vary by brand, product, and potency. Additionally, people react differently to the hemp compound. Please start with the lower dose and increase it as you feel comfortable.
In an interview with the New York Times, Martha Stewart explained,
"It depends on who you are … I pop 20 of them and just feel OK, but some of my friends do two and feel high, I don't know why. It's not high like a marijuana high. It's a CBD high, like, relaxed."Always review the instructions on the bottle before taking a dose. For the best results, when using CBD for sleep, take it at the same time nightly.
In Summary:
Research and consumer testimonials show that CBD oil for sleep is the real deal for many people. It has the potential to reduce anxiety, induce a natural calm, and help users get a good night's sleep. Taking hemp oil for sleep nightly is an excellent way to improve the quality of rest and boost overall Wellness.