If you see this sentence, "All Health, No High," one thing should ring into your mind – you are going to feed your mind with details about NutraCanna.
They are relatively new in the CBD industry, yes, but they are making great strides in creating pure Cannabidiol and employing stellar hemp farming techniques.
One thing they take pride in is that their products give a THC-free guarantee. CBD enthusiasts and users who pass through numerous drug tests can now rest assured that they can't fail any after using their products.
Let's now have a glance at the full-details in this NutraCanna Review.
The company is based in Rocky Fold, Colorado.
At NutraCanna, they say, "We strive to follow the basic foundations of permaculture and its design principles."
That said, they ensure that they use an all-natural process to come up with the best quality hemp products. They use science and traditional hemp cultivation practices.
They grow their hemp right there in Rocky Fold. This means they can see the progress in the way their hemp plants grow.
In the description of one of their products, they use organic hemp with the highest quality standards.
After our intense research, we have found that NutraCanna has 5-star ratings across most review sites, on Google, and their Facebook page. 
Potential buyers or their site visitors can familiarize themselves with a plethora of topics after reading their FAQS.
True to their words that the Nation requires a clean American Brand, their About Us page shows genuinely that that's the case with NutraCanna.
Their online shop has two categories. These include CBD products and merchandise.
Their CBD products comprise:
CBD tinctures
CBD gummies
CBD salve.
All these products are GMO and alcohol-free and are available in different sizes.
Quality of their products
NutraCanna's CBD tinctures seem to be their best seller. We had to take our time to research and see if they meet our quality.
Their tinctures come in 30ml bottles but in different strengths. The potency levels are 250mg, 750mg, and 1800mg.
All these products harbor 99% CBD; thus, it means they get manufactured using broad-spectrum CBD. From our research, it seems none of them harbors THC.
These CBD oil tinctures come packed in clean bottles, sealed in great boxes. We, of course, can't fail to say that that's impressive since quality packaging replicates fantastic product quality, overall.
For every product, they give a certificate of analysis and the lab results. They get their results from AgriScience Laboratories.
Before one uses their tincture, they advise them to shake well. You can't feel any psychoactive effects after consuming any of their oils as they get made from broad-spectrum CBD; thus, they don't contain any CBD.
When any of their tinctures reach your taste buds, a natural or peppermint flavor alerts you that it is indeed a tincture from NutraCanna.
Those who don't like intense flavors like it is the case with peppermint can take the natural-taste CBD. On the other hand, if you want it when your CBD has light flavors, then the natural-hemp tasting tincture could be your real deal.
They give a dropper with the tincture, where the dropper contains 1ml of the oil. That said, their tincture bottles contain 30 serving sizes.
They are not mean with their CBD, which is fantastic. For example, their 250mg bottle contains 255mg of CBD according to their lab report.
You can have a look below.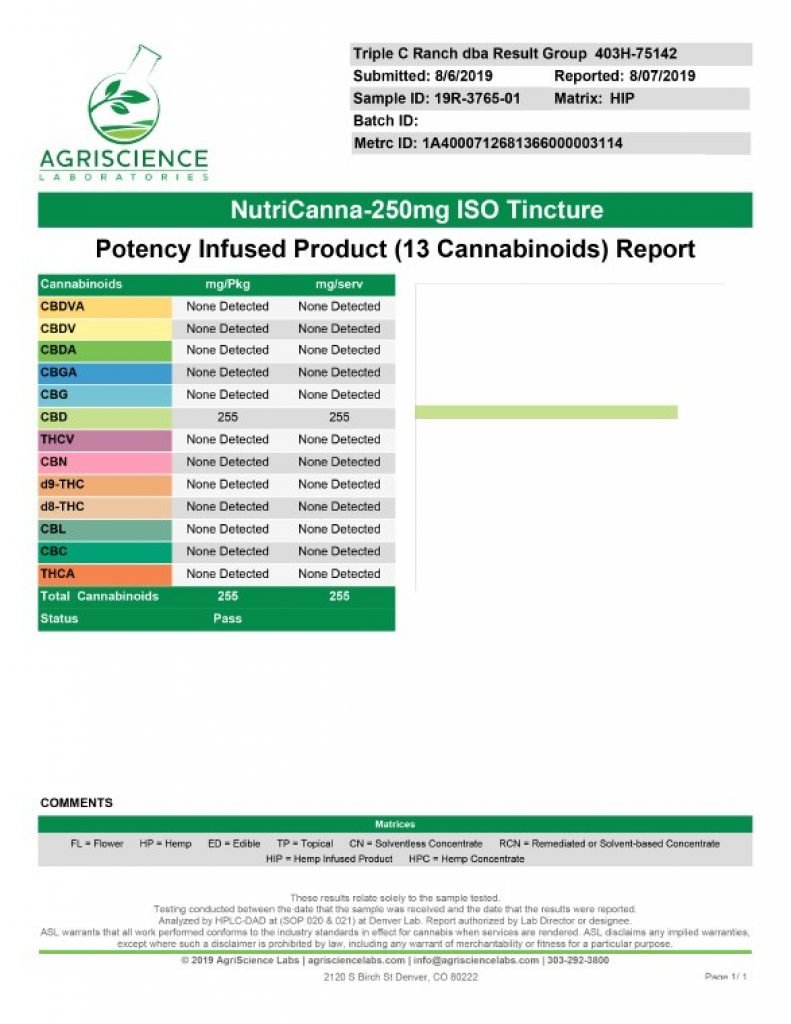 Broad-spectrum CBD harbors any other cannabinoid of cannabis apart from THC. That said, you can expect to find CBD and CBDV on their products. You can see the above lab test for reference.
Thankfully, CBDV doesn't cause a high; thus, you don't have any cause for worry.
We couldn't believe that these products could be affordable. Even though NutraCanna have made their products to be of the highest quality, it is indeed fantastic to note that they offer budget prices for their CBD products.
Let's have the overview below.
We can't fail to mention that as it appears, these are offer prices and may be subject to change at any time.
How do the value and price compare?
It is a question you may be asking yourself. As per our search, as we do other CBD brand reviews, it seems NutraCanna gives its products at affordable prices. 
We agree that price is a determinant factor, especially in the CBD industry, but we dispute that low prices mean low-quality products.
According to us, the prices you see above mean the manufacturer has one critical point in mind – making all patients who think CBD can do them justice access the products at a pocket-friendly price.
The buyer also gets some loyalty points upon purchasing their products, which can get redeemed when the right time comes.
NutraCanna hasn't given the shipping details on their site, but you start purchasing from them after creating your account.
After you add an item to your cart, that's when you can fill in the details about where you want your product to get shipped to.
According to their terms and conditions, they don't give a cash-back guarantee yet. If goods have defects, the buyer meets the shipping costs to get returned to the seller, provided they aren't yet opened.
What we like about NutraCanna
High CBD products
A great choice of product flavors
High-quality hemp.
Limited information about shipping and deliveries.
As you navigate through their website, you could be in a dire situation to get clarification about some of their products.
The customer support email is info@nutricanna.com. Their number is (954) 892-5535
As it seems, NutraCanna shows promising results that they have the customers in mind. We don't see any cause to worry you when it comes to purchasing from them. Seize the price discounts as of the moment as we do not know how long they will be there.
Pleasure is ours if this NutraCanna review has helped you in making a resolution.