Overview
If you see this sentence, "All Health, No High," one thing should ring into your mind – you are going to feed your mind with details about NutraCanna.
They are relatively new in the CBD industry, yes, but they are making great strides in creating pure Cannabidiol and employing stellar hemp farming techniques.
One thing they take pride in is that their products give a THC-free guarantee. CBD enthusiasts and users who pass through numerous drug tests can now rest assured that they can't fail any after using their products.
Let's now have a glance at the full details in this NutraCanna Review.
NutraCanna Products
Their online shop has two categories. These include CBD products and merchandise.
Their CBD products comprise:
CBD tinctures
CBD gummies
CBD salve.
All these products are GMO and alcohol-free and are available in different sizes.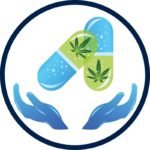 Ingredients
Hemp oil extract, MCT oil, terpenes, natural flavors, melatonin (CBD sleep)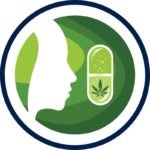 Recommended Use
For CBD tablets, take one pill a day. For sublingual use of the CBD oil, place a full dropper (1ml) under the tongue. Hold the oil for 10 to 20 seconds before swallowing.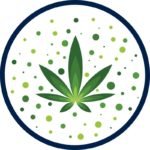 Extraction Process
Co2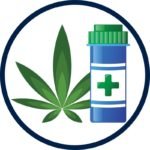 Medical Benefits
CBD products may be a natural alternative for sleep disorders, pain, and anxiety. Not FDA-approved as a medicine.
About NutraCanna Products
NutraCanna's CBD tinctures seem to be their best seller. We had to take our time to research and see if they meet our quality.
Their tinctures come in 30ml bottles but with different strengths. The potency levels are 250mg, 550mg, and 1000mg.
All these products are 99% CBD, which means they are manufactured using broad-spectrum hemp-derived CBD. From our research, it seems none of them contains THC.
NutraCanna CBD oil tinctures are packed in clean bottles and sealed in great boxes. Seeing how these cannabis products are packaged, we have to say we are impressed because they ideally replicate fantastic product quality.
An In-Depth Review of the Complete Line-Up of NutraCanna Products
1. NutraCanna CBD Sleep – Dissolving Tablets W/Melatonin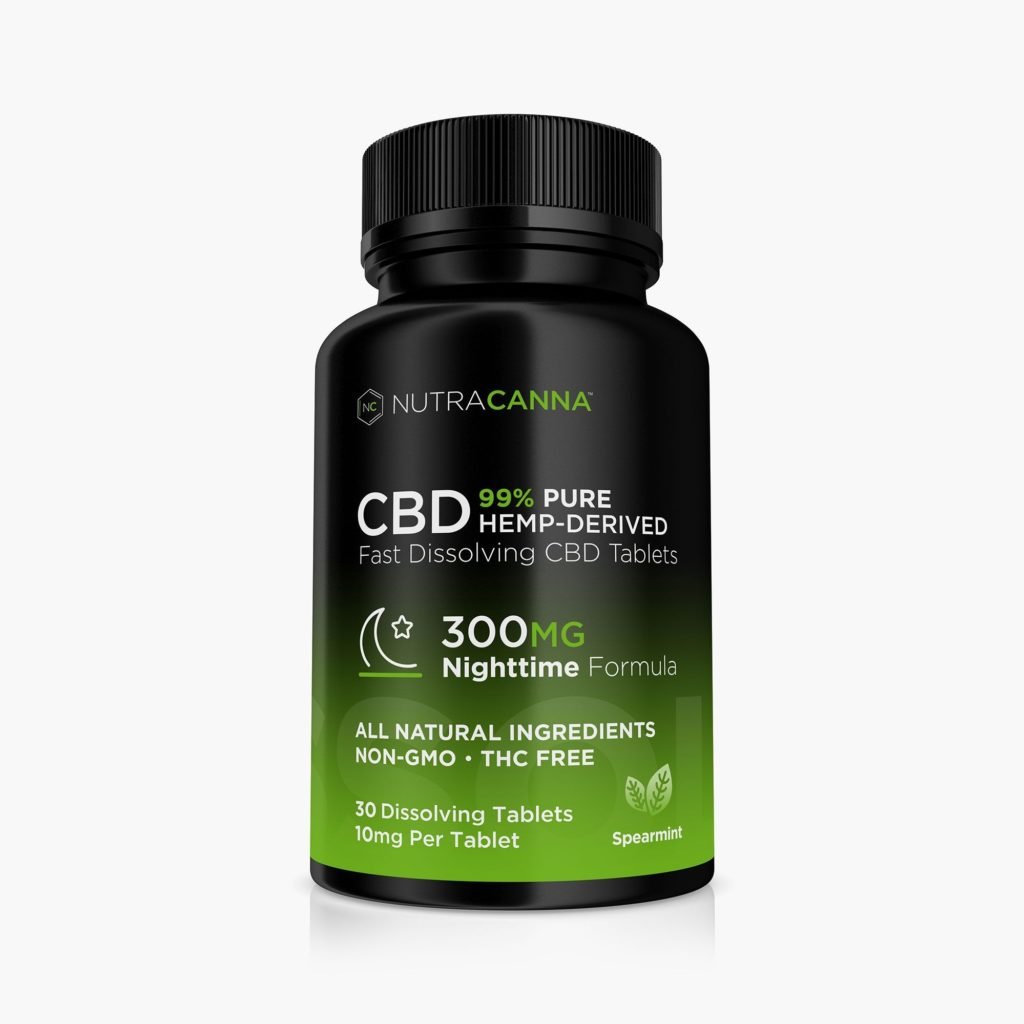 The Dissolving Tablets w/Melatonin version of CBD Sleep is NutraCanna's product made to help customers have a restful sleep. This 300 mg CBD bottle contains 30 tablets, each with 10 mg of CBD and 10 mg of melatonin.
This combination ensures customers can relax, easily fall asleep, and have much-improved sleep time. All they need is one sleep tablet taken before bedtime. Since these are dissolvable CBD tablets, the recommended administration is sublingual.
Take one dissolvable tablet and place one under the tongue and wait until it dissolves before swallowing. Don't worry because the tablet doesn't taste bad. These little tablets actually taste great, thanks to their natural spearmint flavor.
These tablets can be eaten on a full or empty stomach. NutraCanna also recommends taking it with their Daytime CBD formula for the full benefits of CBD. A bottle of CBD Sleep – Dissolving Tablets W/Melatonin is suitable for a one-month supply.
Pros:
Helps you sleep better
Vegan, non-GMO, and gluten-free
Easy to take
Lab-tested
For one month use
---
2. NutraCanna CBD Day – Dissolving Tablets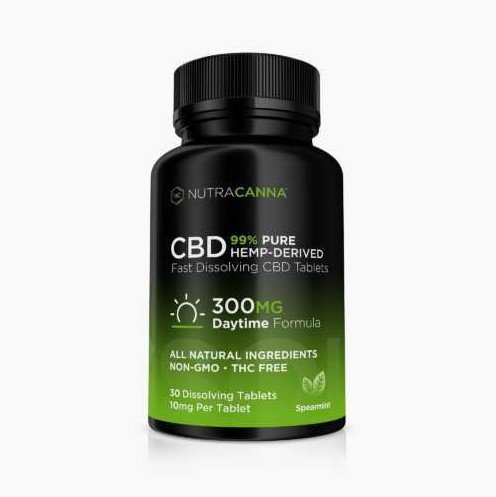 This one is the daytime formula of NutraCanna CBD Sleep. These tablets contain high-quality CBD extracts from organically grown hemp. CBD Day is great for pain relief and improving moods. It also has anti-inflammatory and anti-psychotic properties.
A bottle of CBD Day contains 30 tablets, each with 10 mg of CBD. It's a one-month supply of CBD tablets for improved general well-being. These tablets don't taste bad, thanks to the spearmint flavor.
Use the tablet by placing a piece under the tongue until it dissolves fully before swallowing. NutraCanna recommends taking CBD Day with CBD Sleep to enjoy the maximum benefits of CBD.
Pros:
Improves general health
For one month use
Gluten-free, non-GMO, and vegan
Dissolves quickly
Tastes great
---
3. NutraCanna CBD Hemp Oil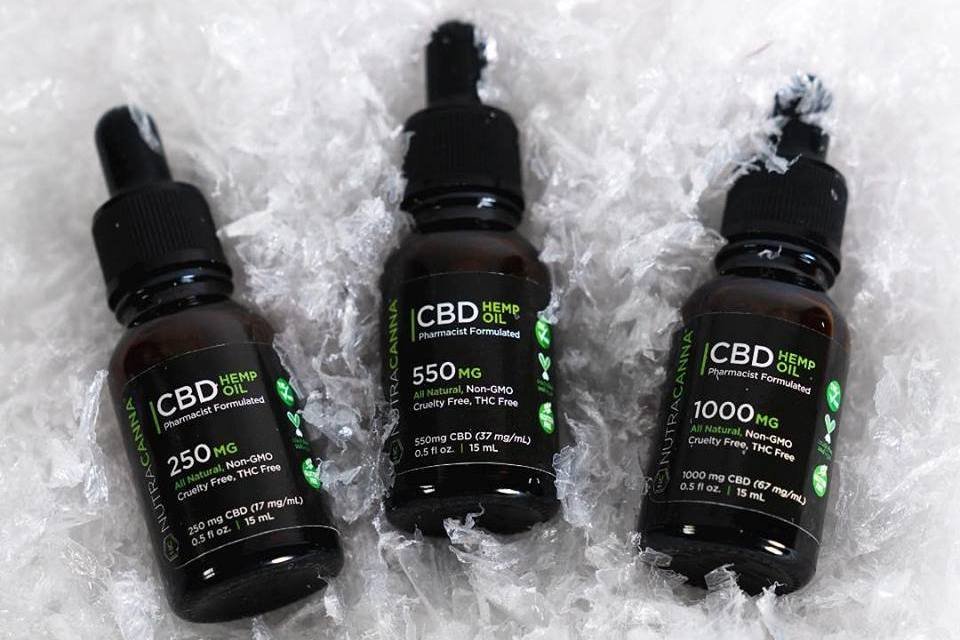 NutraCanna's most popular product is CBD Hemp oil. They come in three different concentrations – 250 mg, 550 mg, and 1000 mg. Customers can pick one based on their desired CBD strength.
No matter the concentration they pick, the tincture is always available in a 15ml bottle. This means that each 1ml serving may contain approximately 17 mg, 37 mg, or 67 mg of CBD.
CBD Hemp Oil is 100% organic. This CBD oil is also non-GMO, gluten-free, and vegan without any additives. MCT oil or fractionated coconut oil is used as the base for the oil, helping it become much easier to absorb.
This tincture is 100% pure CBD with more than 80 other cannabinoids such as CBN, CBG, CBC, CBG-A, and CBC-A. It doesn't have any artificial components, using only all-natural ingredients. NutraCanna also assures that each batch of CBD Hemp Oil is lab-tested.
This NutraCanna CBD oil is best taken sublingually. Squeeze a total of 1ml drop of the oil under the tongue. Hold for 10 to 20 seconds, then swallow the oil for optimum effects. Take it once a day at the start. Then, you can raise the dosage to twice a day as needed.
Pros:
Easy to take
Absorbs quickly
Varying strengths available
Gluten-free, non-GMO, and vegan
---
Quality of NutraCanna products
As per our research, NutraCanna sticks to its word. They claim that their CBD products have 0% THC, and we concur.
For the years they have been in operation since 2017, they have made great strides in ensuring that their products come in stellar quality.
They use organically grown hemp to extract their CBD and pass it through further processing to eliminate any traces of THC.
The company's products come from hemp grown in Kentucky, an area well-known for hemp cultivation. Kentucky is a popular place for farming hemp because the site has water and organic nutrients to ensure quality plants.
In addition, NutraCanna sends its products to independent testing laboratories for third-party testing and displays the results on its site.
This shows transparency and trust in their products, thus assuring the buyer that they are getting dependable products.
Third-Party Testing
NutraCanna ensures that each of its products is of the highest quality. They do so by sending every batch to an independent laboratory to be regularly tested.
For every product, they give a certificate of analysis and the lab results. They get their results from AgriScience Laboratories.
Present Cannabinoids
NutraCanna CBD products are all made with broad-spectrum formula. Broad-spectrum CBD means the products may have various cannabinoids and compounds, such as cannabinol and terpenes.
The difference with full-spectrum CBD is that broad-spectrum does not contain THC or only has traces of it. You can check if NutraCanna products have THC or not on their lab sheets.
Besides CBD, NutraCanna CBD oil usually has CBDV. The good news is that this compound does not cause a high.
User Experience
Before one uses their tincture, NutraCanna advises shaking them well. There is no need to worry about feeling any psychoactive effects. The company's CBD oils are broad-spectrum, meaning they contain no THC.
NutraCanna tinctures have two typical flavors – natural and peppermint. Those who don't like the intense taste of peppermint can choose the natural-taste CBD oil instead.
A dropper is included with the tincture. This dropper can contain 1ml of the oil, considered one serving. A bottle of NutraCanna tincture is 15ml, which gives approximately 15 servings with different concentrations.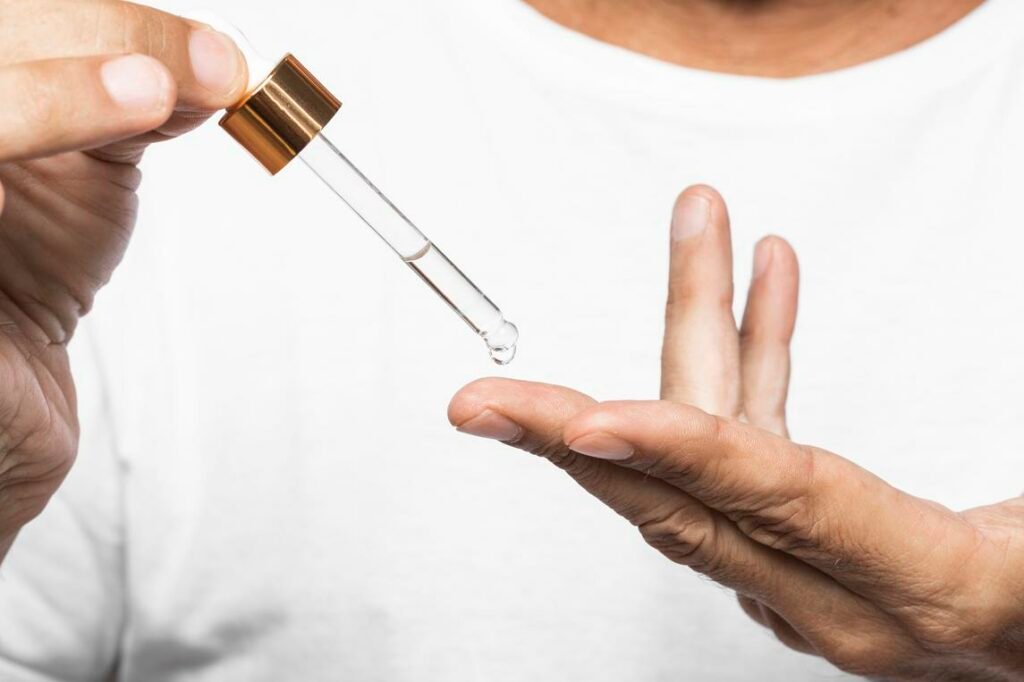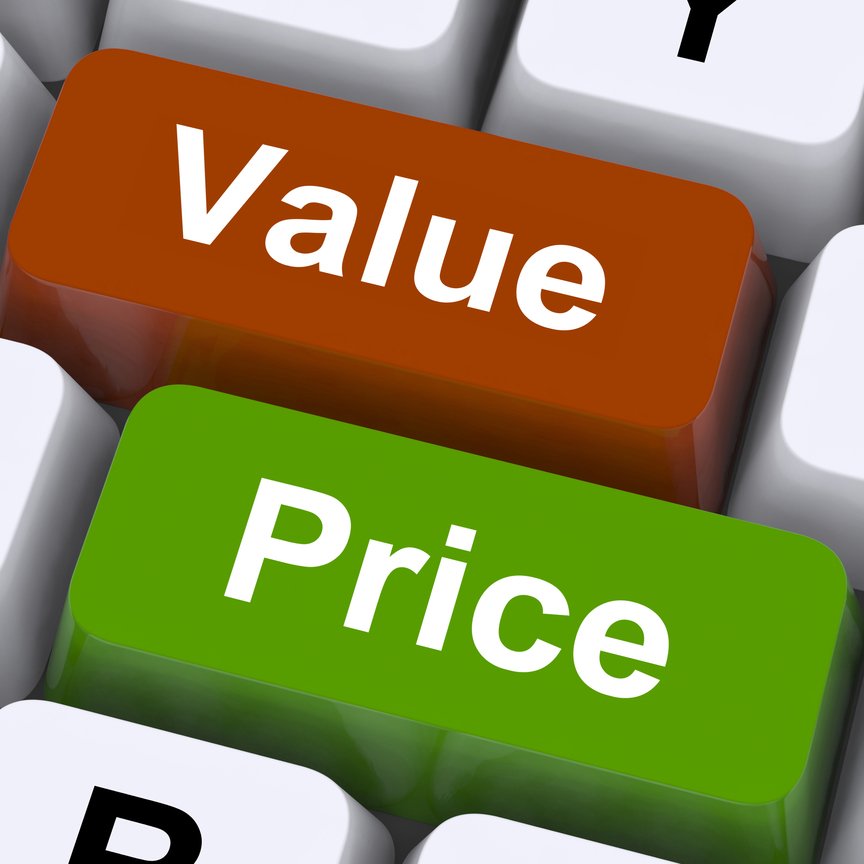 Prices of the Products
NutraCanna products are quite affordable. While they are high-quality products, they are also available at budget prices. Keep in mind, though, that these are offered prices and may be subject to change at any time.
We can't fail to mention that as it appears, these are offer prices and may be subject to change at any time.
How do the price and value compare?
This is a question that the customer itself best answers. But as per our search, NutraCanna gives its products at affordable prices. We agree that price is a determinant factor, especially in the CBD market, but we dispute that low prices mean low-quality products.
We can say that the above prices mean the manufacturer has one critical point in mind – giving all patients who think CBD can help with their health access to the best quality products at a pocket-friendly price.
Another advantage of getting their CBD needs from NutraCanna is that the buyer also gets loyalty points upon purchasing their products, which can be redeemed when the right time comes.
Shipping and Delivery
NutraCanna hasn't given the shipping details on their site, but you start purchasing from them after creating your account.
After you add an item to your cart, that's when you can fill in the details about where you want your product to be shipped.
According to their terms and conditions, they don't give a cash-back guarantee. If goods have defects, the buyer meets the shipping costs to get returned to the seller, provided they aren't yet opened.
5% Coupon Code on all products: –
What we like about NutraCanna
High CBD products
A great choice of product flavors
High-quality hemp
What we don't like
Limited information about shipping and deliveries
Customer support
For clarifications, questions, or feedback, customers can reach out to:
For faster response, it is best to provide your Zip Code.
Conclusion
NutraCanna is relatively new compared to other, more established CBD companies. Its selection of products is also limited. However, we cannot deny its few existing CBD products are effective.
Due to the lack of information on the brand's website, we could not provide more information about the company. Nevertheless, we hope that this NutraCanna CBD review can help customers make a wise decision about buying NutraCanna CBD oils.
NutraCanna Oil Review: Why Are They Considered Today's #1 Brand?
NutraCanna is undoubtedly one of the best CBD brands in the industry today. Many customers are sold by the fact that it offers non-GMO Kentucky-grown hemp products with 0% THC. Most customers are reluctant to try a CBD tincture due to the "feeling high" related to marijuana. Marijuana and hemp are both cannabis weeds, but the latter has less than 0.3% THC, the cannabinoid that gets you high.
NutraCanna uses CBD extract from organically grown hemp in its products. As such, they already have less amount of THC. In addition, the company formulates its products into broad-spectrum CBD.
As we said before in this NutraCanna CBD review, broad-spectrum hemp extracts contain no THC or have only traces of it. In the case of NutraCanna, they said their products 100% do not have THC.
This is one of the fundamental reasons customers like NutraCanna. Many customers who are afraid to experience psychoactive effects due to CBD have nothing to worry about with NutraCanna's products.
Other advantages that make the company one of the top brands include its relatively affordable prices, lab tests posted, and the information page on its website. Of course, NutraCanna has its own limitations.
For instance, their products are limited only to CBD oils and tablets. They do not have vape products or even gummies. NutraCanna also does not ship internationally, so users currently outside the country cannot order.
There is not much information about NutraCanna on its website. However, it does have many positive reviews online. Many websites give it a high rating, such as CBDoilreview.org and cannabisalliance.org.
NutraCanna Review

Product Name: NutraCanna
Product Description: If you see this sentence, "All Health, No High," one thing should ring into your mind – you are going to feed your mind with details about NutraCanna.
Brand: NutraCanna
Summary
If you see this sentence, "All Health, No High", one thing should ring into you mind – you are going to feed your mind with details about NutraCanna.
Pros
High CBD products
A great choice of product flavors
High-quality of products flavors
Cons
Limited information about shipping and deliveries