Overview
Hemp that was produced organically in Colorado is used in all of Healthworx CBD's products, which include the CBD compound. Healthworx is an excellent location to start your adventure with CBD products. They provide a wide variety of products, including full-spectrum CBD oil, gummies, capsules, as well as even goods for your pet.
People who rely on CBD products on a daily basis may be interested in Healthworx CBD since they have all been evaluated by an independent lab, and the company also offers extensive loyalty and support programs.
Continue reading for my comprehensive and in-depth review of their many CBD products.
About HealthWorx CBD
As per the lab results that come with the majority of Healthworx CBD's items, the company sells CBD products made from hemp that does not include any GMOs or pesticides.
Cannabidiol of the best possible quality is the goal of this Colorado-based company's manufacturing process, which is closely monitored in order to achieve this goal.
The company makes a variety of CBD products, including CBD capsules, topicals, vape pens, or pet oils. These items may be purchased via their online store.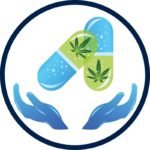 Ingredients
In order to provide the highest possible quality and level of protection for its customers, Healthworx CBD only uses organic materials in the production of its CBD oil.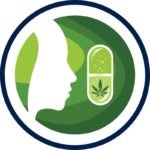 Recommended Use
Healthworx CBD's primary mission is to provide customers with the therapeutic advantages of good CBD so that they may experience optimal wellbeing.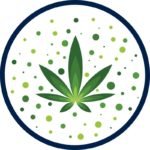 Extraction Process
When it comes to obtaining cannabidiol and making CBD products, Healthworx CBD relies on the extraction technique which makes use of supercritical carbon dioxide pressure.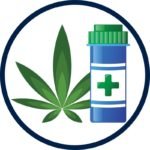 Medical Benefits
In general, CBD is promoted with the claim that it may alleviate symptoms of anxiety, sadness, and PTSD. In addition to that, it is advertised as a sleep aid.
---
An In-Depth Review of the Complete Line-Up of Healthworx CBD Products
1. Full Spectrum CBD Oil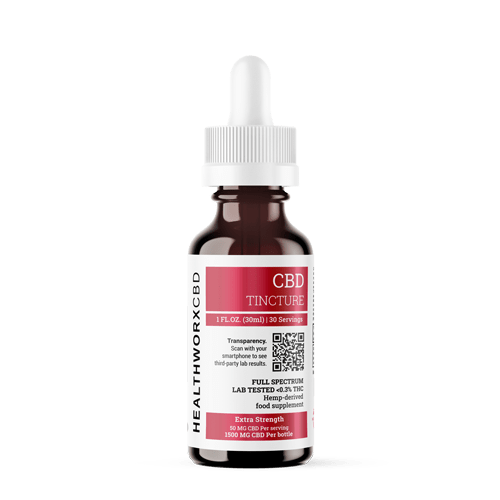 The Full Spectrum CBD oil is Healthworx CBD's most preferred product, just as it is with the majority of other CBD businesses.
The Healthworx CBD tincture is designed to be a practical and efficient means of acquiring the positive effects that CBD has on one's health.
This all-natural formulation includes hemp extract (full-spectrum) as well as MCT oil, which is derived from coconuts and contains medium-chain triglycerides.
Because the tincture does not include any additional flavorings, it has a flavor that is distinctive and earthy.
Due to the fact that this is a full-spectrum CBD oil, it includes tetrahydrocannabinol (THC), in addition to terpenes and several other cannabinoids derived from the plant itself.
If you're new to cannabis, THC is widely acknowledged to be the principal psychoactive component of cannabis.
Healthworx CBD oil tinctures come in 15-milliliter bottles and, according to the product description, contain 500 milligrams of full-spectrum CBD oil.
You also have the option of purchasing the 30-milliliter bottle that has 1,500 mg CBD or one that contains 5,000 mg CBD.
Pros
Practical and efficient
All-natural
Various size options
Other Types of CBD Oil Available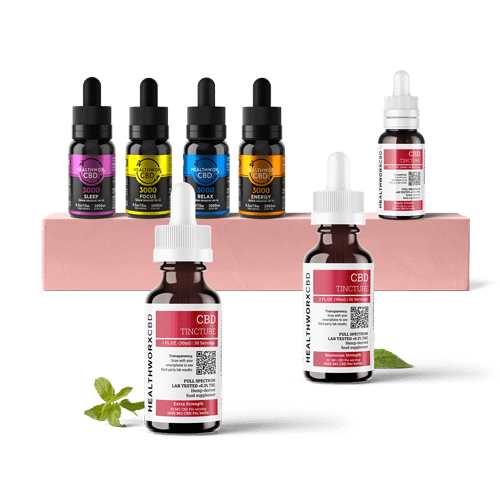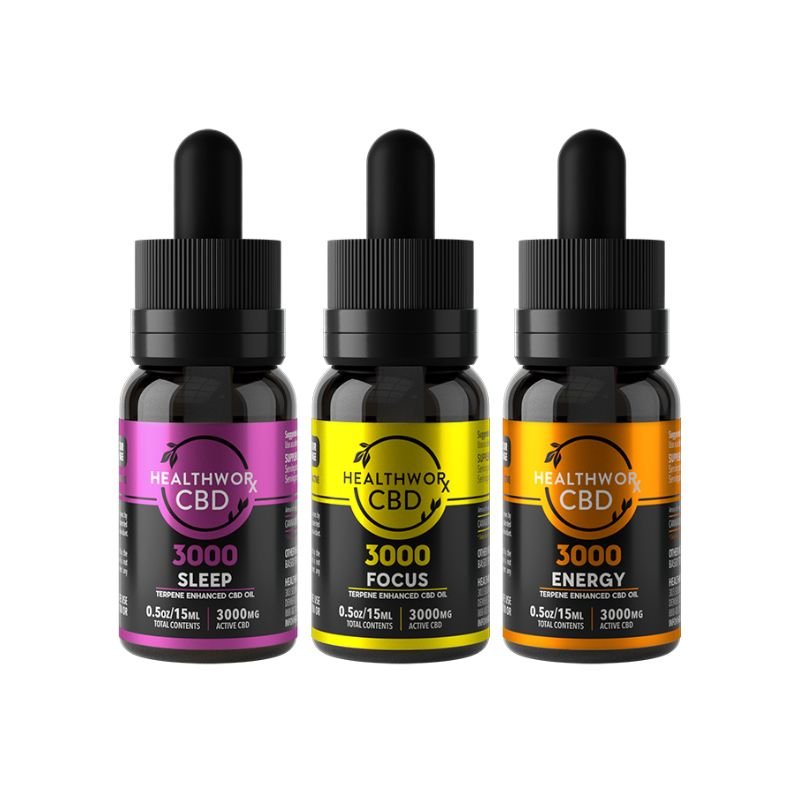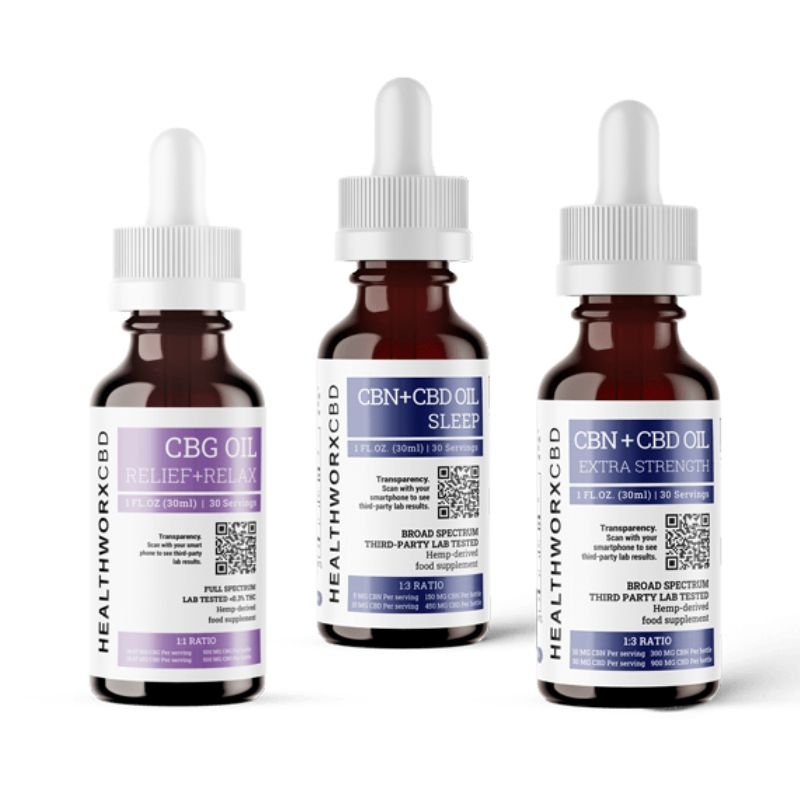 ---
2. Gummies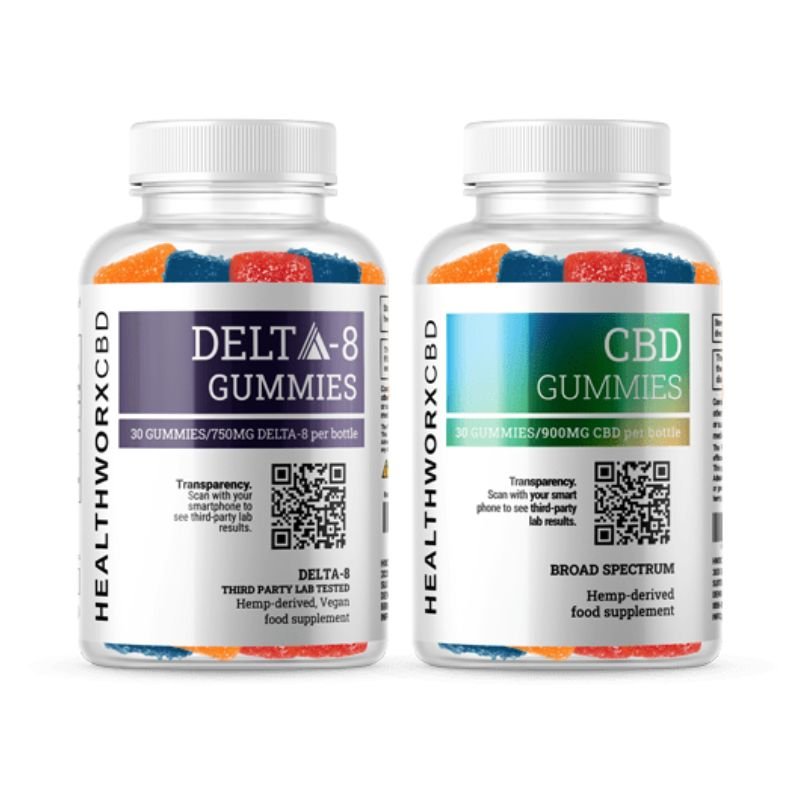 The inclusion of Healthworx CBD Gummies into the lineup of products that they sell is a relatively new development. These candies are promoted as sugar-free, gluten-free, and non-GMO gummies on their respective websites.
Consuming one piece of this gummy will provide you with around 30 mg CBD, making it a scrumptious way to get your daily dose.
For folks who are just starting out with cannabidiol, one of the most effective ways to consume CBD is in the form of gummies. Because it has a low CBD concentration and is simple to consume, this edible kind is an excellent option for novice users.
Pros
Sugar-free and gluten-free
No GMOs inside
Great flavor
Good for novices
---
3. Muscle Freeze Gel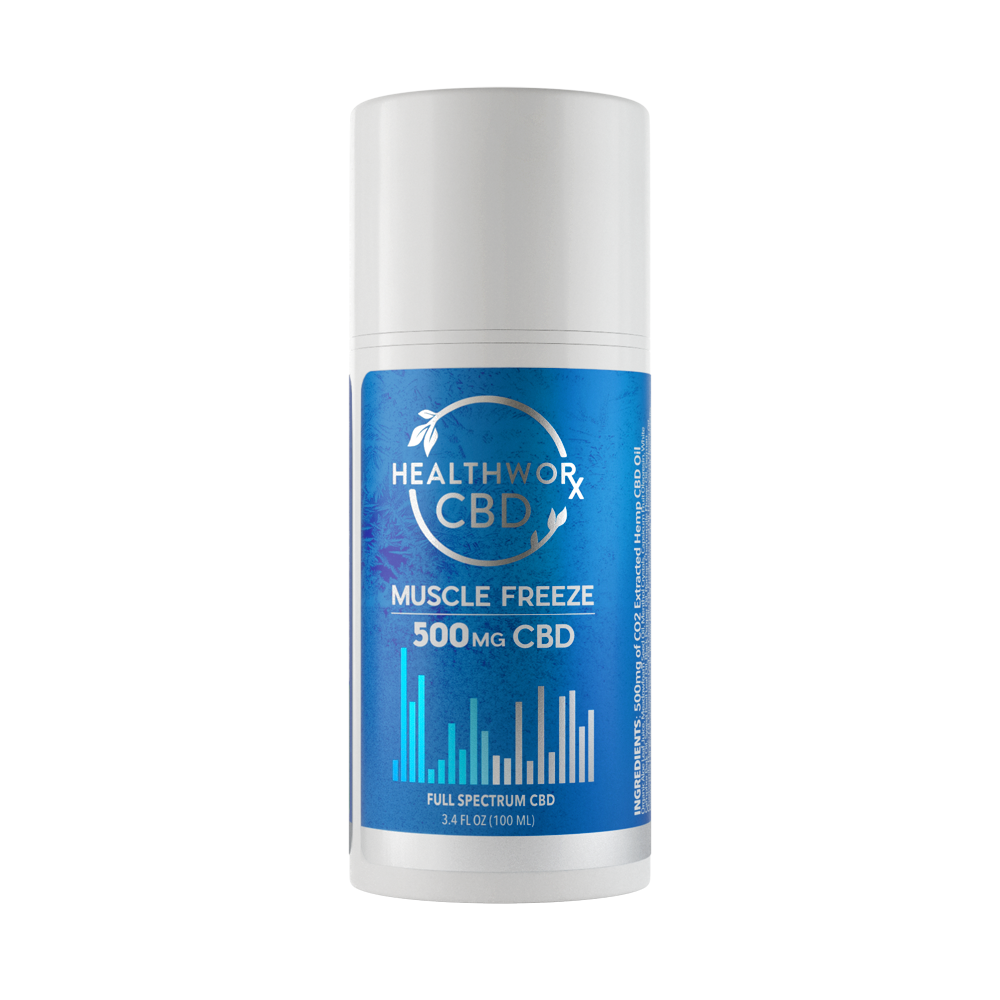 Those who are searching for much-needed relief from aching and sore, painful muscles will find Healthworx's Muscle Freeze Gel to be an excellent option.
The pain and suffering may be alleviated by using the gel, which contains botanicals in addition to CBD, on the regions that are afflicted.
Pros
Relieves aches and pains
Contains extra ingredients to help with afflictions
Cons
Might be too cold for some
---
4. Rescue Butter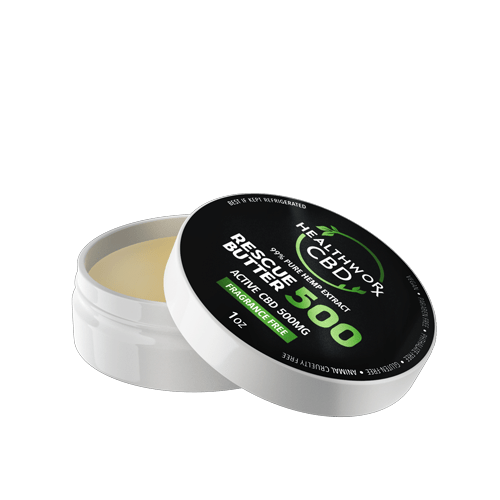 When applied to skin that is chapped, injured, or dry, Healthworx's Rescue Butter CBD topical has a relaxing and hydrating effect. It may be used anywhere on the body. It has been discovered that applying CBD to the skin topically may improve the condition of the skin in a manner that is both safe and effective.
Butter made from mango seeds, oil from poppy seeds, olive oil, as well as cannabidiol is the ingredients that go into the creation of this product.
Pros
Moisturizes dry or damaged skin
Provides a hydrating and relaxing effect
Safe and effective
Cons
Makes skin feel weird for a while
---
5. Barrier Balm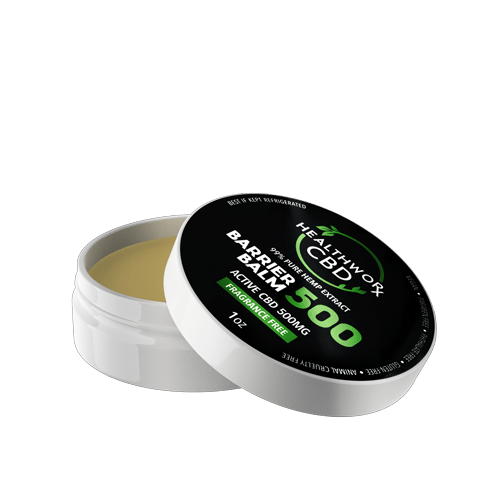 People who are feeling soreness and aches in their muscular system are the target audience for Healthworx's Barrier Balm. Cannabidiol is thought to have analgesic properties, which may make it useful in the treatment of bodily pain. According to the claims made by Healthworx, the CBD content in the product would bring about a reduction in inflammation.
In one investigation, CBD was shown to bring a therapeutic impact on skin inflammation caused by diseases.
Pros
Has analgesic properties
Treats body pain
Reduces inflammation
---
6. Lip Balm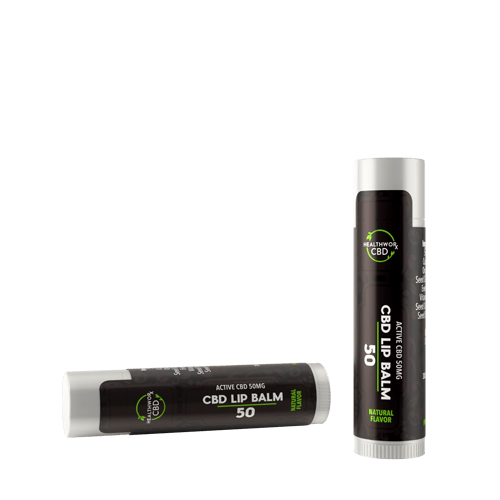 To those with easily chapped lips, Healthworx CBD makes available a lip balm that contains cannabidiol and may be used to hydrate, protect, and calm the lips. In addition to containing CBD, this product also includes other natural substances including avocado butter, beeswax, and cocoa butter in its composition.
Pros
Hydrates, defends, and soothes the lips
All-natural ingredients
Cons
Makes your lips taste weird
---
7. CBD Capsules
Full-spectrum CBD capsules are available from Healthworx CBD and include the company's encapsulated form of their renowned CBD oil. People who wish to receive the correct dose of cannabidiol for their needs will find that CBD capsules are a terrific option.
About 25 mg CBD may be found in each individual piece. It is easy to use since all you have to do is swallow the capsule along with some water. This makes it quite simple.
Pros
Contains full-spectrum CBD
Easy to take
Simple to use
Cons
Not that much dosage in a capsule
---
8. CBD Oil for Your Pets
The Healthworx CBD oil made especially for dogs is created with the purest CBD extracted from hemp, and it may either be given to the pet by mouth directly or incorporated into their diet.
MCT oil is included in the CBD tincture, however, there is no trace of THC present. The product has been meticulously developed to promote better overall health and well-being in dogs.
The Healthworx CBD pet tincture has around 600 milligrams of CBD, in addition to other cannabinoids, helpful antioxidants, and necessary fatty acids.
Pros
Pure CBD
Helps pet's health and well-being
Contains antioxidants and fatty acids
Cons
Your pet might not like the taste
---
9. CBD Vape Pen
Healthworx CBD provides disposable vaping pens complete with batteries along with vape cartridges for customers who are interested in inhaling CBD via vaping.
According to the product description, each of these devices comes with 300 mg CBD. In addition, it is reported that they do not include any MCT oil, vegetable glycerin, propylene glycol, tetrahydrocannabinol (THC), or Alpha-Tocopherol acetate.
Cannabidiol comes in a variety of strains, and Healthworx's CBD vape pen is equipped to accommodate all of them. There is a natural hemp taste available alongside a multitude of flavors.
Vaping Pens Are Not Difficult To Use
So if you want to use one of these vaping pens, you have to first take a deep breath in via the mouthpiece, and then gently let out your breath. To begin, take two or even four inhalations, then wait a couple of minutes before taking another one.
Keep in mind that you should start with a low dosage in order to monitor the effects it has on you. You are free to gradually raise the dose until you get the desired effect.
Pros
Contains a large dose of CBD
No unnecessary ingredients
---
10. CBD Vaping Oil
Terpenes, MCT oil, and tiny amounts of cannabidivarin are all included in the CBD vape oil that Healthworx CBD sells. Healthworx's CBD vape oils come in a container that is 15 milliliters in capacity and are designed to be utilized with a vaporizer.
Customers have a number of options to choose from, including various tastes derived from their Indica, Sativa, and hybrid strains. They sell all varieties of flavors, which includes flavors that you may already be familiar with, like OG Kush, Gorilla Glue, Green Crack, Lemon Haze, Blue Dream, Granddaddy Purple, Banana Kush, Pineapple Express, Strawnana, Durban Poison, as well as natural-tasting CBD flavors.
Pros
Large variety of flavors
Big containers for each flavor
Enough for a ton of uses
Cons
Some flavors are not that great
---
11. CBD Isolate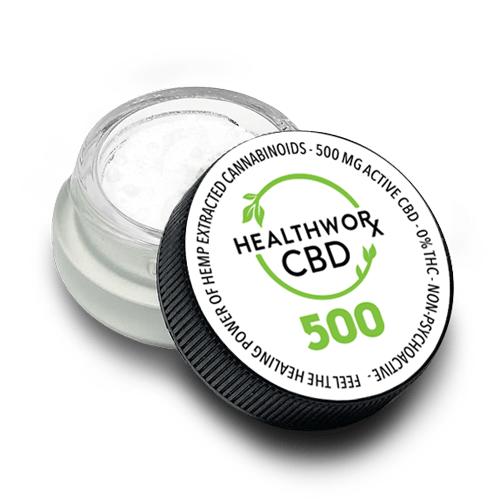 Pure CBD is available via Healthworx CBD Isolate. This CBD was isolated from industrial hemp that was cultivated in Colorado. The CO2 extraction process is used in order to get these unadulterated industrial hemp extracts.
Healthworx CBD isolate may be taken either sublingually or by inhaling them via vaping. The CBD crystals have no flavor and may be blended with any beverage or meal without affecting the taste.
Pros
Pure CBD
Diverse ways to use
No flavor makes it easy to consume
Cons
Doesn't taste like anything
---
12. CBD Shatter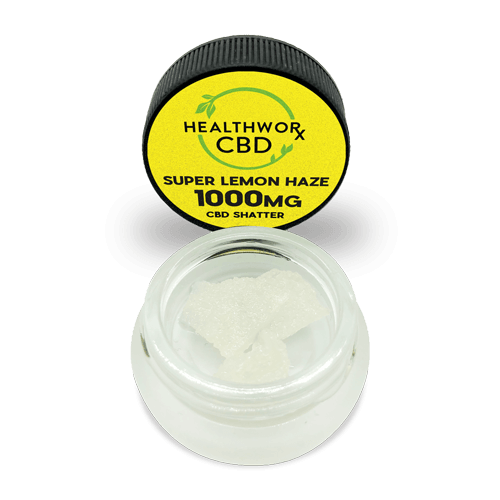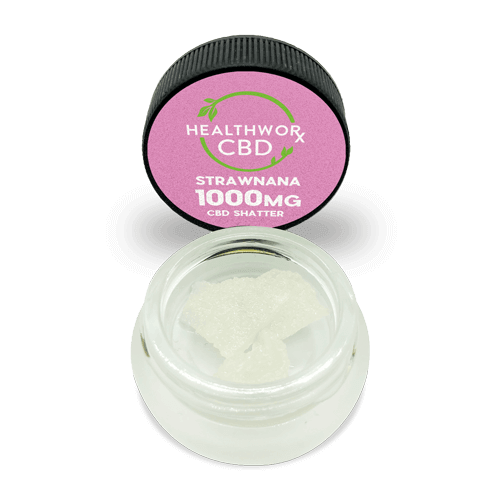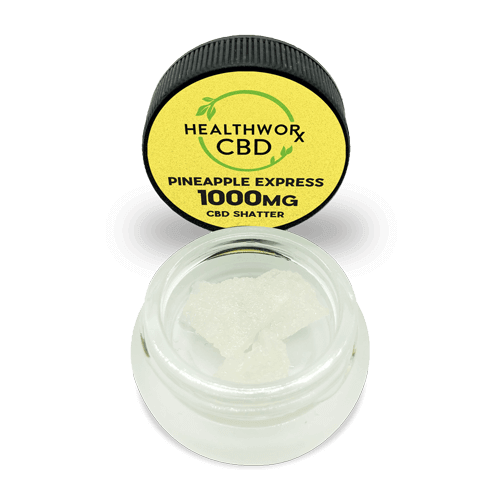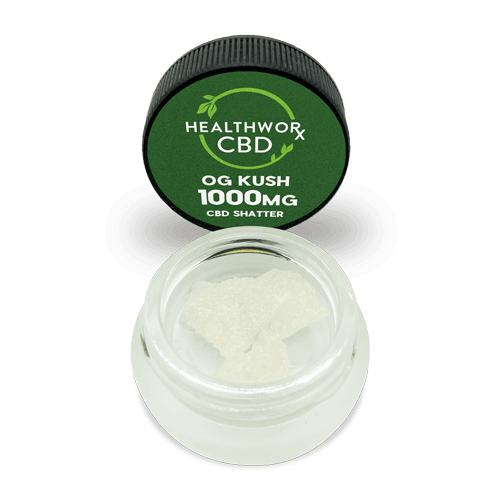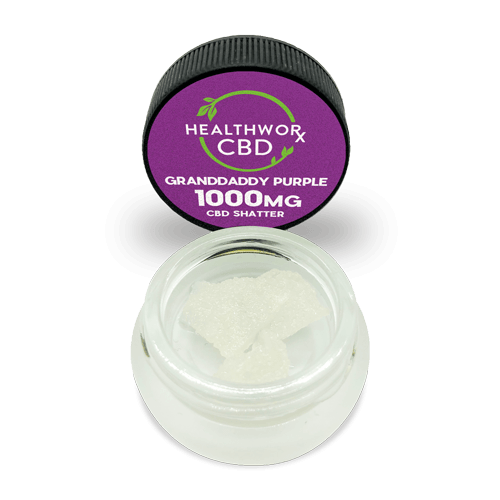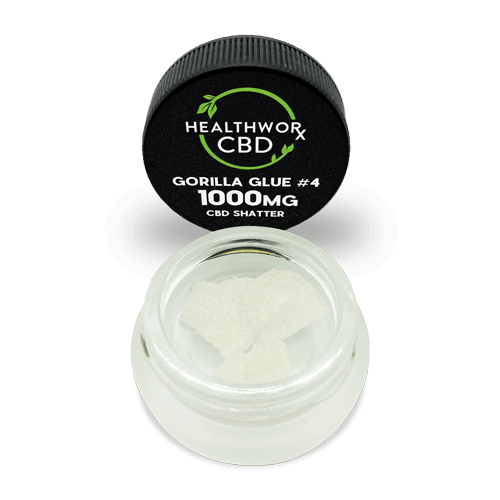 A particular mixture of terpenes is included in Healthworx CBD Shatter, which belongs to the cannabidiol isolation category. The shatter, much like the purest of CBD crystals, may be utilized in a variety of ways, such as dabbing and the preparation of a variety of different combinations.
In addition to the terpenes found in the brand's vape goods, the Healthworx CBD Shatter that this company sells is derived from a wide variety of strains. The item comes in a variety of tastes that are well-known, such as OG Kush and Pineapple Express.
Pros
Pure CBD
Can be used in various ways
Comes from different strains
Diverse flavor selection
Cons
In rare cases, might cause anxiety, paranoia, or even psychosis
---
Third-Party Lab Testing
The CBD goods sold by the company are put through rigorous quality assurance testing at a number of independent labs. From the website of Healthworx CBD, customers can see the results of these third-party laboratory tests.
---
Final Thoughts
Your exploration of CBD products may get off to a wonderful start or continue here at Healthworx. They provide a vast selection of CBD products, one of which is oil that is devoid of THC but still contains the complete spectrum of cannabinoids.
The findings of their independent lab tests are always updated and simple to get. The fact that they provide a loyalty reward scheme in addition to substantial discounts for members of the armed forces, veterans, the elderly, and families with modest incomes makes it simple to endorse them.
Healthworx CBD Review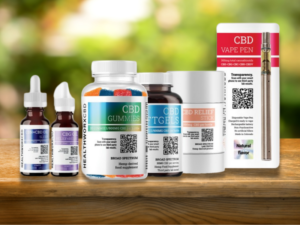 Product Name: Healthworx CBD
Product Description: All Healthworx CBD formulas start with hemp is grown using only soil, water, and sunlight.
Brand: Healthworx CBD
Summary
As with any company, Healthworx has both good and bad points when it comes to service and product quality.
Pros
Pure CBD in their products
Nationwide shipping
Free from pesticides and heavy metals
Vegan-friendly and gluten-free
Cons
Only one flavor
Some products don't have lab results
Only ships to the United States
FAQs
Are Healthworx CBD products safe from contaminants?
Healthworx CBD asserts that none of its products include any pesticides or heavy metals in any amount. On the other hand, the findings of contamination analysis are unavailable for some commodities.
–
Are Healthworx CBD products free of gluten and cruelty?
According to Healthworx CBD, all of its products are both cruelty-free as well as gluten-free.
–
Where can I see third-party lab testing results?
Yes, the heavy metals, potency, and pesticide levels of all Healthworx CBD products have been verified by independent lab testing. You may see the findings on their website, as well as in the photographs located on the pages of each product.