King Kalm CBD Review
Overview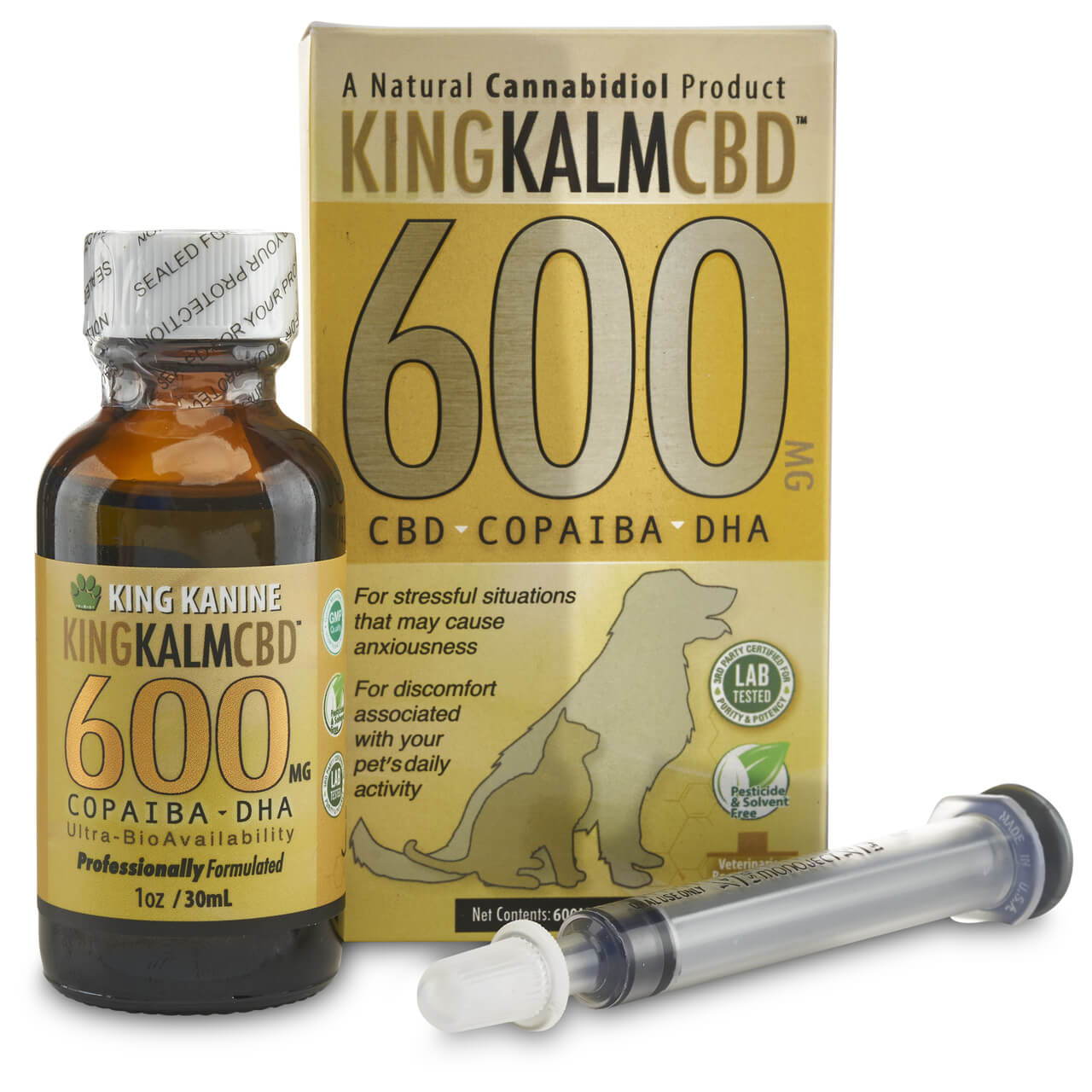 As a person who loves their furry friend, you can absolutely agree with us that their wellness and health in general matters to your happiness.
However much most pharmaceutical drugs don't work in guaranteeing fantastic results, Cannabidiol (CBD) shows promising effects on pets, at least according to most users.
Thankfully, team King Kanine realized the same and made great strides in ensuring there were available CBD products tailored explicitly for pet health.
This now prompts us to dive into details and see this King Kalm Review. Do you desperately need the products for your pets, or you should search elsewhere? Let's see.

Ingredients
HEMP OIL EXTRACT, MCT OIL, NATURAL FLAVORS, TERPENES

Recommended Use
ONE SERVING (1/2 DROPPER) 1-3 TIMES PER DAY. APPLY DROPS UNDER THE TONGUE, HOLD FOR 60 SECONDS AND SWALLOW.

Extraction Process
Co2

Medical Benefits
PREMIUM HEMP EXTRACT SUPPLEMENTS. NOT FDA-APPROVED AS A MEDICINE
About King Kalm CBD
King Kanine Company owns the King Kalm CBD products, and it was launched in 2015. Jeff Riman is the founder and CEO of King Kanine.
They launched its first-ever product, the King Komb, for solving massive shedding. The product then evolved shortly and became a piece of multi-purpose cleaning equipment.
In the quest to incorporate both organic and natural products, it is when our product in discussion got discovered.
King Kalm CBD oil contains pure CBD and Arctic Krill Oil. The manufacturers categorically state that they create King Kalm CBD oil that they can use on their pets, thus assuring you that they are beneficial to your pets.
In 2018, King Kanine won the Pet Business 2018 award for the best pet CBD products. Jeff says they at King Kanine focus not on a ton of products but a ton of quality.
Today, King Kalm CBD products get manufactured in a GMP Certified, ISO-9001 Certified facility, and that which is FDA registered.
King Kalm CBD products
King Kalm CBD has different assortments, all of which harbor high amounts of Cannabidiol. These include:
Topicals
CBD balms
CBD oil
CBD treats
Sprays
CBD oil bottles come in different volumes, which means the dosage varies from a pet to the other. For instance, small-sized pets that weight 20lbs and below need a 75mg bottle.
That said, in 1ml, they can only take 2.5mg of CBD. More on the dosage is covered here.
Quality: King Kalm CBD
High-quality products, and especially those meant for pets, ought to be nature-oriented.
The entire line of King Kalm CBD products comes from organically grown hemp plants. After extracting the necessary plant parts, they go further and ensure that the products lack any traces of psychoactive effects.
Honestly, you don't need your pet to get altered mental consciousness, really. King Kanine uses the CO2 extraction method to garner their pure CBD from the plant matter.
That way, the products made thereafter are of the desired quality and those that maintain the desired ingredients to aid in maintaining the therapeutic and anti-inflammatory effects of CBD.
The top-shelf hemp extract used in making these products available necessitates the sobriety of the pets as they start and stay in the CBD journey.
Their CBD oil comes in four different strengths. That is, 75mg, 150mg, 300mg and 600mg. They use 30ml bottles to pack the oil.
It gets easier to get your desired quality CBD-potency wise depending on the severity of the pet's conditions, and its age.
To make the buyers even more confident in King Kalm CBD, King Kanine displays the lab results on their site. The shopper can click any of their desired product, whereby they get directed to the Certificate of Analysis and the Full-panel results.
In short, King Kalm CBD products are safe for your pets' consumption.
Pets' experience
According to the manufacturers, King Calm CBD products come in the natural flavors of hemp. These flavors tend to be attractive to most pets; thus, they take their dosages pretty well.
In the case of the CBD oil, it has omega-3 krill oil and a lavender sensation. This makes the pets feel more calming effects after consuming the product.
The krill oil is rich in high quantities of omega-3; thus, it gives the pets its associated therapeutic and anti-oxidant properties.
There are pets that like any medication provided, a piece of syringe gets used. There are others which are the exact opposite.
King Kanine had all these types in mind and give pet owners an oral syringe in each box. Pets that shun away from syringes can get any of the products via infusing it in food.
Present Cannabinoids
In addition to CBD, Hempod vape CBD oil also harbors Cannabichromene (CBC), Cannabigerol (CBG), and Cannabinol (CBN) in their full-spectrum product, especially the CBD tincture oil.
The CBD tincture oil also has up to 0.3% THC.
We noted that this combination of cannabinoids could be responsible for making the time for getting the effects relatively shorter.
The isolate and 300mg vape pods lack any trace of other cannabinoids, including THC.
Prices of the Products
King Kalm CBD products get manufactured from broad-spectrum CBD oil. That said, the products lack any traces of THC.
How do the price and value compare?
Among the factors that determine the value of a CBD product are hemp plant parts used, the extraction method, the results obtained after lab tests, and the general quality of the final product.
Going by those four critical points, we can only nod that cbdMD products are undoubtedly valuable products.
The prices of the products on their site may seem pretty low, bearing in mind that they are of fantastic strengths.
However, after digging in, we found that the company meets low production costs since they cultivate their hemp and manage their farms.
In the long run, this typically translates to low prices of the end products.
The price of the products as compared to their products is the real deal for those who wish to save a cent or two.
Shipping and Delivery
For all retail orders, cbdMD offers free shipping across the US, regardless of the order amounts.
Order processing takes anywhere between two and five business days to get reviewed and processed. The orders end up getting shipped by UPS and USPS after processing gets done.
Deliveries take between two and four days to occur, depending on the customer's location.
Those who shop in wholesale are subject to shipping fees, though. This is because their orders are voluminous and take a more tremendous timeframe.
5% Coupon Code on all products: 5OFFCBD1
Customer support
All concerns get addressed via support@kingkanine.com and dialing 833-546-4738.
Conclusion
CbdMD should be your stopover when looking for certified and high-quality CBD products, really. As they say, their goal has always been to produce the highest-quality CBD while using then state-of-the-art-production and manufacturing.
We believe this review has opened up your iota of thoughts and helped you make a firm decision today.
CBDMD Full Review
Simple online data shows that PureKana CBD oil has been one of the best-selling tinctures in the U.S. over the last several years. Consumer feedback and industry media generally regard the brand as top-quality, and like other CBD brands, PureKana has taken advantage of recent federal updates. They now now ship their entire product range, free of charge, to nearly all 50 states, as well as several countries globally.
In terms of the domestic retail space, PureKana CBD products are not generally found in medical or recreational cannabis dispensaries. This is mostly due to state laws which mandate that all cannabis products be derived from in-state manufacturers. In the online space, thousands of customer feedback reports and reviews show that PureKana excels in quality-assurance, as well as day-to-day results. This largely explains why PureKana CBD oil has been voted for three years running as the best CBD oil in the USA.
King Kalm CBD places convenience and ease-of-use at the forefront of their online model.
Over the last year or so, PureKana has poured significant investments into two major parts of its business. First, the brand has assured both the purity and CBD content of its product range by offering independent 3rd-party lab testing through California's ProVerde labs.
Further, they have improved their CO2 extraction methods to a state-of-the-art closed-loop (high-pressure/low-temperature) system, which allows phytocannabinoid extraction to take place with very little loss in active compound.
The brand has also made significant investments in its interactive, user-friendly website. They maintain one of the industry's most high-profile blogs, which serves to promote CBD education and awareness to a rapidly-growing U.S. customer base.
The company has also recently incorporated site-wide rebranding, improving the general appeal of its product labeling and end-user design. The company CEO told us, "if you're not progressing as a company, you're being overtaken by the competition. Product quality is one thing – and certainly quality is our number one priority. But it pays to stay fresh and relevant in such an ever-changing market."
CBDMD Oil Review: Why Are They Considered Today's #1 Brand?
If you've read any online reviews in recent months, you'll have no doubt noticed the unprecedented growth in CBD popularity across the United States. You've also probably noticed that PureKana is listed as a top pick across most reputable media outlets. If you're wondering how the company manages to continuously be placed at the forefront of such a competitive market, it's really pretty simple. The PureKana cannabidiol (CBD) extraction process is state-of-the-art and allows the company to distinguish itself from other brands in the industry. This ultimately comes down to two main reasons:
PureKana uses U.S. Certified Organic Hemp that is cultivated to the highest standards in the country.
PureKana's extraction process allows their oils to contain unprecedented levels of purity and potency. PureKana produces full-spectrum CBD, which means you are getting a unique whole-plant formula. Along with therapeutic compounds like terpenes and phytocannabinoids, the formula contains beneficial fatty acids in the form of medium-chain triglycerides (MCT). Labsheets also show that PureKana CBD oil is free from pesticides, herbicides, solvents, and chemical fertilizers.
cbdMD Review
Quality

Flavor

Experience

Price Value

Company Background
Summary
Among the most famous brands, Today is cbdMD, which typically prompts us to do this ultimate review. Are the praises behind the brand a marketing gimmick or worth it?
Pros
Lorem ipsum dolor sit amet, consectetur adipiscing elit. Mauris et purus vitae nisl luctus consectetur a id massa. Vestibulum tincidunt sit amet mauris lobortis rutrum. Pellentesque neque libero, mattis ultricies lectus nec, ornare laoreet leo. Nullam auctor risus ipsum, sit amet rutrum nisl facilisis sit amet. Cras lorem nulla,
Cons
Lorem ipsum dolor sit amet, consectetur adipiscing elit. Mauris et purus vitae nisl luctus consectetur a id massa. Vestibulum tincidunt sit amet mauris lobortis rutrum. Pellentesque neque libero, mattis ultricies lectus nec, ornare laoreet leo. Nullam auctor risus ipsum, sit amet rutrum nisl facilisis sit amet. Cras lorem nulla, laoreet in lorem a, tristique fermentum lorem. Pellentesque ultricies