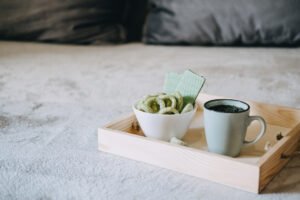 The CBD market is projected to be worth more than $20 billion in the next few years with edibles leading the surge.
CBD is the number one trend in the world and it's innovating everything it touches.
From health and fitness to bath, beauty, and beyond, CBD product sales are expected to grow by hundreds of millions of dollars in the very near future.
According to the latest reports, CBD edibles are lined up to be at the leading edge of the trend, with consumer spending on CBD-infused edibles forecasted to be up to $4.1 billion in just two years' time.
This article dives into the booming CBD industry to discover how CBD edibles are leading the growth with innovation.
Consumers to Spend $4.1 Billion on CBD Edibles by 2022
"CBD edible" is a large umbrella term that includes many various types of foods, snacks, candies, and beverages formulated with CBD oil.
Now, the Internet is littered with a million and one recipes with CBD including everything from breakfast to dessert and even happy hour. If you can think of it, someone is infusing it with CBD.
The most common types of CBD edibles are gummies or chewy flavored snacks and of course baked goods like brownies and cookies, and other types of basic candies.
However, there's more to edibles than just a brownie or cookie. CBD is also the number one trend in the culinary industry and top chefs are using it to create 5-star CBD-infused dining experiences.
A recent National Restaurant Association survey found that 3 in 4 chefs named CBD-infused food a hot trend in 2019.
It includes 650 top chef members from the American Culinary Federation, with 77% of chefs ranking CBD edibles as the number two culinary trend in 2019.
Wait, did you say number two? So, what did the number one spot go to? You guessed it, CBD beverages and drinks! Keep reading to learn how drinking CBD is quickly becoming the hottest trend going into 2020.
CBD Beverages #1 Trend
CBD-infused drinks are something that many have overlooked, or never even heard of, but advances in beverage formulation and mixology are bringing these CBD products to the forefront of the market.
How are CBD drinks made? While CBD isn't naturally soluble in water due to its oily nature, it can be emulsified into tiny, nano-particle-size encapsulations.
This allows for a stabilized, water-soluble version of CBD oil that can be used to make all types of beverages including
How are CBD drinks made?
While CBD isn't naturally soluble in water due to its oily nature, it can be emulsified into tiny, nano-particle-size encapsulations.
This allows for a stabilized, water-soluble version of CBD oil that can be used to make all types of beverages including
Even more than CBD-infused foods, it seems that consumers are really interested in drinking CBD. According to the latest market reports by Zenith Global, the U.S. cannabinoid-infused beverage market alone is forecasted to reach $1.4 billion by 2023.
Corporations including Molson Coors, Newage, and Iceland Glacial, have already jumped into the market by partnering with fast-growing Hemp companies the likes of Hexo and Tilray.
Expect to see a new section in the alcohol isle of the grocery store and possibly even an entirely new isle in your local supermarket dedicated to all things CBD drinks and edibles.
Huge Growth from CBD Edibles & Beverages
Canada only just recently allowed CBD edibles and beverages to be sold and people are lining up in droves. A recent survey showed more than half of Canadians reported planning to purchase and use edibles.
Even celebrities including Mike Tyson and Martha Stewart have jumped in on the action with a new product called DWiiNK.
Why are CBD beverages gaining popularity over their edible counterparts? It's hard to say, but beverages could be seen as an easy and healthy way to get CBD.
CBD beverages are already available in a wide variety of places including supermarkets, pharmacies, convenience stores, and more, reaching the broader marketplace.
Consumers might expect to enjoy the mix of CBD with caffeine as many people report that it "takes the edge off" and makes them feel less jittery.
Considering how huge the caffeine market is CBD could amplify it in a good way. It won't be long before you'll find your favorite energy drink or iced coffee to include a dose of CBD.
CBD beverages like energy drinks, sodas, or teas contain a precise amount of water-soluble CBD that is easily bioavailable due to how it's absorbed. Mixologists are even incorporating CBD into fancy cocktails for an added boost, bringing a whole new meaning to happy hour.
Future of CBD
Don't expect the CBD edibles and beverages trend to stop anytime soon either. As more people learn about CBD's properties and markets continue to open up, we expect exciting new growth and development in every direction.
Instead of grabbing a six-pack of beer for the weekend, people will be able to take home a six-pack of CBD soda and have a healthier, relaxing experience.
What do you think? Would you drink a CBD beer or Coffee with CBD? Tell us your answer by joining the conversation with us on social media. We'd love to hear from you!
Thanks for reading! If you enjoyed this article please share it with others you think might like it too.
You can find more articles about the CBD industry in our blog.
Based on anecdotal reports and limited studies, CBD appears safe for pets, but …
CBD products interact with the endocannabinoid system, which is responsible for …
Eczema and psoriasis are inflammatory and multifactorial skin conditions that …